share:
Recent DVDs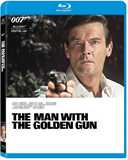 The Man With... Blu-ray. After his life is threatened, Roger Moore as 007 is lured into a deadly... more info $8.95was $16.99 Buy Now
Octopussy ... From a thrilling jet chase to a climactic countdown to nuclear disaster, James... more info $15.95was $19.99 Buy Now
Hell Hunters ... Maud Adams, Stewart Granger, Candice Daly. A team of Nazi-hunters closes in on a... more info $11.95was $17.98 Buy Now
MEDIA:
WATCH MOVIE CLIPS
|
VIEW TRAILER
|
VIEW PHOTOS
|
WATCH A TCM PROMO
| | | | |
| --- | --- | --- | --- |
| Also Known As: | Maude Adams,Maud Solveig Christina Wikstrom | Died: | |
| Born: | February 12, 1945 | Cause of Death: | |
| Birth Place: | Sweden | Profession: | Cast ... actor model |
RATE AND COMMENT
BIOGRAPHY
Swedish-born model-turned-actress Maud Adams enjoyed the distinction of being the only woman to appear as two separate "Bond Girls" in a pair of entries from the massively successful James Bond film franchise. Already one of the highest paid models of the late-1960s, Adams began appearing in films by the turn of the decade and made an impression on moviegoers as the latest Bond Girl in "The Man with the Golden Gun" (1974), starring Roger Moore. With her popularity at its peak, she was quickly cast in several high-profile projects, such as the science-fiction classic "Rollerball" (1975), opposite James Caan. Although she had established herself based largely on her beauty, Adams garnered critical kudos for her work on projects like the acclaimed Holocaust docudrama "Playing for Time" (CBS, 1980) and the under-seen obsession tale "Tattoo" (1981), co-starring Bruce Dern. She then made pop culture history by becoming the only two-time Bond Girl in "Octopussy" (1983), in which she was once again seduced by Mooreâ¿¿s dashing secret agent. Attempts at an ongoing television series, such as the primetime soap "Emerald Point N.A.S." (CBS, 1983-84) failed to pan out for the actress, who wound down her career with direct-to-video thrillers like "The Kill Reflex" (1989) and various projects on Swedish television. A statuesque beauty of intelligence and refinement, Adams remained a favorite amongst Bond fans, who appreciated the class she brought to the status of Bond Girls everywhere.
Born Maud Solveig Christina Wikström in Luleå, Sweden on Feb. 12, 1945, she was the daughter of Thryra and Gustav Wikström, a government tax inspector and a comptroller, respectively. Although she displayed an early interest and aptitude for languages, the stunning teenager⿿s career path changed course after a photograph of the 18-year-old was submitted to the Miss Sweden competition and attracted the attention of the contest⿿s organizer, the fashion magazine Allers, in 1963. It was not long before the Swedish beauty made the move to Paris and later New York City, where she became one of the era⿿s more successful models after signing with the prestigious Ford Models agency. Having adopted the Americanized last name of Adams and studied under renowned acting coach Stella Adler, she made her film debut as a model in the opening sequence of director William Friedkin⿿s feature adaptation of the gay-themed Broadway hit "The Boys in the Band" (1970).
Adams further tested the acting waters with appearances in a handful of minor romances like "The Girl in Blue" (1973) prior to landing the first of two roles for which she would be best remembered. Adams played Andrea, the beautiful but doomed mistress of Scaramanga, the titular high-priced assassin played by Christopher Lee in "The Man with the Golden Gun" (1974). As brief as her turn opposite Roger Mooreâ¿¿s James Bond in the 9th 007 adventure was, it would not be Adamsâ¿¿ only appearance as a Bond Girl. Enjoying a substantial profile boost after "Golden Gun," the budding actress continued to carve out a niche for herself with a number of roles in such memorable genre fare as the grim futuristic sports drama "Rollerball" (1975), playing the lost love of James Caanâ¿¿s Jonathan E, the greatest athlete ever to play the deadly game of rollerball. She continued to work steadily, albeit in increasingly subpar material like the cartoonish action-adventure "Killer Force" (1976), starring Telly Savalas, Peter Fonda and Christopher Lee. Similar projects led to a spate of guest turns on several popular crime dramas of the decade including Savalasâ¿¿ "Kojak" (CBS, 1973-78) and "Starsky & Hutch" (ABC, 1975-79).
One of Adamsâ¿¿ more respectable television roles was as Mala, a Jewish prisoner at the Auschwitz concentration camp in the Emmy-winning Holocaust docudrama "Playing for Time" (CBS, 1980). The acclaimed film starred Vanessa Redgrave as Fania Fenelon, a classical musician who survived the ordeal by performing with a womenâ¿¿s orchestra for the Nazis. In theaters, the actress delivered another daring performance as a model who becomes the obsession of Bruce Dernâ¿¿s unbalanced tattoo artist in the underappreciated romantic thriller "Tattoo" (1981). After the disappointing reception that greeted that project, Adams returned to the small screen and took on her first role as the star of an ongoing series playing trauma surgeon Dr. Judith Bergstrom on the medical-drama "Chicago Stories" (NBC, 1982). Although the show was regrettably short-lived, its cancelation did free Adams up to accept another offer, one that would further define her film career. Nearly a decade after "Man with the Golden Gun," Adams reteamed with Moore and became the only actress ever to be a Bond Girl twice â¿¿ and as two separate characters â¿¿ when she accepted the co-starring role as the titular assassin with a heart of gold in "Octopussy" (1983).
Looking to parlay the heightened exposure into more steady work, Adams once again tried her hand at regular series TV with the primetime soap opera "Emerald Point N.A.S." (CBS, 1983-84), in the featured role of military liaison Maggie Farrell, the love interest of co-star, Dennis Weaver. Although it lasted slightly longer than her previous TV effort, "Emerald Point" was not renewed for a second season. Once again breaking a 007-related record by becoming the only actress to appear in three Bond films with a brief, uncredited cameo as a bystander in "View to a Kill" (1985) â¿¿ Mooreâ¿¿s final outing as the superspy â¿¿ Adams kept active, although substantial roles in good material became increasingly difficult to find. What followed were a series of cut-rate action-adventures with such evocative titles as "Hell Hunters" (1986), "Jane and the Lost City" (1987) and "The Kill Reflex" (1989). After returning to her home country to work on several Swedish television productions throughout the 1990s, Adams popped up alongside fellow Bond Girl Tanya Roberts for an episode of the nostalgic teen comedy "That â¿¿70s Show" (Fox, 1998-2006) in 2000. Seen little on screens throughout the remainder of the decade, the actress later starred in the independently produced post-9/11 drama "The Seekers" (2008).
By Bryce Coleman