share:
Recent DVDs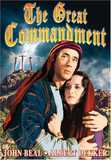 The Great... A young rebellious Judean scholar is inspired after meeting with Jesus of... more info $5.95was $6.98 Buy Now
MEDIA:
WATCH MOVIE CLIPS
|
VIEW TRAILER
|
VIEW PHOTOS
|
WATCH A TCM PROMO
| | | | |
| --- | --- | --- | --- |
| Also Known As: | James Alexander Bleidung | Died: | April 26, 1997 |
| Born: | August 13, 1909 | Cause of Death: | complications from a stroke |
| Birth Place: | Joplin, Missouri, USA | Profession: | Cast ... actor voice actor director artist |
RATE AND COMMENT
BIOGRAPHY
A boyishly handsome American leading man of the 1930s, most memorably in the title role opposite Katharine Hepburn in "The Little Minister" (1934), John Beal also has the distinction of having starred in "The Necklace" (NBC, 1949), the very first dramatic program to win an Emmy Award. His long journeyman career took him from 1930 into the 90s, and included appearances on "Studio One," in the original TV version of "12 Angry Men," and portraying the original Jim Matthews on NBC's daytime soap "Another World" (1964).
Trained in both business and art, Beal first acted as Mephistopheles in "John Faust Ph.D.," a play performed first at the University of Pennsylvania in 1930, the year he received his BS degree and later that year at the old Metropolitan Opera House in New York City. After some additional stage experience in Pennsylvania, Beal was back in New York in "Give Me Yesterday" (1931) at the Charles Hopkins Theatre and then appeared with the Provincetown Players. He played Jerry Hallam, the brother role, in "Another Language" on Broadway and then went west to do the part in the film version for MGM in 1933. After that one film at MGM, he settled into a contract with RKO for several years, before returning to MGM, but all along continued to return to New York for Broadway appearances, particularly in "Russet Mantle" (1936), and "Miss Swan Expects" (1939).
The Hollywood phase of Beal's career was solid, if not truly stellar, until military service interrupted and took away the momentum. Beal was Gavin, the Scottish pastor, opposite Katharine Hepburn in RKO's "The Little Minister" and was loaned out to United Artists to play Marius in the 1935 rendition of "Les Miserables." He played the title role of Laddie Stanton in "Laddie" (1935), and was a surgeon who throws in his doctoring to become a hobo in "The Man Who Found Himself" (1937). Freelancing after 1938, Beal tossed off the heroic image to be a corrupt civic leader opposite Edward G. Robinson's good guy (for a change!) special prosecutor in "I Am the Law" (1938) at Columbia. He also played in "Ellery Queen and the Perfect Crime" (1941) for Columbia, but, by the following year, Beal was decidedly a supporting player, billed below Errol Flynn in "Edge of Darkness," a Warner Bros. release about Norway's resistance to the Nazis. Beal made a few films after the war, but toward the end of the 50s, he was appearing in such fare as "The Vampire" (1957), as a scientist turned into a blood sucker.
Beal returned to the stage, playing Captain Fishby, in John Patrick's Pulitzer Prize-winning Broadway play, "The Teahouse of the August Moon" (1955). He went on to play the title role in "Mr. Roberts" in Canada in 1958, appear with Elizabeth Ashley in "Take Her, She's Mine" on Broadway in 1962, and was in the ensemble of "Thornton Wilder's Triple Bill"(1966). But TV work provided steadier employment. Beal, like many actors, had been a radio performer on occasion in the 30s, and 40s, even appearing on "The University Player of the Air" on NBC in 1948-49. He broke into TV early, as master of ceremonies (host) for "Darts for Dough," an early NBC game show, and as a guest star on numerous programs, including "Your Show Time," for which he did "The Necklace" (which won the first Emmy for Best Dramatic Show) and "The Kate Smith Show" (1950). Beal appeared in the first TV production of Horton Foote's "The Trip to Bountiful" on "The Goodyear-Philco Hour" (1953), the first "Twelve Angry Men" on "Studio One" (1954), and numerous other dramas. He was even a host and interviewer on "Hollywood's Best" on WHCN-TV from 1957-58. Although he continued to do guest appearances, Beal also joined the regular cast of the ABC soap opera "The Road to Reality" from 1960-61 and, from 1962-67, was Dr. Henden on "The Nurses." He took time away from the latter to play the first Jim Matthews for a short period on "Another World" when it premiered in 1964 on NBC.
Beal played in a few TV-movies in he 70s: he was the family doctor in "The Legend of Lizzie Borden" (ABC, 1975), and the president's doctor in "Eleanor and Franklin: The White House Years" (ABC, 1977). He was also Charles Adams II in the PBS series "The Adams Chronicles" (1976). Beal was still active in the 90s in all media. He had a small role in the syndicated TV-movie "The Kid Who Loved Christmas" (1990), was on stage as the Head Porter in "A Little Hotel on the Side" and in the ensemble of "Three Men on a Horse" at the National Actors Theatre in 1992 and 1995 respectively. He had his final screen role, a small part as a senior law partner, in "The Firm" (1993). Still of mellifluous voice, he narrated two TV specials produced by his daughter, Tandy Beal, in 1987: "Tandy Beal's Nutcracker" and "Listening to the Earth." Beal suffered a stroke in 1995 and succumbed to complications in April 1997.