share:
Recent DVDs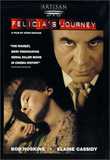 Felicia's... From Atom Egoyan, the Academy Award-nominated director of "The Sweet Hereafter,"... more info $11.95was $14.98 Buy Now
MEDIA:
WATCH MOVIE CLIPS
|
VIEW TRAILER
|
VIEW PHOTOS
|
WATCH A TCM PROMO
| | | | |
| --- | --- | --- | --- |
| Also Known As: | Atom Yeghoyan | Died: | |
| Born: | July 19, 1960 | Cause of Death: | |
| Birth Place: | Egypt | Profession: | Director ... director editor producer screenwriter |
RATE AND COMMENT
BIOGRAPHY
al redemption. With "Chloe" (2010), Egoyan delivered one of his most erotic and commercially successful films. It starred Julianne Moore as a psychologist who suspects her husband (Liam Neeson) of infidelity and hires an escort named Chloe (Amanda Seyfried) to test her theory, only to find herself pulled into her own affair. Despite mixed reactions from critics, "Chloe" earned a U.S. theatrical release and boosted the standing of the young Seyfried for her adult performance.
By Shawn Dwyerg splash with the highly-charged erotic drama, "Exotica" (1994), which was a favorite at the Cannes Film Festival before earning an art house release in the United States. But it was his exemplary drama "The Sweet Hereafter" (1997) that earned him some of the greatest acclaim of his career, as well as two nominations at the Academy Awards. From there, he earned wider attention for "Felicityâ¿¿s Journey" (1999), "Ararat" (2002) and the Palme dâ¿¿Or-winning "Where the Truth Lies" (2005). Though he stumbled critically with the nonetheless commercially successful erotic drama, "Chloe" (2010), Egoyan remained one of the most challenging and talked-about directors on the international scene.
Born on July 19, 1960 in Cairo, Egypt, Egoyan was raised by his parents, Joseph and Shushan, two Armenian refugees who settled in Egypt and then Canada, and operated a furniture store. For most of his youth, Egoyan ran away from his Armenian heritage while struggling to adapt to his Canadian environs. But while attending the University of Toronto, he was shown the language and ethnicity of his heritage by one of the chaplains at the universityâ¿¿s Trinity College, leading him to finally embrace his culture. Though a political science major, Egoyan â¿¿ who had been interested in plays since high school â¿¿ began directing short films like "Howard in Particular" (1979), "After Grad with Dad" (1980), "Peep Show" (1981) and "Open House" (1982). After graduating in 1982, Egoyan directed his first feature, "Next of Kin" (1984), a slightly disturbing film about a young man (Patrick Tierney) who stumbles upon a videotape of a troubled family detailing their guilt over giving up their only son for adoption. To escape his own family misery, he pretends to be their long-lost son and ingratiates himself into the family. The film remained in obscurity until being rediscovered after Egoyan grew in popularity.
While "Next of Kin" did little to make Egoyan known, he did meet actress Arsinee Khanjian, whom he later married. He went on to direct his second feature, "Family Viewing" (1987), an irreverent study of familial breakdown, cultural alienation, sexual frustration and the disposability of the past all linked together by omnipresence video technology. Director Wim Wenders was so impressed with the film that when he was awarded the Prix Alcan for "Wings of Desire" (1987) at the Montreal New Cinema Festival, he publicly turned the prize over to Egoyan. He continued making his own brand of idiosyncratic, brightly-hued and darkly-themed musings on sexuality, politics and the media, which often generally divided audiences, though without a doubt he emerged as a thought-provoking filmmaker unafraid to explore taboo subjects. With "Speaking Parts" (1989), Egoyan examined the sexual intersection of and communications between three disparate individuals: a dour woman (Khanjian) obsessed with an aspiring actor (Michael McManus), who in turn becomes involved with a novice screenwriter (Gabrielle Rose). The film debuted at the 1989 Cannes Film Festival, and subsequently played at festivals in New York, Vancouver, Miami and Toronto.
Egoyan furthered explored his usual issues while adding voyeurism and censorship into the mix for "The Adjuster" (1991), lacing them with symbolic images and sequences that were striking but not always comprehensible in this examination of a married coupleâ¿¿s sexual proclivities. He cast himself in the lead for "Calendar" (1993), playing a photographer who travels to Armenia with his dissatisfied wife (Khanjian). The film explored themes of national identity and heritage, commitment and separation, as well as the cold effect of a camera lens. While not inaccessible, "Calendar" was hardly mainstream, finding life on the festival circuit and German television. Egoyan went on to write and direct one of his best films, "Exotica" (1994), an intricately-plotted, haunting look at human despair that followed five individuals whose lives become interwoven as they cross paths at the titular strip club. As with many of his works, the themes of observation and desire are mixed with his metaphorical and literal use of mirrors. Starring Bruce Greenwood and Mia Kirshner, "Exotica" saw a release in the United States via Miramax following a tour of international film festivals.
With "The Sweet Hereafter" (1997), an adaptation of Russell Banks' novel about the aftermath of a tragic school bus accident, Egoyan created his most complex work to date. Eschewing the inherent sentiment of the material in favor of a more restrained approach, the writer-director retained some of the more unconventional storytelling aspects of his work, but added a layer of emotional weight lacking in his previous screen outings. As in his other films, "The Sweet Hereafter" raised a number of disturbing and perhaps unanswerable questions, ranging from how to grieve for loved ones to how to cope with societal changes. As it did not offer pat answers or Hollywood-style happy endings, the film proved compelling and disturbing. Surprisingly, Egoyan received two Academy Award nominations for the film, one for Best Director and the other for Best Adapted Screenplay. That same year, Egoyan directed "Sarabande," a one-hour film featuring renowned cellist Yo-Yo Ma as himself in a series of chance encounters with people who had no connection to one another except through his music. The film was shown at Venice International Film Festival, but remained one of the directorâ¿¿s more obscure works.
Egoyan won the Palme dâ¿¿Or at the 1999 Cannes Film Festival for his low-key psychological thriller, "Feleciaâ¿¿s Journey," which was adapted from William Trevorâ¿¿s 1994 novel of the same name. The film focused on a seemingly kind and genteel caterer (Bob Hoskins) who hides a secret life as a serial killer, and his relationship with 17-year-old, pregnant Felicia (Elaine Cassidy), who seems poised to either become his next victim or awaken him to his hideous crimes. Another perfect exercise in masterfully atmospheric direction, the film was a critical and art house favorite and won a number of awards. After directing John Hurt in an adaptation of Samuel Beckettâ¿¿s "Krappâ¿¿s Last Tape" (2000), Egoyan helmed "Ararat" (2002), a politically-themed drama that chronicled the estranged members of a contemporary Armenian family as they faced both Turkey's denial of their catastrophic past and their own complicated future. He went on to serve as an executive producer on the crime thriller "Foolproof" (2003), the experimental musical "The Saddest Music in the World" (2004), and the indie drama "Mouth to Mouth" (2004), starring a pre-"Juno" Ellen Page.
For his next directing effort, Egoyan helmed the sly and seductive show biz noir "Where the Truth Lies" (2005), starring Kevin Bacon and Colin Firth as a 1950s superstar comedy duo in the mold of Jerry Lewis and Dean Martin, caught up in the mysterious murder of a beautiful blonde, leading to the dissolution of their partnership and a years-later investigation by an intrepid celebrity journalist (Alison Lohman). A wonderfully photographed, complexly plotted adult entertainment, the film was Egoyan's most alluring and accessible work to date, and nabbed him another Palme dâ¿¿Or at Cannes. He next directed the well-received psychological drama, "Adoration" (2008), which explored a young adolescent (Devon Bostick) who reinvents himself over the Internet and earns worldwide adoration while searching for person