share:
Recent DVDs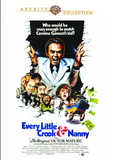 Every Little... A vengeful nanny takes on the Mob in this zany farce starring Lynn Redgrave and... more info $18.95was $21.99 Buy Now
MEDIA:
WATCH MOVIE CLIPS
|
VIEW TRAILER
|
VIEW PHOTOS
|
WATCH A TCM PROMO
| | | | |
| --- | --- | --- | --- |
| Also Known As: | | Died: | |
| Born: | January 5, 1941 | Cause of Death: | |
| Birth Place: | Japan | Profession: | Writer ... screenwriter director animator storyboard artist executive editor producer |
RATE AND COMMENT
BIOGRAPHY
Long acknowledged as Japan's preeminent animator and director, Hayao Miyazaki remained a cult figure to American devotees of "manga" (Japanese comic books) and "anime" (Japanese animated features) until the 1999 US release one of his undisputed masterworks, "Princess Mononoke" (1997). Acquired by Miramax and redubbed into English using a script by Neil Gaiman and the vocal talents of actors such as Claire Danes and Billy Crudup, "Princess Mononoke" introduced the richly crafted animation and superb storytelling to mainstream audiences. The film was deemed too violent for young children used to Disney cartoons filled with cheery anthropomorphic sidekicks and sing-along musical scores but their older siblings and parents could marvel at the detailed set pieces and enjoy the three-dimensional characters, who were neither true-blue heroes nor all-black villains. Miyazaki's anime classic explored big themes like man versus nature and good versus evil, but they were couched in mythology and highly memorable visuals. His subsequent film, 2001's boldly imaginative "Spirited Away," received even more acclaim and went on to win a 2003 Academy Award, solidifying Miyazaki's already-revered status in international cinema.
Born in Tokyo in January 1941, Hayao Miyazaki spent his formative years in the capital city. His father's family owned an airplane parts factory and that small matter had a great impact on the future filmmaker in developing his particularly unique animation style. A Miyazaki feature often contains aerial shots that swoop and soar, contrasting with segments of quietude and intimacy that serve to heighten the fantastical elements of his tales. During his childhood, his mother was confined to bed with spinal tuberculosis and Miyazaki later paid her homage in "My Neighbor Totoro" (1988), which focused on two sisters whose mother has been hospitalized.
From his earliest childhood, Miyazaki was fascinated by drawing, particularly models of airplanes, but when it came to sketching people, he was less than successful. Rather than pursue his hobby, he enrolled as a political science and economics major at Gakushuin University. But his desire to draw finally won out and following his matriculation, Miyazaki landed work at Toei Animation, where he served an apprenticeship before being assigned to work as an in-betweener on the 1963 feature "Watchdog Bow Wow" and the TV series "Wolf Boy Ken" (1963-65). The latter marked his first collaboration with Isao Takahata with whom he would later collaborate before forming Studio Ghibli together in 1985. The pair worked as animator (Miyazaki) and director (Takahata) on varied projects, including the TV series "Hustle Punch" (1965-66).
In the '70s, Miyazaki left Toei and joined Takahata at A-Pro and then moved to Zuiyo Pictures, all the while dividing his attentions between features and TV. As the decade waned, he moved into the director's chair for 16 episodes of the series "Future Boy Conan" (1978), also assisting in character design and development. In 1979, Miyazaki made his feature debut with the adventure movie "Lupin III: The Castle of Cagliostro," and later worked on an adaptation of the comic strip Little Nemo in Slumberland, leaving the project during pre-production in 1982. That year, he created his initial manga entry Nausicaä of the Valley of the Wind, which became the basis for his second film.
"Nausicaä of the Valley of the Wind" (1984) contains the archetypes of all of the animator's future work: a smart heroine, swooping sequences that recreate the experience of flying, ecological themes, and dilemma and characters that aren't all villainous or all heroic. This film's story, set in a post-apocalyptic future, concerns a princess attempting to protect her subjects from two larger warring powers, in the process aiding in diffusing a potential ecological disaster. A critical and commercial success in Japan, "Nausicaä" gave Miyazaki the resources to co-found his own animation company, Studio Ghibli, under whose auspices his third film "Castle in the Sky" (1986) was produced. Again working as screenwriter and director, Miyazaki crafted a fanciful tale of a mysterious girl who literally falls from the sky into a bleak industrial town. Notable for its delicate, almost watercolor-like backgrounds and its spectacular flying sequences, the film proved popular in his native land.
Miyazaki moved away from the timeless to the 1950s of his childhood for his next feature, "My Neighbor Totoro" (1988), which conveys the tale of two young girls who discover a magical world in and around their new home, a ramshackle rural house. Episodic and leisurely paced, "My Neighbor Totoro" again featured the animator's trademarked attention to detail, with gorgeous renderings of the Japanese countryside. (A dubbed-in-English version opened briefly in 1993 but US viewers, still primed on viewing more conventional Western cartoons, were less than embracing.) The similarly conceived "Kiki's Delivery Service" (1989), about a young witch who opens a flying parcel business in a seaside town, featured elaborate flying sequences as well as the detailed depiction of the backgrounds. ("Kiki's Delivery Service" was also dubbed into English and released direct-to-video in the USA in 1998). Airborne sequences also played important roles in the story of "Porco Rosso" (1992), which followed a WWI Italian flying ace (and talking pig) who abandons the military during the rise of Fascism in favor of becoming a bounty hunter. Capitalizing on Miyazaki's long-held interest in aviation and mixing in some of his political views, it ranks as one of his most personal films.
Before tackling his one of anime masterpieces, "Princess Mononoke," Miyazaki crafted TV advertisements and produced and wrote "Whisper of the Heart" (1995), adapted from a manga by Aoi Hiragi and directed by Yoshifumi Kondo. By the time "Princess Mononoke" became the second highest-grossing film in Japan (behind "Titanic"), the tide had shifted in the USA. Aficionados of anime had grown beyond a cult, fueled in part by bootlegs and dubbed versions of "Akira" (1988) and "Ghost in the Shell" (1995), as well as a revival of interest in the 1960s animated series "Astro Boy" and "Speed Racer" that had primed audiences. In addition, Disney faced challenges on the animation front from Warner Bros. (e.g., 1999's "The Iron Giant") and DreamWorks (1998's "The Prince of Egypt"), among others. A certain sophistication had become the norm, creating a more hospitable atmosphere for Miyazaki's work.
Because of his painstaking attention to detail, the animator has suffered eyestrain over the years, and there had been rumors floated that "Princess Mononoke" would be his last film. This possibility surfaced in part because it took some 20 years to develop "Mononoke" from initial inspiration (originally as more of a "Beauty and the Beast"-like story) to its final incarnation, which depicts an escalating conflict between fascinatingly rendered forest beings and the manmade forces of steely industrialization. Happily, Miyazaki wasn't done, and these themes were carried over into his next film, 2001's "Spirited Away," a fantasy film that follows a young girl as her parents' carelessness leads her into a world of moody deities and shape-shifting creatures. This time around, Pixar's John Lasseter used his considerable influence to secure a more prominent English-language North American release for "Spirited Away" during the following year, which led to an Oscar for Best Animated Feature, among the movie's many other awards.
Following another short-lived bout of semi-retirement, Miyazaki helmed "Howl's Moving Castle" (2004), based on the British fantasy novel of the same name. Another inventive and unconventional triumph for the director, the film featured Christian Bale, Emily Mortimer and Billy Crystal among its English voice cast. In the West, major stars continued to be drawn to the work of Miyazaki, with Patrick Stewart and Uma Thurman participating in a 2005 Disney-supervised re-release of "Nausicaä of the Valley of the Wind" and real-life siblings Dakota and Elle Fanning voicing the sisters in a similarly welcome 2006 version of "My Neighbor Totoro." Riding a wave of previously unseen worldwide appreciation, Miyazaki returned in 2008 with the notably kid-friendly nautical tale "Ponyo," which featured the voice talents of Matt Damon, Tina Fey and other well-known actors in its 2009 English-language incarnation. In 2013, shortly after the Japanese release of his Oscar-nominated period drama "The Wind Rises," Miyazaki announced that he was retiring. Though he had made this claim before, this time the 72 year old seemed more official in his statement, meaning that the world may well have seen the last film directed by this iconic innovator.