share:
Recent DVDs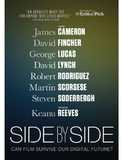 Side By Side ... Join Keanu Reeves on a tour of the past and the future of filmmaking in SIDE BY... more info $18.95was $26.95 Buy Now
MEDIA:
WATCH MOVIE CLIPS
|
VIEW TRAILER
|
VIEW PHOTOS
|
WATCH A TCM PROMO
| | | | |
| --- | --- | --- | --- |
| Also Known As: | Daniel Boyle | Died: | |
| Born: | October 20, 1956 | Cause of Death: | |
| Birth Place: | Radcliffe, England, GB | Profession: | Director ... director producer |
RATE AND COMMENT
BIOGRAPHY
With an eclectic array of films to his credit, director Danny Boyle emerged from his native England to become one of the most celebrated and revered filmmakers of independently-minded cinema. Ever since his emergence onto the world stage with "Trainspotting" (1996), his stark, but viciously funny look at a group of heroin-addicted friends living in Edinburgh, Boyle managed to chart his own unique path without having to bow to studio pressures. Though he dipped his toe into Hollywood waters with his underwhelming adaptation of "The Beach" (2000), Boyle nonetheless created frenzied and highly-stylized films that also depicted three-dimensional characters often struggling with human vices and weakness. With his luminously praised horror film, "28 Days Later" (2003), his surprisingly soft-hearted children's fantasy, "Millions" (2005), and the rags-to-riches hit, "Slumdog Millionaire" (2008), Boyle proved adept at shifting genres without losing the voice he had established in his previous efforts, making him one of the most talented and eagerly watched filmmakers to succeed on both sides of the pond.
Born on Oct. 20, 1956 in working-class Manchester, England, Boyle was raised by his Irish Catholic parents who immigrated to England from County Galway, Ireland. Despite their blue collar background, his parents encouraged the young Boyle to indulge in his imagination, which he did through watching movies. Meanwhile, until the age of 13, Boyle believed that he would become a priest, but a local clergyman convinced his parents to make him wait until was he was 18 for a decision. By the time he reached that age, Boyle had moved on to wanting to direct. After completing secondary school at Thornleigh Salesian College, Boyle attend the University of Wales, where he studied English and eventually left without his degree to direct at the Joint Stock Theatre Company, a politically-themed company known in Britain for being controversial as well as for producing cutting-edge plays. In 1982, he made the jump to the Royal Court Theatre in London, where he became their artistic director and oversaw Howard Brenton's "The Genius" and Edward Bond's "Saved;" the latter of which earned Boyle a coveted Time Out Award.
Boyle was bumped up to deputy director of the Royal Court Theatre for the main stage in 1985, serving in the position until 1987, when he began directing television. Outside of Royal Court, he directed other stage productions, including "The Pretenders" and "The Last Days of Don Juan" for the Royal Shakespeare Company. Meanwhile, his television work was mostly grounded in drama, including the made-for-television movie, "For the Greater Good" (1991) and the "Masonic Mysteries" (PBS, 1992) installment of the "Inspector Morse" series, in which Morse (John Thaw) is found holding a knife over a dead body and is placed under arrest on suspicion of murder. Turning to period drama, he directed the four-part miniseries "Mr. Wroe's Virgins" (Sundance Channel, 1993), which was about a 19th century cult leader, John Wroe (Jonathan Pryce), a messianic Christian-Israelite prophet to whom local townspeople deliver seven virgins to serve his every need. Boyle returned to the "Inspector Morse" series, penning a two-part series in 1994, followed by a second directing effort with "Cherubim and Seraphim" (PBS, 1995).
After cobbling together £800,000 from Channel 4 and a Glasgow Film Grant, Boyle had enough money to direct his first feature, "Shallow Grave" (1994), a darkly comic thriller about three friends (Kerry Fox, Ewan McGregor and Christopher Eccleston) who find their roommate dead and loaded with cash. From its kinetic visual style and humorous look at greed and deceit amongst friends, "Shallow Grave" trumpeted the arrival of a major talent. Boyle assuredly handled the black comedy of John Hodge's script with a stylized theatricality that became a hallmark of his later features. Aside from pulling strong performances from the lead actors, Boyle managed to create a number of brilliantly shot comic set pieces, including a series of interview sessions with prospective roommates and the disposal of a dead body. After its debut at the 1994 Cannes Film Festival, "Shallow Grave" toured the festival circuit and was eventually released in England, where it became a solid hit. Meanwhile, Boyle won a Silver Shell at the San Sebastian Film Festival and the Golden Hitchcock at the Dinard British Film Festival.
Reuniting with screenwriter Hodge, producer Andrew Macdonald and actor Ewan McGregor, Boyle directed "Trainspotting" (1996), a tragic-comic look at the drug-infested underworld of contemporary Scotland. Again employing a hyper-active camera and working with many of the same behind-the-scenes personnel, Boyle established a unique visual style that matched a hard-to-define film about a group of heroin addicts in an economically depressed Edinburgh. "Trainspotting" focused on Renton (McGregor), one of the addicts who tries to go straight and lead a so-called normal life. Chock full of visually arresting scenes, Boyle's sophomore effort depicted a dark and sordid world with a deftly comic touch, particularly in the film's - and perhaps the decade's - most memorable scene with Renton plunging into a disgusting public toilet to retrieve his submerged stash. As with "Shallow Grave," Boyle - ably abetted by a cast that included Jonny Lee Miller, Robert Carlyle and Ewen Bremner - created a world populated with venal, yet oddly charismatic characters. A box office hit in the United Kingdom and a cult hit in the United States, "Trainspotting" earned an Academy Award nomination for Best Adapted Screenplay and firmly positioned Boyle on Hollywood's radar.
Hollywood did, in fact, come knocking, though Boyle reportedly spurned several high-profile offers - including a chance to helm the fourth installment in the "Alien" series - in order to concentrate on his own material. He immediately began work on his third feature, the oddball comedy "A Life Less Ordinary" (1997), once again joining forces with Hodge, Macdonald and McGregor. This time the actor was cast as a struggling novelist working as a janitor who takes revenge on his employer (Ian Holm) after losing his job by kidnapping his daughter (Cameron Diaz). Sometimes poignant and funny, though oftentimes too quirky and muddled for its own good, "A Life Less Ordinary" lacked the impact and creative verve of his previous two efforts. For his next feature, "The Beach" (2000), Boyle finally answered Hollywood's call and directed the adaptation of Alex Garland's acclaimed novel, starring Leonardo DiCaprio, who was hot off the heels of "Titanic" (1997). Though intriguing in spots, "The Beach" - which followed the exploits of an American traveler in Thailand looking for a secret island inhabited by marijuana farmers - ultimately failed to capture much interest critically and at the box office, perhaps due in part to critical headlines about production delays and changing release dates.
After making a couple of short features for the BBC - "Strumpet" (2001) and "Vacuuming Completely Nude in Paradise" (2001) - Boyle returned for a full-length feature with "28 Days Later" (2003), a graphic post-apocalyptic sci-fi thriller about a deadly virus spread by rampant chimpanzees and released by animal rights activists. Once contracted, the virus sends the human race into a frenzied murderous rage and nearly wipes out the earth's population. Starring an emergent Cillian Murphy, "28 Days Later" was surprise hit on both sides of the pond, taking in a healthy sum at the box office while receiving a strong amount of critical kudos. Boyle next directed "Millions" (2005), a compelling fantasy about two brothers (Alex Etel and Lewis McGibbon) who go on the adventure of a lifetime after a suitcase full of money mysteriously falls to their feet from the sky. Typically prone to kinetic violence and wild imagery, Boyle toned down to tell a surprisingly warm and heartfelt story about the inner world and imagination of children.
Boyle further demonstrated his adroitness in shifting genres when he directed "Sunshine" (2007), a not-too-futuristic sci-fi thriller about a spaceship crew of eight men and women (including Michelle Yeoh, Cillian Murphy and Rose Byrne) sent to restore life to a dying sun in order to save humanity. But when they lose radio contact with Earth, their mission immediately starts to unravel, leading to one catastrophe after another until the crew is left to fight for not only their lives, but their sanity. Though lacking character depth, "Sunshine" was nonetheless visually stunning, particularly in its use of lighting. Unfortunately, Boyle's first foray into science fiction failed to attract much of an audience. He returned the following year with "Slumdog Millionaire" (2008), a surprisingly cheerful rags-to-riches tale about an impoverished Indian teenager (Dev Patel) who wins the grand prize on his country's version of "Who Wants to Be a Millionaire," only to be arrested for cheating. The film received such stellar reviews, it came as no surprise when Boyle won a Golden Globe for Best Director. Hot on the heels of his win, Boyle was poised to continue his streak when he received a nomination and a win for Best Director at the Academy Awards, as well as shared in the Academy win for Best Picture.
Boyle followed up that major success with another extraordinary film, "127 Hours" (2010), which chronicled the inspirational but gut-wrenching ordeal suffered by avid mountain climber, Aron Ralston (James Franco), who became trapped by a boulder while hiking alone in a Utah canyon, leading to the fateful decision of severing his own hand in order to survive. Boyle had wanted to make the film for years, which he co-wrote with "Slumdog" scribe Simon Beaufoy. Both harrowing and exhilarating, Boyle managed to make a nail-biting film that focused on a man who remains stationary once trapped in his ordeal. Meanwhile, the director paid particular attention to the amputation scene, which he made sure was as realistic and graphically portrayed as possible. The film drew widespread critical acclaim, many of whom cited "127 Hours" as one of the year's best films, particularly in light of James Franco's Oscar-worthy performance. Though shut out of the Best Picture category at the 2011 Golden Globes, Boyle did receive a nod for Best Screenplay. Dulling the sting, he also scored an Indie Spirit nod for Best Director. Boyle and Beaufoy went on to share an Academy Award nomination for Best Adapted Screenplay.