share:
Recent DVDs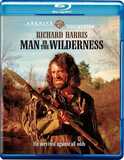 Man in the... "Nothing will stop him now. Not the winter's bitter cold. Not the knife-like... more info $16.46was $21.99 Buy Now
MEDIA:
WATCH MOVIE CLIPS
|
VIEW TRAILER
|
VIEW PHOTOS
|
WATCH A TCM PROMO
| | | | |
| --- | --- | --- | --- |
| Also Known As: | | Died: | August 28, 1987 |
| Born: | August 5, 1906 | Cause of Death: | complications from emphysema |
| Birth Place: | Nevada, Missouri, USA | Profession: | Cast ... |
RATE AND COMMENT
MILESTONES
1909:
Stage acting debut at age three (date approximate)
:
After parents' separated, moved to Texas with mother
1917:
Moved to L.A. for health reasons
:
Became boxer at age 14, won Amateur Lightweight Boxing Championship in California
:
Professional stage acting debut at age 19
:
Moved to Mexico, became calvary officer
1928:
Resigned commission
:
Became reporter with New York <i>Graphic</i>
1929:
Made acting debut with uncredited appearance in "Hell's Heroes"
:
Moved to Hollywood in the early 1930s, debut as screenwriter with Samuel Goldwyn on projects like 1932's "Law and Order", "Murder in the Rue Morgue" and "A House Divided"
1935:
Made contract writer at Warner Bros.
1940:
Earned first Academy Award nomination for contributions to script of "Doctor Ehrlich's Magic Bullet"
1941:
Co-wrote the biopic "Sergeant York"; shared Academy Award nomination for script
1941:
Debut as film director with "The Maltese Falcon"; also scripted; first screen collaboration with Humphrey Bogart; father Walter appeared in small part; received Oscar nomination for screenplay
1942:
Became a lieutenant with Signal Corps
:
Made several documentaries while in the military including "Report From the Aleutians" (1943) and "Let There Be Light" (1945)
1945:
Returned to Hollywood and did uncredited work on the screenplays of "The Killers" and "The Stranger" (both 1946)
1948:
Received Oscars as Best Director and for Best Screenply for "The Treasure of the Sierra Madre"; father Walter won Best Supporting Actor Academy Award for same film
1950:
Earned dual Oscar nods for writing and directing "The Asphalt Jungle"
1951:
Wrote and directed "The African Queen"; garnered two more Academy Award nominations; star Humphrey Bogart received Best Actor Oscar
1952:
Garnered yet another Oscar nomination for direction of "Moulin Rouge", the biopic of artist Toulouse-Lautrec
1956:
Produced, wrote and directed "Moby Dick", adapted from Herman Melville's classic novel
1957:
Earned Academy Award nomination for contributions to script of "Heaven Knows, Mr. Allison"; also directed
1961:
Directed "The Misfits", scripted by Arthur Miller and co-starring Clark Gable, Marilyn Monroe and Montgomery Clift
1962:
Guided Clift through the title role of "Freud"
1963:
Co-starred in "The Cardinal"; received Oscar nomination as Best Supporting Actor
1964:
Helmed the screen adaptation of Tennessee Williams' "The Night of the Iguana", featuring Ava Gardner, Richard Burton and Deborah Kerr
1966:
Played Noah and provided the voice of God in "The Bible"; also directed
1967:
Produced and directed "Reflections in a Golden Eye"
1969:
Directed daughter Anjelica in the lead of the medieval romance "A Walk With Love and Death"; also acted
1970:
Acted in the camp classic "Myra Breckinridge"
1972:
Directed the superb boxing-themed drama "Fat City"
1974:
Delivered memorable turn as the nasty Noah Cross in "Chinatown"
1975:
Received 13th Academy Award nomination for script of "The Man Who Would Be King", adapted from a Rudyard Kipling story; also directed
1979:
Helmed "Wise Blood", adapted from Flannery O'Connor's novel; also acted the role of Hazel's grandfather
1982:
Directed first screen musical, the overproduced boxoffice disappointment "Annie", based on the hit Broadway musical
1984:
Realized a long-held dream to film "Under the Volcano" with Albert Finney in the lead
1985:
Earned final Oscar nomination for the black comedy "Prizzi's Honor"; daughter Anjelica received the Best Supporting Actress statue for her turn as a Mafia princess
1987:
Directed last film, "The Dead"; daughter Anjelica offered memorable performance; son Tony wrote the screenplay based on the James Joyce story
1988:
Produced and scripted "Mr. North"; had been set to direct but became too ill; son Danny replaced him at the helm