share:
Recent DVDs
Blackbeard's... A college track coach buys an antique bed warmer and inherits the mischievous... more info $7.85was $14.99 Buy Now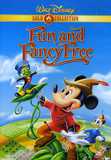 Fun and Fancy... Jiminy Cricket narrates two classic Disney adventures in this animated... more info $13.95was $16.99 Buy Now
Melody Time ... A timeless wonder of music and fantasy, Disney's 10th full-length animated... more info $13.95was $16.99 Buy Now
MEDIA:
WATCH MOVIE CLIPS
|
VIEW TRAILER
|
VIEW PHOTOS
|
WATCH A TCM PROMO
| | | | |
| --- | --- | --- | --- |
| Also Known As: | | Died: | December 15, 1966 |
| Born: | December 5, 1901 | Cause of Death: | cancer |
| Birth Place: | Chicago, Illinois, USA | Profession: | Producer ... |
RATE AND COMMENT
MILESTONES
1918:
With Red Cross Ambulance Corps in France just after Armistice
1919:
Hired as commercial artist in Kansas; met Ub Iwerks
1920:
Joined Kansas City Film Ad Company, making cartoon commericals for local businesses
1922:
Incorporated first studio, Laugh-O-Gram Films; subsequently went bankrupt
1923:
Moved to Hollywood; the Disney Brothers Studio founded when Walt contracted with M J Winkler to deliver a series of six shorts titled "The Alice Comedies", combining live-action with animation; had made first "Alice" short while still in Kansas City; creditors allowed him to keep one copy of the film to use as a sample when he moved to California; three-and-a-half years later at series end, the once wanna-be filmmaker had his own studio and staff
1924:
Invited Ub Iwerks to join him in California
1927:
Introduced a new series, "Oswald the Lucky Rabbit"; distributor Charles Mintz assume control of the character
1928:
Introduced animated mouse in short "Plane Crazy"
1928:
Made first synchronized sound cartoon, "Steamboat Willie"; introduced Minnie and Mickey Mouse; provided the voice for Mickey until his death
1929:
The Disney Brothers partnership replaced by four companies: Walt Disney Prods. Ltd.; Walt Disney Enterprises; Liled Realty and Investment Company; and the Disney Film Recording Company
1930:
Ub Iwerks suddenly departed the company
1930:
Brother Roy signed first contract for licensing, granting the George Borgfeldt Company of New York the right to manufacture and sell "figures and toys of various materials, embodying design of comic mice known as Mickey and Minnie Mouse . . .; Disney received 2.5 percent royalty on items selling for 50 cents or less, 5 percent for more expensive products
1930:
Pluto made his cartoon debut in "The Chain Gang"
1932:
Received honorary Oscar for the creation of Mickey Mouse
1932:
Goofy introduced in the cartoon short "Mickey's Revue"
1932:
Made first full-Technicolor film, "Flowers and Trees", from the "Silly Symphony" series; first cartoon to win an Oscar
1932:
Hired Don Graham from Los Angeles' Chouinard Art School to conduct night classes for his animators; eventually hired him full-time
1933:
First Mickey Mouse watch sold by Ingersoll
1933:
First globally successful story, "The Three Little Pigs" (from "Silly Symphony" series)
1934:
Donald Duck made initial appearance in "The Wise Little Hen" (from "Silly Symphony" series)
1934:
Production begun on first full-length animated feature, "Snow White"
1937:
"The Old Mill" short introduced the use of Disney's $70,000 multiplane camera, facilitating panning shots, creating greater depth of image and enabling more elaborate effects to be incorporated
1937:
Release of first US full-length animated film, "Snow White and the Seven Dwarfs"; production costs exceeded $1.5 million
1938:
Walt Disney Prods. absorbed the three other Disney corporations created in 1929
1938:
Purchased 51 acres of land for what eventually became Buena Vista Studios
1940:
Iwerks returns to work for Disney
1940:
An outgrowth of the "Silly Symphony" series. the feature-length "Fantasia" combined classical melodies with top-of-the-line animation and received a special certificate at the 1941 Academy Awards for its revolutionary Fantasound (early stereo)
1940:
Ub Iwerks returned to Disney
1940:
"Pinocchio" won two Oscars, one for score and one for song ("When You Wish Upon a Star")
1941:
On May 28, 1941, approximately 500 employees picketed the studio; the Disney strike seriously changed the atmosphere of the studio and affected the work produced there in years to come
1941:
Special treat of "Dumbo", the "Pink Elephants on Parade" surrealistic sequence, depicting Dumbo's psychedelic visions after swallowing a basinful of champagne
1942:
Released "Bambi", pushing the envelope (for him) by killing off Bambi's mother; five years in development, it was last feature to emerge unscathed by the problems of the strike or the war
1942:
Made films for US Armed Forces
1945:
"The Three Cabelleros", for the first time since the "Alice" series, extensively combined live-action and animation
1945:
Produced "True Life Adventure" series, Disney's first live-action films
1946:
Iwerks' further developments in the marriage of live-action and animation for "Song of the South" would not be topped for nearly 20 years
1950:
First new feature cartoon in the "classic" tradition, "Cinderella"
1950:
First live-action feature, "Treasure Island"
1950:
Ventured into TV with Christmas night variety special, "One Hour in Wonderland" (NBC), promoting Disney's animated feature "Alice in Wonderland"
1951:
Established Disneyland, Inc., a company with the mandate to create a theme park in Southern California
1952:
Founded Walter Elias Disney (WED) Enterprises
1953:
Roy O Disney formed Buena Vista Distribution Company
:
Hosted the various incarnations of the TV series "Walt Disney" (e.g., "Disneyland", "Walt Disney's Wonderful World of Color"), appearing first on ABC and moving to NBC in 1961; the (to date) longest-running primetime series would ultimately air under six different titles and have a run on CBS as well after Disney's death; first major Hollywood studio to create TV programming
1955:
Phased out his short-subjects unit, laying off some employees and reassigning others to work on the "Disneyland" TV series; continued to produce extra-length shorts on an unpredictable schedule through the early 1960s
1955:
"The Mickey Mouse Club" debuted on TV
1955:
Disneyland Amusement Park opened in Anaheim, California
1955:
First animated feature filmed in Cinemascope, "Lady and the Tramp"
1959:
Most lavish and expensive ($6 million) animated feature to that date, "Sleeping Beauty"; second and last feature in wide-screen format
1961:
First feature to solely use Xerox processs for transferring animator's drawings to cels, "One Hundred and One Dalmatians"
1961:
Formed California Institute of the Arts (CalArts) through merger of Los Angeles Conservatory of Music and Chouinard Art Institute
1963:
Released animation epic, "The Sword and the Stone", based on T. H. White's version of the Arthurian legend
1964:
Robert Stevenson's "Mary Poppins" offered a then state-of-the-art blending of live-action and animation on its way to 13 Academy Award nominations; film won five statues, including Best Actress for Julie Andrews, the first Disney player to win an Oscar
1967:
"The Jungle Book", the last animated feature supervised by Disney, released
1968:
Last credit as producer, "Blackbeard's Ghost", directed by Stevenson
1970:
First feature-length animated film completed without Walt Disney, "The Aristocats"
1971:
Walt Disney World (Orlando. Florida) opened in October; it was the largest private building project in the world up to that time; Disney had initiated project, supervising every aspect in its development prior to his death; brother Roy took over, dedicating it in his brother's name two months before his death in December