share:
Recent DVDs
Blackbeard's... A college track coach buys an antique bed warmer and inherits the mischievous... more info $7.85was $14.99 Buy Now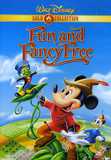 Fun and Fancy... Jiminy Cricket narrates two classic Disney adventures in this animated... more info $13.95was $16.99 Buy Now
Melody Time ... A timeless wonder of music and fantasy, Disney's 10th full-length animated... more info $13.95was $16.99 Buy Now
MEDIA:
WATCH MOVIE CLIPS
|
VIEW TRAILER
|
VIEW PHOTOS
|
WATCH A TCM PROMO
| | | | |
| --- | --- | --- | --- |
| Also Known As: | Walter Elias Disney | Died: | December 15, 1966 |
| Born: | December 5, 1901 | Cause of Death: | cancer |
| Birth Place: | Chicago, Illinois, USA | Profession: | Producer ... executive producer animation director animator commercial artist mail delivery boy newspaper delivery boy factory worker |
RATE AND COMMENT
BIOGRAPHY
country. The following year, he changed the show¿s title to "Walt Disney Presents" and served as host until his death in 1966, while the series lasted until 1983. Meanwhile, he made further ventures into live action with "20,000 Leagues Under the Sea" (1954) and the incredibly poignant "Old Yeller" (1957). With the success of another popular television series, "The Mickey Mouse Club" (ABC, 1955-59), which featured the plucky Mouseketeer Annette Funicello, Disney took a huge step in cementing his empire by building the Disneyland theme park, a dream he forged in the late-1940s. Staged in nearby Anaheim and opened in 1955, the so-called Happiest Place on Earth featured only 20 attractions, but drew large crowds that included many notable celebrities.
Despite the numerous excursions into other areas, Disney stayed with its bread-and butter and continued making animated feature like "One Hundred and One Dalmatians" (1961) and "The Sword and the Stone" (1964). He also trudged ahead with popular and often iconic live-action movies, such as "Swiss Family Robinson" (1960), "The Parent Trap" (1961) and "Mary Poppins" (1964), a state-of-the-art blending of live-action and animation in which Julie Andrews became the first player in a Disney film to win an Academy Award and became one of Disney¿s greatest successes. By this time, the Disney empire had reached new heights and became the standard bearer of family-themed entertainment. Meanwhile, the man himself concentrated on expanding Disneyland and began designing the even grander Walt Disney World in Florida in 1964, with grounds that were 180 times greater than his California theme park, making it the largest private construction project undertaken to that time. He also had visions of what he called the Experimental Prototype City of Tomorrow, or EPCOT, neither of which he was able to see through to completion. In 1966, Disney underwent surgery for an old neck injury that led to the discovery of a malignant tumor in his lung. After his lung was removed, Disney died on Dec. 15, 1966 from acute circulatory collapse brought about by lung cancer. He was 65. Urban legend told that the last thing he wrote shortly before he died was the name Kurt Russell, a child actor who at the time had just been signed by the studio. Much later, Russell confirmed the rumors while on a late night talk show.
Disney studios soon released the last films their patriarch had an active role in: the animated features "The Jungle Book" (1967) and "Winnie the Pooh and the Blustery Day" (1967), as well as the live action musical "The Happiest Millionaire" (1967). Meanwhile, Disney¿s look-a-like brother, Roy, stepped out of retirement to head the family empire and personally oversaw the construction of Walt Disney World in 1971. Over the ensuing years, Disney enterprise greatly expanded into a multi-billion dollar corporate conglomerate that seemed to permeate every facet of American culture while being ever-present throughout one¿s childhood. Of course, the animated films continued to roll off the animation assembly line to varying degrees of success. After flagging in the 1970s and 1980s with "Robin Hood" (1973), "The Fox and the Hound" (1981) and "The Black Cauldron" (1985), Disney-style animation saw a huge resurgence with blockbuster hits like "The Little Mermaid" (1989), "Beauty and the Beast" (1991), "Aladdin" (1992) and "The Lion King" (1995). In the age of computer animation, Disney stubbornly held fast to hand-drawn characters until finally giving into digital technology with their last traditional animated feature, "Home on the Range" (2004). The practice did make a comeback, however, with the critical and financial hit "The Princess and the Frog" (2009). For all that he represented, both good and ill, there was no doubt that Disney had a profound impact on both culture and American enterprise, setting precedents in numerous areas. Through it all, Disney tried to retain perspective by routinely saying, "I hope we never lose sight of one thing¿it all began with a mouse." loses brought on by "Fantasia," which suffered internationally with the onset of World War II, Disney made his shortest animated feature, "Dumbo" (1941), which clocked in at a lean 64 minutes and told the tale of a big-eared elephant with the special gift of flight. Shortly after its release, the United States entered the war and subsequently contracted the studio to make training films for the military while sending Disney and several animators to South America by the U.S. State Department. In return, the federal government guaranteed loans to finance "Saludos Amigos" (1942).
In the meantime, Disney released what was later dubbed the crowning achievement of his studio, "Bambi" (1942), which suffered at the box office during its initial release because of the war and criticism from hunters that they were portrayed as being evil. But subsequent re-releases years later and distribution into other mediums more than made up for the financial loss, as the film went on to become an all-time Disney classic. Meanwhile, the self-made Disney felt the personal glow of success and naïvely thought his coworkers and employees would share the feeling. There was a bonus payment plan for what Disney deemed top-quality animation, but his exacting standards were too high for many to bear. Many people worked nights and weekends to meet tight deadlines, while grumbling that there was no overtime to compensate their bank accounts. Also, Disney¿s stubborn anti-union attitude and firing of union activists only exacerbated the growing animosity until some 500 picketers lined up outside the studio on May 28, 1941 and went on strike for five weeks. As a result, Disney lost some of his best talent and the atmosphere of the studio forever changed, affecting the work produced for years to come.
Both during and after the war, Disney released a number of so-called package films that mixed live-action and animation, including "The Three Caballeros" (1945), "Song of the South" (1946), featuring the latest technological developments of Ub Iwerks, and "The Adventures of Ichabod and Mr. Toad" (1949), all of which set the standard for the genre that lasted nearly 20 years. It would not be until the next decade before he produced a new classic animated feature, "Cinderella" (1950), which was still part of Disney¿s Golden Age, but presaged the less acclaimed films that were to come. Still, he had one of his biggest hits since "Snow White," which gave his studio a much-needed cash stream. He personally oversaw his next film, "Alice in Wonderland" (1951), a later classic that was nonetheless severely criticized by fans of Lew Carroll¿s literary creation. He took a critical drubbing with his next films, despite their later becoming classics in their own right. "Peter Pan" (1953), "Lady and the Tramp" (1955) and "Sleeping Beauty" (1956) were all praised for their visual innovations ¿ by this point Disney¿s animators were making it look easy ¿ but derided for their lack of story and character development. The first two were hits with audiences and made considerable sums at the box office, but "Sleeping Beauty," the most expensive Disney film made up to that point, failed to boost the studio¿s flagging profits that year, leading to a reported loss and layoffs in the animation department.
Though he did not venture into live-action feature-length movies until "Treasure Island" (1950), Disney had begun producing the "True Life Adventure" series in 1945, which earned five consecutive Academy Awards (1950-55) in the Best Short Subjects category. Seeing the potential in television before any of the other studios, he initially ventured into the new medium with specials to promote his upcoming features before taking the plunge in 1954 as host of the "Disneyland" (ABC) series, where its popular "Davy Crockett" episodes exhibited the medium¿s ability to influence the market, as coonskin cap mania swept the