share:
Recent DVDs
Blackbeard's... A college track coach buys an antique bed warmer and inherits the mischievous... more info $7.85was $14.99 Buy Now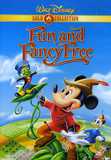 Fun and Fancy... Jiminy Cricket narrates two classic Disney adventures in this animated... more info $13.95was $16.99 Buy Now
Melody Time ... A timeless wonder of music and fantasy, Disney's 10th full-length animated... more info $13.95was $16.99 Buy Now
MEDIA:
WATCH MOVIE CLIPS
|
VIEW TRAILER
|
VIEW PHOTOS
|
WATCH A TCM PROMO
| | | | |
| --- | --- | --- | --- |
| Also Known As: | Walter Elias Disney | Died: | December 15, 1966 |
| Born: | December 5, 1901 | Cause of Death: | cancer |
| Birth Place: | Chicago, Illinois, USA | Profession: | Producer ... executive producer animation director animator commercial artist mail delivery boy newspaper delivery boy factory worker |
RATE AND COMMENT
BIOGRAPHY
Having created some of the world's most popular and enduring cartoon characters, animator and entrepreneur Walt Disney was a self-made man who became the biggest, most influential figure in filmed entertainment during the 20th century and beyond. Starting with a little mouse named Mickey, Disney forged a giant multi-billion dollar empire that included numerous animated film classics, television shows and theme parks the world over. Starting with the animated short, "Steamboat Willie" (1928), which he created with the help of animator Ub Iwerks, Disney brought to life the world's most recognized and popular cartoon character, Mickey Mouse. After a series of successful shorts starring Mickey and his pals Minnie, Pluto, Donald and Goofy, he boldly ventured into animated features with "Snow White and the Seven Dwarfs" (1937), setting in motion a Golden Age in animation that included numerous classics like "Pinocchio" (1940), "Dumbo" (1941) and "Bambi" (1942). An innovator who eagerly pushed the boundaries of available technology, Disney was a true pioneer with hand-drawn animation and set the standard that all others followed for decades to come. Following World War II, which saw him contribute more to the war effort than his own ambitions, Disney branched out in numerous directions and cemented his rapidly expanding empire. He ventured into live-action movies with "Treasure Island" (1950), "Old Yeller" (1957), and "Mary Poppins" (1964), while taking strides on television with "Walt Disney Presents" (1954-2008) and "The Mickey Mouse Club" (ABC, 1955-59). But his greatest achievement was the Disneyland theme park, which opened in Anaheim, CA in 1955 and played host to countless millions looking to plunge themselves into childlike fantasy for the day. Though he never lived to see the expansion of his theme park dreams with Florida's Walt Disney World and EPCOT Center, Disney remained an iconic figure whose profound influence on American culture was permanently entrenched well into the 21st century.
Born on Dec. 5, 1901 in Chicago, IL, Disney was raised by his father, Elias, a former itinerant gold seeker who settled down to become a part-time preacher, carpenter and small-time building contractor, and his mother, Flora, a schoolteacher. When he was four years old, Disney moved with his family to Marceline, MO. It was there that he first began developing a love for drawing and even sold his first pictures to a retired doctor who asked him to draw his horse. In 1911, the family was on the move again; this time settling in Kansas City, where Disney first came into contact with vaudeville and the burgeoning world of motion pictures. While in Kansas City, he took his first steps toward becoming an animator by taking a class at the Kansas City Art Institute before his father moved the family back to Chicago. While enrolled at McKinley High School, where he was the cartoonist for the school paper, Disney began taking night classes at the Chicago Art Institute, but dropped out of high school at 16 years olds in order to join the U.S. Army. Rejected for being underage, Disney instead joined the Red Cross and was sent to France to drive an ambulance during World War I.
In 1919, Disney left Chicago and returned to Kansas City, hoping to begin an artistic career. After failing to find work as a newspaper artist, he landed temporary employment with the Pesmen-Rubin Art Studio, where he met a cartoonist by the name of Ub Iwerks, with whom Disney formed a life-long friendship and business partnership. Disney soon found himself out of work again and briefly formed his own company with Iwerks called Iwerks-Disney Commercial Artists. But the business fared poorly and forced both to find jobs once again. Disney began making commercials using cutout animation for the Kansas City Film Ad Company, which allowed him to use their camera equipment to make his own animated experiments at home. Those experiments led to the creation of the Kansas City-based Laugh-O-Gram Films, which Disney formed with Iwerks. For a year and a half, the animation studio struggled to survive until it was finally forced to close shop following the commercial failure of the short film "Alice's Wonderland" (1923). With little money in his pocket, Disney moved to Hollywood with Iwerks and his brother, Roy, where he managed to scrape up financing and distribution for the "Alice Comedies" (1924-27), a series of animated shorts that continued the adventures of a live-action Alice (Virginia Davis/Margie Gay/Los Hardwick) and her animated cat, Julius, who were first introduced in the failed "Alice's Wonderland."
The mild success of the "Alice Comedies" allowed Disney to form the Disney Brothers Cartoon Studios in downtown Los Angeles, marking the beginnings of his corporate empire. When the "Alice" series ran its course in 1927, Disney collaborated with Iwerks to create "Oswald the Lucky Rabbit," a human-like rabbit with a knack for avoiding trouble. After the first animated cartoon, "Poor Papa" (1926), was rejected by Universal Studios due to poor production values, Disney revamped the character and returned with "Trolley Troubles" (1927), a much neater and more entertaining introduction to the character that helped launch his biggest success up to that point. Because of the popularity of the "Oswald" series, Disney - already displaying a strong head for business - wanted a larger production budget. But Universal instead demanded that he take a pay cut while claiming ownership of the character and signing away most of his animation staff. Only Iwerks, Les Clark and Wilfred Jackson remained loyal to Disney, who by this time had disassociated himself from the series. In desperate need of a replacement, Disney and Iwerks hunkered down to find the right character, only to find themselves disappointed with their results. It was when he found inspiration in a pet mouse he once had on the family farm that Disney and Iwerks created the company's iconic symbol and arguably the most popular animated character of all time.
In 1928, Disney introduced Mickey Mouse to the world, a mischievous black mouse who was first animated in the test film, "Plane Crazy" (1928), which also featured the creation of his longtime companion, Minnie Mouse. Unable to find a distributor for "Plane Crazy," he featured Mickey in "The Gallopin' Gaucho" (1928) in a limited release that failed to gain traction. But with "Steamboat Willie" (1928), Disney finally attained wide release for the troublesome mouse, who was seen as the pilot of a steamboat until arch-villain, Peg Leg Pete, throws him off the bridge. Mickey goes on to have adventures with an emaciated Clarabelle the Cow and Minnie Mouse, before being consigned by Pete to peeling potatoes as punishment for his misdeeds. Known for being one of the first animated shorts to feature synchronized sound and music, "Steamboat Willie" also marked the first time Disney voiced the character - a job he held until 1947. Initially named Mortimer, Disney's wife, Lillian, wisely urged him to change it to Mickey and a star was born. In fact, Mickey surged past Felix the Cat as the world's most popular cartoon character, with the animated feline fading rapidly into obscurity.
Because of the immediate success of "Steamboat Willie," Disney's creation was the star of numerous popular short films throughout the 1930s, which brought laughter and escapism to those suffering during the Great Depression. He also launched the "Silly Symphonies" in 1929, a series of 75 cartoon shorts that featured a wide variety of fairy tale characters while also introducing the world to Donald Duck, who made his first onscreen appearance in "The Wise Little Hen" (1934). Also appearing were popular Mickey Mouse characters like Minnie, Goofy and Pluto. Combining artistry and business acumen, Disney assembled a team of animators to bring to life his vision using the day's cutting-edge technology. When sound became the norm, Disney optimistically committed to making a talking cartoon with no idea how he could accomplish it, working out the details as the project progressed. The result was "The Karnival Kid" (1929), in which audiences first heard Mickey Mouse speak. With the advent of color, he cannily protected his investment by striking a three-year exclusivity deal with Technicolor and launched production on "Flowers and Trees" (1932), a "Silly Symphony" short set to the music of Mendelssohn, Schubert and Rossini. When the color paint used on the cells baked under the hot lights and flaked off, he instructed his technical department to devise a new formula for paint that would adhere to the celluloid sheets and offer greater flexibility.
Disney's development of the multiplane camera at a cost of $70,000 revolutionized the look of animation, enabling the camera to look through a series of animation "planes" - up to seven, each lit separately from the side - and create the depth and dimension of the landmark establishing shot of "The Old Mill" (1937); layer upon layer of landscape, from reeds and thistles in a pond and a spider bouncing on a web in the foreground to a procession of cows walking behind a windmill and clouds passing in the sky were all on display and gave the animation a stunning dimensional look. While his staff worked on the refinement of the studio's main stars, Disney used the "Silly Symphony" series as a proving ground to achieve greater sophistication in layout and backgrounds, as well as an opportunity to create new and sympathetic characters for each seven-minute short. The innovation of his cartoons, coupled with their popularity with moviegoers, began earning Disney more than just money. In 1932, he won an Honorary Academy Award for creating Mickey Mouse while "Flowers and Trees" picked up an Oscar for Best Short Subjects (Cartoons). From there, Disney went on to win Oscars for "The Three Little Pigs" (1933), "The Tortoise and the Hare" (1934), "Three Orphan Kittens" (1935) and "The Old Mill" (1937).
Disney's unyielding quest for perfectionism, embodied by an ever-increasing investment in his films, made the leap to features in order to hurdle the inherent money-making limitations of the shorts inevitable. When word broke that he was making his first full-length movie, the press labeled his efforts "Disney's Folly" and boldly declared that the venture would doom his studio. But as usual, Disney proved the naysayers wrong and scored both a commercial and artistic triumph with "Snow White and the Seven Dwarfs" (1937), the simple tale of a beautiful young maiden put to sleep by her evil stepmother, only to be revived by the love of her Prince Charming. Even true believers failed to imagine the movie's success, which initially took in over $8 million at the box office - a fortune by the day's standard. The film also introduced the world to more beloved characters, the Seven Dwarves, whom Disney himself personally introduced in the original theatrical trailer. Unbeknownst at the time, Disney had launched a Golden Age of animation, where he released many of his classic films. He also moved the newly named Walt Disney Studios to Burbank in 1939, where it would remain.
In 1940, Disney brought to life "Pinocchio," which told of an old wood carver, Geppetto, who carves a wooden marionette and wishes upon a star that it turns into a real boy, which prompts The Blue Fairy to appear and grant him his wish. Another instant classic, "Pinocchio" lived on as one of his most popular works, thanks to the fond memories generated by the song "When You Wish Upon a Star," as song by Jiminy Cricket. The song would become the de facto company theme song. Disney next moved on to "Fantasia" (1940), starring Mickey Mouse, a remarkably artful mixture of animation and classical music coupled with cutting edge Fantasound that he nonetheless called "an honest mistake" at the Academy Awards in 1942. Still, critics and audiences held the risky movie in high esteem throughout the years. To recoup the financial loses brought on by "Fantasia," which suffered internationally with the onset of World War II, Disney made his shortest animated feature, "Dumbo" (1941), which clocked in at a lean 64 minutes and told the tale of a big-eared elephant with the special gift of flight. Shortly after its release, the United States entered the war and subsequently contracted the studio to make training films for the military while sending Disney and several animators to South America by the U.S. State Department. In return, the federal government guaranteed loans to finance "Saludos Amigos" (1942).
In the meantime, Disney released what was later dubbed the crowning achievement of his studio, "Bambi" (1942), which suffered at the box office during its initial release because of the war and criticism from hunters that they were portrayed as being evil. But subsequent re-releases years later and distribution into other mediums more than made up for the financial loss, as the film went on to become an all-time Disney classic. Meanwhile, the self-made Disney felt the personal glow of success and naïvely thought his coworkers and employees would share the feeling. There was a bonus payment plan for what Disney deemed top-quality animation, but his exacting standards were too high for many to bear. Many people worked nights and weekends to meet tight deadlines, while grumbling that there was no overtime to compensate their bank accounts. Also, Disney's stubborn anti-union attitude and firing of union activists only exacerbated the growing animosity until some 500 picketers lined up outside the studio on May 28, 1941 and went on strike for five weeks. As a result, Disney lost some of his best talent and the atmosphere of the studio forever changed, affecting the work produced for years to come.
Both during and after the war, Disney released a number of so-called package films that mixed live-action and animation, including "The Three Caballeros" (1945), "Song of the South" (1946), featuring the latest technological developments of Ub Iwerks, and "The Adventures of Ichabod and Mr. Toad" (1949), all of which set the standard for the genre that lasted nearly 20 years. It would not be until the next decade before he produced a new classic animated feature, "Cinderella" (1950), which was still part of Disney's Golden Age, but presaged the less acclaimed films that were to come. Still, he had one of his biggest hits since "Snow White," which gave his studio a much-needed cash stream. He personally oversaw his next film, "Alice in Wonderland" (1951), a later classic that was nonetheless severely criticized by fans of Lew Carroll's literary creation. He took a critical drubbing with his next films, despite their later becoming classics in their own right. "Peter Pan" (1953), "Lady and the Tramp" (1955) and "Sleeping Beauty" (1956) were all praised for their visual innovations - by this point Disney's animators were making it look easy - but derided for their lack of story and character development. The first two were hits with audiences and made considerable sums at the box office, but "Sleeping Beauty," the most expensive Disney film made up to that point, failed to boost the studio's flagging profits that year, leading to a reported loss and layoffs in the animation department.
Though he did not venture into live-action feature-length movies until "Treasure Island" (1950), Disney had begun producing the "True Life Adventure" series in 1945, which earned five consecutive Academy Awards (1950-55) in the Best Short Subjects category. Seeing the potential in television before any of the other studios, he initially ventured into the new medium with specials to promote his upcoming features before taking the plunge in 1954 as host of the "Disneyland" (ABC) series, where its popular "Davy Crockett" episodes exhibited the medium's ability to influence the market, as coonskin cap mania swept the country. The following year, he changed the show's title to "Walt Disney Presents" and served as host until his death in 1966, while the series lasted until 1983. Meanwhile, he made further ventures into live action with "20,000 Leagues Under the Sea" (1954) and the incredibly poignant "Old Yeller" (1957). With the success of another popular television series, "The Mickey Mouse Club" (ABC, 1955-59), which featured the plucky Mouseketeer Annette Funicello, Disney took a huge step in cementing his empire by building the Disneyland theme park, a dream he forged in the late-1940s. Staged in nearby Anaheim and opened in 1955, the so-called Happiest Place on Earth featured only 20 attractions, but drew large crowds that included many notable celebrities.
Despite the numerous excursions into other areas, Disney stayed with its bread-and butter and continued making animated feature like "One Hundred and One Dalmatians" (1961) and "The Sword and the Stone" (1964). He also trudged ahead with popular and often iconic live-action movies, such as "Swiss Family Robinson" (1960), "The Parent Trap" (1961) and "Mary Poppins" (1964), a state-of-the-art blending of live-action and animation in which Julie Andrews became the first player in a Disney film to win an Academy Award and became one of Disney's greatest successes. By this time, the Disney empire had reached new heights and became the standard bearer of family-themed entertainment. Meanwhile, the man himself concentrated on expanding Disneyland and began designing the even grander Walt Disney World in Florida in 1964, with grounds that were 180 times greater than his California theme park, making it the largest private construction project undertaken to that time. He also had visions of what he called the Experimental Prototype City of Tomorrow, or EPCOT, neither of which he was able to see through to completion. In 1966, Disney underwent surgery for an old neck injury that led to the discovery of a malignant tumor in his lung. After his lung was removed, Disney died on Dec. 15, 1966 from acute circulatory collapse brought about by lung cancer. He was 65. Urban legend told that the last thing he wrote shortly before he died was the name Kurt Russell, a child actor who at the time had just been signed by the studio. Much later, Russell confirmed the rumors while on a late night talk show.
Disney studios soon released the last films their patriarch had an active role in: the animated features "The Jungle Book" (1967) and "Winnie the Pooh and the Blustery Day" (1967), as well as the live action musical "The Happiest Millionaire" (1967). Meanwhile, Disney's look-a-like brother, Roy, stepped out of retirement to head the family empire and personally oversaw the construction of Walt Disney World in 1971. Over the ensuing years, Disney enterprise greatly expanded into a multi-billion dollar corporate conglomerate that seemed to permeate every facet of American culture while being ever-present throughout one's childhood. Of course, the animated films continued to roll off the animation assembly line to varying degrees of success. After flagging in the 1970s and 1980s with "Robin Hood" (1973), "The Fox and the Hound" (1981) and "The Black Cauldron" (1985), Disney-style animation saw a huge resurgence with blockbuster hits like "The Little Mermaid" (1989), "Beauty and the Beast" (1991), "Aladdin" (1992) and "The Lion King" (1995). In the age of computer animation, Disney stubbornly held fast to hand-drawn characters until finally giving into digital technology with their last traditional animated feature, "Home on the Range" (2004). The practice did make a comeback, however, with the critical and financial hit "The Princess and the Frog" (2009). For all that he represented, both good and ill, there was no doubt that Disney had a profound impact on both culture and American enterprise, setting precedents in numerous areas. Through it all, Disney tried to retain perspective by routinely saying, "I hope we never lose sight of one thing.it all began with a mouse."