share:
Recent DVDs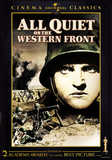 All Quiet on... 1930 anti-war film was Universal's first Oscar winner for Best Picture. Film... more info $11.21was $14.98 Buy Now
MEDIA:
WATCH MOVIE CLIPS
|
VIEW TRAILER
|
VIEW PHOTOS
|
WATCH A TCM PROMO
| | | | |
| --- | --- | --- | --- |
| Also Known As: | George Dewey Cukor | Died: | January 24, 1983 |
| Born: | July 7, 1899 | Cause of Death: | natural causes |
| Birth Place: | New York City, New York, USA | Profession: | Director ... director stage manager |
RATE AND COMMENT
BIOGRAPHY
er triumph also came with adversity. Hired by Warner Bros. to helm their film adaptation of the Broadway musical "My Fair Lady," Cukor was faced with conflicts both in front of and behind the camera. There were frequent disagreements with designer Cecil Beaton, while star Audrey Hepburn ¿ already a controversial choice due to her lack of singing ability ¿ upset the crew with her numerous diva-like demands. Critics were also unkind to the final result, with many noting that Cukor¿s serene pace stifled the musical¿s ebullience. Despite these issues, the film went on to be one of the biggest hits of the decade, and earned Cukor his first and only Oscar for Best Director, as well as Golden Globe and Directors Guild accolades. It would also serve as the final high note of his long and storied career.
There would be more films in the two decades following "My Fair Lady;" some inconsequential jobs for hire, like 1969¿s "Justine," on which he replaced Joseph Strick. Others were hopeless boondoggles, like "Travels with My Aunt" (1972), a project he had hoped would star Katherine Hepburn. However, studio interference led to her abandoning the project under a cloud of litigation, and the resulting film now starring Maggie Smith was largely ignored. Worse still was "The Blue Bird" (1976), a glossy fantasy based on a Russian fable with an all-star cast led by Elizabeth Taylor, Jane Fonda and Ava Gardner. Filmed entirely in the Soviet Union, Cukor found himself stranded with an uncooperative and frequently mutinous cast, and a Russian crew that spoke no English, which required him to direct via improvised sign language.
Cukor found greater success on the small screen with a pair of intimate dramas, both starring Hepburn. "Love Among the Ruins" (ABC, 1975) teamed Hepburn with Laurence Olivier as an aging London theater star who retained an old flame (Olivier) to defend her in a legal case against an alleged former lover. Originally intended as a vehicle for legendary stage performers Alfred Lunt and Lynn Fontanne, the TV movie reaped Emmy Awards for Cukor and both stars. Hepburn and Cukor would reunite for the tenth and final time for "The Corn is Green" (CBS, 1979), a remake of the 1945 Bette Davis film, with Hepburn netting another Emmy nomination as a middle-aged schoolmistress who aided a Welsh miner in reaching his academic potential.
In 1981, the 82-year-old Cukor replaced Robert Mulligan on his final motion picture, "Rich and Famous," with Jacqueline Bisset and Candice Bergen. The film had all the earmarks of a classic Cukor film: a drama about two college friends who, in rising to their chosen professions, were tested at every turn by financial success and failure, relationships, and their own changing identities. Though not a hit with viewers or critics, what scant praise it received was reserved for Cukor himself, whose sophisticated style shone through the wan material. The following year, he was feted by the Venice Film Festival with the Career Golden Lion, as well as a Lifetime Achievement Award from the Directors Guild. On Jan. 24, 1983, Cukor died from a heart attack. He was buried in an unmarked grave at Forest Lawn Memorial Cemetery in Glendale, CA.th Hepburn as a brassy socialite caught between her playboy ex-husband (Cary Grant), a do-gooder reporter (James Stewart) and the man (John Howard) she believed she needed to marry, was among the crown jewels of Hollywood comedies, and helped to re-establish Hepburn as a movie star after years as "box office poison." He bookended his time at MGM with "Gaslight" (1944), a memorable thriller about a woman (Ingrid Bergman) who believed that her husband (Charles Boyer) was planning to murder her. It received seven Oscar nominations, including Best Picture and Best Actress for Bergman. Between these efforts was the courtroom drama "A Woman¿s Face" (1941), with Joan Crawford as a disfigured blackmailer in turmoil over returning to her criminal life after her appearance is corrected by plastic surgery, and two major failures ¿ "Two-Faced Woman" (1945), a dismal comedy that marked the end of Greta Garbo¿s film career, and "Her Cardboard Lover" (1942), which rang down the curtain on Norma Shearer¿s life on screen as well.
In 1942, the 43-year-old Cukor enlisted in the Army Signal Corps, where he produced training films for military personnel. The experience was a disappointment for him, as he found it difficult to give direction to his superiors. He also never advanced beyond the rank of private, despite intervention from Frank Capra, and suspected that his sexual orientation was the stumbling block. Cukor was honorable discharged in 1944 and returned to MGM, where his career picked up where he had left off.
Key to his third act success was a collaborative relationship with writers Garson Kanin and Ruth Gordon, whom he had met at his home in 1939 before they married in 1941. Together, they forged some of the most sparkling Hollywood comedies of the late `40s and early 1950s, including two of the best Katherine Hepburn-Spencer Tracy films, "Adam¿s Rib" (1949) and 1952¿s "Pat and Mike, as well as "Born Yesterday" (1950), an extraordinary comedy about a politician¿s mistress (Judy Holliday) who, upon discovering her own innate intelligence, throws off her boorish lover (Broderick Crawford) to fall for her tutor (William Holden). The picture earned Cukor a fourth Oscar nomination, and made a star of Holliday, who won the Oscar for her performance in the film. She would go on to appear in two more hits for Cukor, "The Marrying Kind" (1952), which introduced war hero-turned-actor Aldo Ray, and "It Should Happen to You" (1954), which brought a young comic actor named Jack Lemmon to audiences¿ attention.
In 1952, Cukor experienced one of the greatest disappointments of his career with the 1952 remake of "A Star is Born." Cukor had turned down the original version in 1937, much to Selznick¿s dismay, and did the same for producer Sid Luft, who was mounting the new version as a Technicolor musical remake for his wife, Judy Garland, at Warner Bros. Cukor was hesitant, as the film¿s plot was remarkably similar to his "What Price Hollywood?" but the opportunity to direct a color musical with a script by Moss Hart proved too enticing to turn down. He envisioned Cary Grant, but the actor refused the part, which ended their professional and personal relationships. Warner Bros. chief Jack Warner rejected Cukor¿s next considerations, Humphrey Bogart and Frank Sinatra, and eventually decided on James Mason as the male lead. The production soon proved to be one of Cukor¿s most trying, with script changes arriving daily, as well as the challenges of dealing with Garland¿s addictions and personal issues. A 210-minute cut was assembled in 1954 prior to Cukor leaving for Europe and then India to begin production on "Bhowani Junction" (1954). The original cut received stellar reviews, but Warner executives, fearing its length would turn away ticket buyers, trimmed the final cut down to 154 minutes.
The creative failure of "A Star is Born" marked the end of Cukor¿s career as a consistent producer of top-quality films. He would bounce between hits like the Golden Globe-winning musical "Les Girls" (1957) with Gene Kelly and Mitzi Gaynor and commercial flops like "Heller in Pink Tights" (1960), a Western comedy with Sophia Loren and Anthony Quinn that, despite its lavish sets and visuals, was a personal low point for Cukor, who disowned the final product. There was also the collapse of "Something¿s Got to Give" (1962), which found Cukor shooting around an increasingly unreachable Marilyn Monroe. After a month of shooting, he had less than 10 minutes of usable footage with the often overly medicated and consistently late actress, who was summarily fired by Fox executives before the entire picture was abandoned. Two months after its collapse, Monroe was found dead at age 36 in her Hollywood home.
Cukor¿s greatest triumph care