share:
Recent DVDs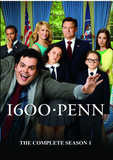 1600 Penn: The... The Gilchrists are just the average American family dealing with everyday... more info $27.95was $29.95 Buy Now
MEDIA:
WATCH MOVIE CLIPS
|
VIEW TRAILER
|
VIEW PHOTOS
|
WATCH A TCM PROMO
| | | | |
| --- | --- | --- | --- |
| Also Known As: | Walter Leland Cronkite Jr. | Died: | July 17, 2009 |
| Born: | November 4, 1916 | Cause of Death: | |
| Birth Place: | St. Joseph, Missouri, USA | Profession: | Editing ... news anchor writer reporter |
RATE AND COMMENT
BIOGRAPHY
uestions - neither would be given a list ahead of time in order for Cronkite to get a more honest reaction. He first sat down with Nixon and had a great difficulty penetrating his rough veneer. For his last question, Cronkite asked Nixon what he though qualified him to be president. Unfazed, Nixon answered with ease. The following week, Cronkite sat down with Kennedy and asked a set of different questions, with the exception of the last one, which was the same he asked Nixon. But Kennedy flubbed his answer. After the interview, Kennedy requested a do-over, which Cronkite refused to grant. But Kennedy remained steadfast, demanding that he do the interview over, even agreeing to allow Cronkite to inform viewers that the interview was indeed redone. Cronkite reluctantly agreed, but told Kennedy that his request was the poorest display of sportsmanship he had seen in his life. As Cronkite was leaving, Kennedy immediately changed his mind and told Cronkite to run the interview as shot.
In 1962, Cronkite succeeded Douglas Edwards to become the anchor for the "CBS Evening News" (1948- ), a position he would hold for almost 20 years. His rise from correspondent to anchor chair had been long and steady, but once he reached the top, Cronkite - already one of the most widely recognized and trusted journalists on television - would become synonymous with the word "news." In September 1963, Cronkite had the opportunity to interview Kennedy once again. Sitting on the front lawn of the famed Kennedy compound in Hyannis Port, MA, Cronkite quizzed the young president on many issues of the day, including the growing war in Vietnam. Kennedy famously said that the war could not be won without the support of the people. "In the final analysis," he said, "It's their war. They're the ones who have to win it or lose it." Just two months later, Kennedy was assassinated in Dallas, TX. Cronkite was one of several anchors covering the tragic event, but was forever remembered for his emotional reaction to confirming that the president had been killed. With eyes blurred by tears, Cronkite repeatedly removed his thick horn-rimmed glasses in an effort to maintain composure while reporting the details of Kennedy's death. Because he displayed humanity over professionalism, Cronkite comforted millions of Americans grieving in one of the nation's most painful moments.
Over the next several years, Cronkite's news show was in direct competition with the "Huntley-Brinkley Report" (NBC, 1956-1970), which remained in first place in the ratings until the late-1960s. Meanwhile, Cronkite continued his string of reporting momentous historical events. In 1968, he spent two weeks in Vietnam at the beginning of the Tet Offensive, a failed Communist uprising that nonetheless shocked the U.S. government and the American people for its ferocity and magnitude. Cronkite filmed a series of objective news reports, which were aired upon his return. But in the last segment of his report, he decided to insert a final commentary in which he declared that the war was mired in stalemate, suggesting that the best course of action would be to negotiate a peace settlement and clear the field. It was later reported that President Lyndon Johnson said, "If I've lost Cronkite, I've lost middle America." A month later, Johnson withdrew his contention for a second term as president. Meanwhile, the turbulence of 1968 continued unabated with the assassinations of Martin Luther King, Jr. and Robert F. Kennedy, and the riots outside the Democratic National Convention in Chicago. Inside the convention, future CBS anchor Dan Rather was punched in the stomach and pushed to the ground by security, causing Cronkite to remark, "I think we've got a bunch of thugs here, Dan."
Despite the numerous tragedies of the decade, Cronkite was at the forefront of a positive event in 1969 - the landing of the first manned spacecraft on the moon. Though he had about as much time to prepare his reaction as NASA did to actually land the craft, Cronkite was speechless when the event occurred live on July 20, 1969. With a smile on his face and hands rubbing together in excitement, the best Cronkite could manage was "Oh, boy!" His embrace of what he later called one the great stories of the century was felt by all who watched his broadcast. Meanwhile, he earned an Emmy Award for Outstanding Achievement in Coverage of Special Events. Once the 1970s came about, Cronkite's broadcast was the most watched in America. He was one of the first anchors to regularly cover the Watergate scandal, though he failed to break significant new ground. He did, however, earn another Emmy Award, this time for Outstanding Achievement With Regularly Scheduled News Programs. In 1974, Cronkite made a rare appearance on the entertainment side of television, making a cameo as himself in an episode of "The Mary Tyler Moore Show" (CBS, 1970-77). Unfortunately, Cronkite's appearance was shot in one take, leaving him no opportunity to chat with the cast.
With the ascendancy of President Ronald Reagan in 1981, Cronkite - by then 65 years old - decided it was time to retire. On March 6, 1981, he signed off from CBS for the last time, marking the end of an era that remained unmatched by any anchor since. Cronkite had long planned his retirement, but still felt sadness leaving the network he had represented for over 30 years. He ended the broadcast as he had so many times before, with his famous tagline "And that's the way it is." Cronkite did assure his viewers before signing off that he would still be in their living rooms from time to time, reporting events in taped specials and documentaries. But once he was gone, CBS management was promptly replaced and many of the projects promised him by the previous administration were scratched by the newcomers, leaving Cronkite bitter for years to come. While he remained the host of "Walter Cronkite's Universe" (CBS, 1979-1982), a 30-minute chronicle on the complexities of modern life, the short-lived program marked one of his last regular series.
Almost from the beginning of his retirement, Cronkite regretted leaving the network, even though he had planned the decision for a long time. But he did remain a viable presence both on and off camera, regularly appearing in made-for-TV specials like "Cronkite Remembers" (Discovery Channel, 1997), an eight-part series recounting the great events of the 20th century through his career that won a CableACE award for Best Documentary Series, and writing columns for King Features Syndicate, a print syndication company that distributed content to nearly 5,000 newspapers across the globe. He also hosted a long stretch of one-episode specials throughout the ensuing decades that covered everything from terrorism and Vietnam to the American healthcare crisis and the country's disastrous War on Drugs. Cronkite also continued making the occasional cameo appearance as himself on entertainment programs, including an episode of "Murphy Brown" (CBS, 1988-1998). Even well into his 80s and 90s, Cronkite was active on television, making cable documentaries that looked back on historical events like D-Day and personalities like Lady Bird Johnson. Then in 2005, his wife Betsy died in New York due to complications from her battle with cancer, just weeks short of the couple's 65th wedding anniversary. She was 89. In June 2009, Cronkite himself was reported to be gravely ill with cerebrovascular disease and was not expected to recuperate. Just a few weeks later, on July 17, Cronkite passed away in his New York home surrounded by family and friends. He was 92. "And that's the way it is."aic 1950s, however, foreshadowed little of the turbulence in the decade that would follow.
When the country was looking to elect a new president in 1960, their choice was between Vice President Richard Nixon and Senator John F. Kennedy. Cronkite decided to conduct interviews with the candidates composed of impromptu q