share:
Recent DVDs
Don't Look Back ... Jesse Parish just took a wrong turn. A down-and-out musician with a bad dug... more info $16.95was $19.98 Buy Now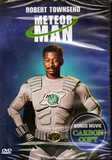 The Meteor Man ... Directed by Robert Townsend. Starring Eddie Griffin, James Earl Jones, Marla... more info $6.95was $7.95 Buy Now
MEDIA:
WATCH MOVIE CLIPS
|
VIEW TRAILER
|
VIEW PHOTOS
|
WATCH A TCM PROMO
Renowned for his diminutive stature and deliberately rambling armchair monologues, Ronnie Corbett became a national treasure in his British homeland thanks to a hugely successful partnership with Ronnie Barker which, alongside Morecambe & Wise, helped to define the golden era of British comedy. Born in Edinburgh, Scotland in 1930, Corbett caught the performing bug while playing a wicked aunt in a youth club pantomime and after stints at the Ministry of Agriculture and in the Royal Air Force - where at five foot one, he became the shortest commissioned officer in Britain - he moved to London to pursue a career in showbiz. He first appeared on screen as a student in university comedy "You're Only Young Twice" (1952) and due to his height, continued to land similar schoolboy roles well into his twenties in the likes of "Top Of The Form" (1953) and "Fun at St. Fanny's" (1956). Following appearances as the resident comic on children's TV institution "Crackerjack" (BBC1, 1955-1984), a valet in short-lived sitcom "Sheep's Clothing" (BBC1, 1957) and Drooby in the comedy sequel "Rockets Galore!" (1957), Corbett switched his attention to the stage, starring in the West End production of "The Boys Of Syracuse"...
Renowned for his diminutive stature and deliberately rambling armchair monologues, Ronnie Corbett became a national treasure in his British homeland thanks to a hugely successful partnership with Ronnie Barker which, alongside Morecambe & Wise, helped to define the golden era of British comedy. Born in Edinburgh, Scotland in 1930, Corbett caught the performing bug while playing a wicked aunt in a youth club pantomime and after stints at the Ministry of Agriculture and in the Royal Air Force - where at five foot one, he became the shortest commissioned officer in Britain - he moved to London to pursue a career in showbiz. He first appeared on screen as a student in university comedy "You're Only Young Twice" (1952) and due to his height, continued to land similar schoolboy roles well into his twenties in the likes of "Top Of The Form" (1953) and "Fun at St. Fanny's" (1956). Following appearances as the resident comic on children's TV institution "Crackerjack" (BBC1, 1955-1984), a valet in short-lived sitcom "Sheep's Clothing" (BBC1, 1957) and Drooby in the comedy sequel "Rockets Galore!" (1957), Corbett switched his attention to the stage, starring in the West End production of "The Boys Of Syracuse" and performing at Danny La Rue's Mayfair nightclub, Winston's, where he was spotted by prominent TV personality David Frost. Corbett was subsequently invited to join "The Frost Report" (BBC1, 1966-1967), a satirical sketch show largely composed of Oxbridge graduates, where he struck up a friendship with the cast's only other grammar school boy, Ronnie Barker. Corbett then appeared as SMERSH agent Polo in the James Bond spoof "Casino Royale" (1967), landed his first lead role as ambitious insurance salesman Ronnie in hit sitcom, "No - That's Me Over Here!" (ITV, 1967-1970) and played reluctant bank robber Herbert Russell in ensemble comedy "Some Will, Some Won't" (1970). Corbett and Barker then joined forces permanently for the hugely popular "The Two Ronnies" (BBC1, 1971-1988), which thanks to likes of their 'four candles' sketch, "Mastermind" (BBC1, 1972-) parody and Corbett's elaborate monologues, assured the duo's place in British comedy history. Both parties also continued to forge solo careers with Corbett starring as a bank clerk in the farcical "No Sex Please, We're British" (1973), and returning to the sitcom world with "Now Look Here" (BBC1, 1971-1973) and more notably the long-running "Sorry!" (BBC1, 1981-1988) as mummy's boy Timothy Lumsden. Following Barker's retirement in 1988, Corbett narrated the adaptions of Roger Hargreaves' series of children's books, "Timbuctoo" (CITV, 1997-1998), hosted quiz show "Small Talk" (BBC1, 1994-1996) and appeared as Reggie Sea Lions in "Fierce Creatures" (1997). A year after reuniting with Barker for a one-off special, Corbett sent himself up wondrously with a cocaine-snorting cameo in Ricky Gervais' "Extras" (BBC1, 2005-2006). After guest appearances on "Little Britain Abroad" (BBC1, 2006) and "Strictly Come Dancing" (BBC1, 2004-), Corbett celebrated his 80th birthday with a Christmas special, "The One Ronnie" (BBC1, 2010). Ronnie Corbett died on March 31, 2016 in his beloved Edinburgh at the age of 85, having suffered from problems with his gall bladder for several years./p>
VIEW THE FULL BIOGRAPHY
VIEW THE FULL FILMOGRAPHY