share:
Recent DVDs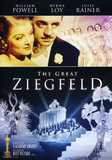 The Great... William Powell, Myrna Loy, Luise Rainer. The Oscar-winning biography of Florenz... more info $11.21was $14.98 Buy Now
Everybody... Billie Burke, Judy Garland. The story of a small-town singing family that... more info $14.95was $17.99 Buy Now
MEDIA:
WATCH MOVIE CLIPS
|
VIEW TRAILER
|
VIEW PHOTOS
|
WATCH A TCM PROMO
| | | | |
| --- | --- | --- | --- |
| Also Known As: | | Died: | May 29, 1951 |
| Born: | October 29, 1891 | Cause of Death: | complications from a stroke |
| Birth Place: | New York City, New York, USA | Profession: | Cast ... |
RATE AND COMMENT
NOTES
"I never worked out any business ahead of time. It would only happen when I hit that audience, because they speak so much louder than my mind. I could hear them much clearer. They would tell me what they wanted. You get your first laugh--boom! You're going. You lose yourself. You become whoever it is they're laughing at, but it isn't you...If you're a comic you have to be nice. The audience has to like you. You have to have a softness about you, because if you do comedy and you are harsh, there is something offensive about it." --Fanny Brice quoted in "The Fabulous Fanny" by Norman Katkov.
"Being a funny person does an awful lot of things to you. You feel that you mustn't get serious with people. They don't expect it from you, and they don't want to see it. You're not entitled to be serious, you're a clown, and they only want you to make them laugh." --Brice quoted in "The Fabulous Fanny".
Besides being portrayed by Barbra Streisand, Brice was played by Alice Faye in "Rose of Washington Square" (1939), Rosalind Harris in the 1984 film "The Cotton Club," and by Catherine Jacoby in the 1978 TV-movie "Ziegfeld: The Man and His Women" (NBC).
"When you're young you make pictures in your head, you have ideas. You pick the type guy you want. But if I went to a party and there was one no-good bastard in the room, I'd go for him right away. It's so funny: for my friends I must have admiration and I must respect them. In fact, I never liked the men I loved, and never loved the men I liked." --Fanny Brice quoted in "The Fabulous Fanny".
"I was always amused by the high society people as much as they were amused by me. They were just a big study to me. I never kidded myself. I never said, 'oh, kid, you're in society now.' I knew I didn't belong there ... I knew they liked me because they knew I didn't give a damn for them, except if they were interesting." --Brice quoted in "The Fabulous Fanny".
According to an article by James L. Neibaur in Classic Images (December 1996), Brice appeared in several Warner Brothers talking shorts.