share:
Recent DVDs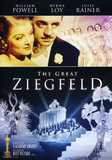 The Great... William Powell, Myrna Loy, Luise Rainer. The Oscar-winning biography of Florenz... more info $11.21was $14.98 Buy Now
Everybody... Billie Burke, Judy Garland. The story of a small-town singing family that... more info $14.95was $17.99 Buy Now
MEDIA:
WATCH MOVIE CLIPS
|
VIEW TRAILER
|
VIEW PHOTOS
|
WATCH A TCM PROMO
| | | | |
| --- | --- | --- | --- |
| Also Known As: | Fannie Brice,Fannie Borach | Died: | May 29, 1951 |
| Born: | October 29, 1891 | Cause of Death: | complications from a stroke |
| Birth Place: | New York City, New York, USA | Profession: | Cast ... comedian actor singer vaudevillian interior decorator |
RATE AND COMMENT
BIOGRAPHY
The epitome of the 'Nice Jewish Girl', this Newark- and Brooklyn-bred comedian and singer was a favorite on stage and radio from the 1910s through her death in 1951, though she never quite broke through in movies. Brice started her career singing in amateur contests and movie houses, working her way up to revues and burlesque. Her big break came when Florenz Ziegfeld signed her for his "Follies of 1910," as a singing comedienne. Gawky, big-nosed and rubber-faced, Brice was no Ziegfeld Girl, but she made her name with the "Follies." (She had changed the spelling of her first name from 'Fannie' to 'Fanny' in the mid-1920s). Brice appeared in seven "Follies" through 1923, as well as Ziegfeld's "Midnight Frolics" from 1915-1921. Her persona was that of the good-humored ugly duckling, skewering contemporary icons from Isadora Duncan to Theda Bara to Sally Rand. Her strong, clear voice could be used in straight songs, such as "Rose of Washington Square" and her signature tune "My Man" (which she introduced in 1921). But she was best known for her comic songs, often done with a Yiddish accent: "The Sheik of Avenue B," "Second Hand Rose," "Sadie Salome." While most closely identified with the "Follies," Brice also appeared in "The Music Box Revue" (1924), "Sweet and Low," and Billy Rose's "Crazy Quilt." Her only non-musical show was "Fanny" (1926), which flopped dismally. After Ziegfeld's death, Brice appeared in two posthumous "Follies" produced by the Shuberts, in 1934 and 1936.
Like many stage stars, Brice did not translate well to film. She made two early talkies, "My Man" (1928) and "Be Yourself!" (1930) before returning to the stage. Her subsequent film career was indifferent at best. She played herself in the biopic "The Great Ziegfeld" (1936) and did a sketch in the variety film "The Ziegfeld Follies" (1946). Her only other film was as Judy Garland's maid in "Everybody Sing" (1938).
Radio, however, brought Brice a worldwide fame eclipsing even her stage career. She had done guest spots on radio shows as early as 1932, and in 1938 debuted her own program. Brice played Baby Snooks, a mischievous child always getting into scrapes and annoying her "Daddy." The show ran through 1949 on CBS radio and was thereafter picked up by NBC, where it ran until Brice's death in 1951.
Brice's private life made as many headlines as did her shows. After a brief first marriage, she wed Nicky Arnstein, who was jailed in 1924 for masterminding an embezzlement scheme (Fanny's comment was "he couldn't mastermind an electric bulb into a socket"). She stuck by him through his jail term, but later divorced Arnstein and wed producer-songwriter Billy Rose, who later left her for swimmer and showgirl Eleanor Holm. Down-to-earth and well-liked within the theatrical community, Brice moonlighted in her later years as a popular interior decorator.
Today, Fanny Brice is best known as the alter ego of Barbra Streisand, who portrayed her in the Broadway musical "Funny Girl" (1964) and its film version (1968, produced by Brice's son-in-law Ray Stark), as well as the sequel "Funny Lady" (1975). Singing Brice's old numbers ("My Man," "I'd Rather Be Blue") as well as original songs, Streisand brought a renovated Brice to the attention of fans too young to remember the original.