share:
Recent DVDs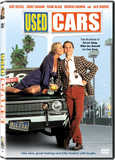 Used Cars ... A hilarious comic salute to those super salesmen whose persuasive pitches... more info $7.95was $9.99 Buy Now
MEDIA:
WATCH MOVIE CLIPS
|
VIEW TRAILER
|
VIEW PHOTOS
|
WATCH A TCM PROMO
| | | | |
| --- | --- | --- | --- |
| Also Known As: | Robert Lee Zemeckis | Died: | |
| Born: | May 14, 1952 | Cause of Death: | |
| Birth Place: | Chicago, Illinois, USA | Profession: | Producer ... director producer screenwriter actor editor |
RATE AND COMMENT
BIOGRAPHY
ix Academy Awards, including statues for Best Picture and Best Director for Zemeckis.
Biding his time after such a monumental success, Zemeckis chose to wait nearly three years before helming his next project, the ponderous adaptation of Carl Sagan's "Contact" (1997). Despite terrific special effects, the film was bogged down addressing big themes like spirituality and technology that failed to translate well into clear storytelling. The pretentious tone alienated most reviewers while audiences were unable to fully embrace it. Zemeckis went another three years before directing his next feature. In that time, he turned to the small screen, participating in the documentary series, "In the 20th Century" by probing America's reaction to its vices in "Robert Zemeckis on Smoking, Drinking and Drugging in the 20th Century: The Pursuit of Happiness" (Showtime, 1999).Through interviews with historians and drug treatment professionals, Zemeckis explored America' long-running relationship with various mind-altering substances. He returned to the big screen with two major films, starting with "What Lies Beneath" (2000), a tense thriller that clearly demonstrated both his strengths and weaknesses. While delivering on a visceral and technological sense, the pedestrian nature of the ghost-haunting thriller coupled with the histrionic performances from stars Michelle Pfeiffer and Harrison Ford helped turn the Hitchcockian thriller into a derivative wannabe.
Zemeckis' second film of that year, "Cast Away" (2000), was far more intriguing and ultimately successful. Joining forces again with "Forrest Gump" star Tom Hanks, Zemeckis took on the challenge of a story that had little dialogue in its second act to craft a critically-lauded drama that earned considerable praise, numerous awards and a hefty share of the box office. "Cast Away" told the tale of Chuck Noland (Hanks), a Federal Express systems analyst obsessed with time who survives a plane crash and awakens by himself on a deserted island, while his fiancé (Helen Hunt) wonders whether or not he is alive. Prior to Noland's ill-fated flight, Zemeckis did an excellent job of setting up the emotional stakes with his two main characters, while staging a harrowing, all-too-real crash sequence. The bulk of the film took place on the island, where Noland's only conversations were with a volleyball imprinted with his blood that he names Wilson. While the film could have easily devolved into a maudlin claptrap of a man longing for home, Zemeckis instead managed to draw another fine performance from Hanks while carefully balancing the survival drama with fear, regret and humor. The director's only mistake was overstepping in the third act with Noland's overly sentimental return to civilization. Still, "Cast Away" was one of the director's finer dramatic efforts, earning Hanks another Oscar nod and netting over $400 million worldwide.
Following "Cast Away," Zemeckis settled into the role of producer while taking a step back from directing to shepherd projects like "Thir13en Ghosts" (2001), "Ghost Ship" (2002), "Matchstick Men" (2003) and "Gothika" (2003). In the meantime, the director was conducting tests on his own dime to see if he could successfully adapt the popular children's book The Polar Express into a CGI-animated film for the big screen. Intrigued by the technological challenge of collaborating again with Hanks, this time with the actor playing all of the roles, Zemeckis' production team experimented with a new technology called Performance Capture, which allowed computers to capture the subtle nuances of an actor's performance and transfer it to the CGI character. Once he had determined that this technology worked, Zemeckis put the film into production and released it in 2004. An instant holiday season classic, the film told the story of a young boy excited for Christmas who goes on an unforgettable train ride while embarking on a journey of self discovery. Despite the film's success, however, critics worried that his use of the technology would eventually lead to the elimination of actors, while the technology itself gave the characters a creepy, dead-eye look.
After returning to producer duties on "House of Wax" (2005), "The Prize Winner of Defiance, Ohio" (2005) and the animated "Monster House" (2006), Zemeckis employed the same Performance Capture technology from "Polar Express" to animate Ray Winstone, John Malkovich, Anthony Hopkins, Angelina Jolie and a host of other top actors for "Beowulf" (2007). Adapted from the Old English epic poem, the film earned Zemeckis praise for his deft use of the technology while essentially staying true to the original story of a mighty warrior's defeat of the demon Grendel. Sticking with a winning formula, he used the technology for his third straight film; this time capturing the considerable motion of Jim Carrey for the faithful adaptation of Charles Dickens' classic, "A Christmas Carol" (2009), in which the rubbery actor portrayed Ebenezer Scrooge, as well as the Ghost of Christmas Past, Present and Future. Returning to live action for the first time since "Cast Away" (2000) and making his first R-rated film since "Used Cars" (1980), Zemeckis directed the widely hailed drama "Flight" (2012), which starred Denzel Washington as an airline pilot with a substance abuse problem who averts disaster by making a daring crash-landing after his plane malfunctions, only to see his heroic actions questioned during an investigation. Co-starring Don Cheadle, John Goodman and Bruce Greenwood, "Flight" generated serious Oscar buzz while also courting controversy for depicting a pilot flying a plane while under the influence. Anheuser-Busch formally petitioned Paramount Pictures to remove or obscure their Budweiser logo due to Washington drinking the beer while flying the plane.part. This time, Marty goes all the way back to the Old West of 1885 where he tries to save Doc Brown (Lloyd) from the villainous Tannen Gang. After writing with Gale the surprisingly hard-boiled action script for Walter Hill's riveting "Trespass" (1992), Zemeckis branched out into producing for network television, including the short-lived "Johnny Bago" (CBS 1993), as well as features like "The Public Eye" (1992). Zemeckis' next feature, "Death Becomes Her" (1992), was both a commercial and critical disappointment, though the special effects that helped transform Goldie Hawn and Meryl Streep into indestructible zombies won an Academy Award.
Despite that disappointing effort, Zemeckis had perhaps the greatest triumph of his career with "Forrest Gump" (1994), a fanciful and often moving comedy-drama about a simple Southern man (Tom Hanks) with a low IQ who finds himself at the forefront of major events from the 1960s through the 1980s, all the while pining for the love of his childhood friend, Jenny (Robin Wright). Typically in love with special effects over the other elements of storytelling, Zemeckis proved to critics that he could also tackle a large-scale story that was held down by genuine human emotions. Adapted from the book by Winston Groom, "Forrest Gump" featured Hanks delivering one of his finest performance as a child-like man who teaches Elvis Presley how to dance, becomes a college football star, wins a Medal of Honor fighting in Vietnam, meets presidents John F. Kennedy and Richard Nixon, and starts a shrimp-catching business with his now legless Army sergeant (Gary Sinese). Not only was the film a huge box office and critical success, lines like "Stupid is as stupid does," and "Life is like a box of chocolates" entered into the cultural lexicon. But the film was not without its technical marvels; Zemeckis seamlessly inserted Hanks into archival footage, including having him watch the integration at the University of Alabama, while effectively making Sinese look like he did indeed lose his legs. Most importantly, "Forrest Gump" was lavished with numerous awards which culminated in s