share:
Recent DVDs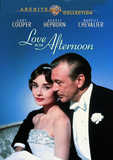 Love in the... She plays the cello. He plays the field She's coltishly young. He's worldly and... more info $14.36was $17.99 Buy Now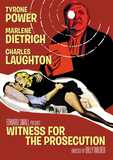 Witness for... Marlene Dietrich, Tyrone Power, Charles Laughton, Elsa Lanchester. A suspenseful... more info $14.96was $19.95 Buy Now
MEDIA:
WATCH MOVIE CLIPS
|
VIEW TRAILER
|
VIEW PHOTOS
|
WATCH A TCM PROMO
| | | | |
| --- | --- | --- | --- |
| Also Known As: | | Died: | March 27, 2002 |
| Born: | June 22, 1906 | Cause of Death: | pneumonia |
| Birth Place: | Austria | Profession: | Writer ... |
RATE AND COMMENT
NOTES
"People will do anything for money. Except some people. They will do almost anything for money." --Billy Wilder.
"All that's left on the cutting-room floor when I'm through are cigarette butts, chewing gum wrappers and tears. A director must be a policeman, a midwife, a psychoanalyst, a sycophant, and a bastard." --Billy Wilder.
In late 1989, Wilder put 94 works of art (many by modern masters) up for auction at Christie's in New York City.
Awarded the Grand National Prize of Austria in October 1985.
On working with Marilyn Monroe in "Some Like It Hot": "You can learn to live with an actress who is tempermental, if she is consistent as well as tough. But Marilyn would throw you for a loop. She would have a week where she was flawless, never missed a mark or forgot a line. Then, the next week, a total mental block would descend on her. She'd look at me and say, 'What's the name of the picture?'
"After redoing the same shot 42 times I took her aside and hugged her and said, to calm her down, 'Don't worry, Marilyn,' and she looked at me with wide-open eyes and said, 'Don't worry about what?'
"But she was absolutely unique. They try to imitate her. It's not the same.
"She had something like Garbo had: When she was on-screen, the voltage increased tenfold ... Her simplest lines have a third dimension of sensuality.
"She could give a great delivery of a joke. She would stand there with those cement boobs of hers and the innocence in her eyes. The mouth-watering flesh package. She would look around in amazement and ask, 'Why do people look at me?' And, like Garbo, on celluloid it comes out amplified. Damn thing just jumps off the screen at you." --Billy Wilder quoted in New York Newsday, May 10, 1991.
At the 1994 Academy Awards ceremony, Fernando Trueba, director of the winning contender for Best Foreign-Language Film, "Belle Epoque", tipped his hat to his guru by saying, "I would like to believe in God so that I could thank Him, but I just believe in Billy Wilder. So thank you, Billy Wilder." Wilder called him the next day and said "It's God!" --and later told the Los Angeles Times "I wish he hadn't said that [because] people start crossing themselves when they see me!" --From GQ, October 1994.
About serving with the Psychological Warfare Division in Germany after World War II: "One day a letter came from the director of the Passion Play in Oberammergau. He was requesting permission to perform the play, with Anton Lang as Jesus. I translated the letter and was asked my opinion. Anton Lang was a Nazi, so I said, 'Permission granted, but the nails have to be real.'" --Billy Wilder to Los Angeles Times, February 17, 1997.
In March 2000, Wilder was presented with the Federal Republic of Germany's Knight Commander's Cross (badge and star).