share:
Recent DVDs
One Flew Over... Jack Nicholson, Louise Fletcher, Brad Dourif. Based on Ken Kesey's bestseller,... more info $19.96was $24.98 Buy Now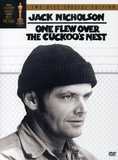 One Flew Over... Jack Nicholson, Louise Fletcher, Brad Dourif. Based on Ken Kesey's bestseller,... more info $21.95was $26.98 Buy Now
MEDIA:
WATCH MOVIE CLIPS
|
VIEW TRAILER
|
VIEW PHOTOS
|
WATCH A TCM PROMO
| | | | |
| --- | --- | --- | --- |
| Also Known As: | | Died: | |
| Born: | June 2, 1922 | Cause of Death: | |
| Birth Place: | Chicago, Illinois, USA | Profession: | Cinematography ... director of photography producer screenwriter director |
RATE AND COMMENT
BIOGRAPHY
Haskell Wexler initiated his feature filmmaking career as a cinematographer in the late 1950s, having previously shot educational and industrial films. The Chicago native had traveled to California to attend Berkeley, but dropped out after one year. He served as a merchant seaman during WWII and then returned to Illinois. Wexler and his father purchased and refurbished an armory in Des Plaines, turning it into a film studio. The venture was unsuccessful and Wexler set out to learn about film production, beginning as a cameraman and eventually working up to cinematographer. "Stakeout on Dope Street" (1958) marked his first (although uncredited) work as a cinematographer. He went on to shoot several features; many, like "The Hoodlum Priest" (1961), were noted for their social themes. Wexler stated that Elia Kazan's "America, America" (1963) marked the turning point in his Hollywood career and includes "some of the best photography" that he shot. He went on to shoot the intense, claustrophobic black and white images of Mike Nichols' "Who's Afraid of Virginia Woolf?" (1966), which earned him an Oscar, as well as providing memorable and distinctive looks to Norman Jewison's "In the Heat of the Night" (1967), George Lucas' "American Graffiti" (1973) and Milos Forman's "One Flew Over the Cuckoo's Nest" (1975). His beautiful rendering of the muted tones of the American Dust Bowl (including several storms) in Hal Ashby's "Bound for Glory" (1976) earned him a second Oscar for Best Cinematography. Wexler also lensed Ashby's Vietnam-era "Coming Home" (1978), John Sayles' union-busting tale "Matewan" (1987), the urban gang drama "Colors" (1988), the biopic "Blaze" (1989) and "The Babe" (1992), Sayles' Irish fable "The Secret of Roan Inish" (1994) and the period crime drama "Mulholland Falls" (1996). Wexler also produced, written, directed and/or photographed a number of documentary films in his long career. Among the highlights are "The Bus" (1965) and its sequel, "Bus II" (1983), the Oscar-winning short "Interviews With My Lai Veterans" (1970), "Brazil: A Report on Torture" (1971), "Introduction to the Enemy" (1974), co-directed with Jane Fonda, Tom Hayden and Bill Yahrans, "CIA: Case Officer" (1978) and "At the Max" (1991), which recorded the 1990 European tour of the Rolling Stones. Wexler was also one of several directors of photography interviewed for the superlative "Visions of Light: The Art of Cinematography" (1992). A passionate liberal, Wexler produced, directed, wrote and photographed one of the most devastating and technically sophisticated anti-establishment films ever made, "Medium Cool" (1969). Drawing on the stylistic and theoretical advances made by such vanguard figures as Jean- Luc Godard, and taking its title almost straight from the mouth of media guru Marshall McLuhan, "Medium Cool" was set and filmed during the 1968 Chicago Democratic convention. It chronicles-- in striking, neo-documentary style--the affairs, both professional and amorous, of a detached TV news cameraman (Robert Forster) as he becomes increasingly aware of the political ramifications of his work. The film remains a landmark of political cinema, and an insightful essay on the "cool medium." Wexler also helmed "Latino" (1985), a taut drama about an Hispanic Vietnam veteran (Robert Beltran) assisting in the training of the US-backed Contras in Nicaragua. The film divided critics and audiences along partisan political lines. For TV, Wexler shot footage of the Special Olympics included in the Beau Bridges- directed longform "The Kid From Nowhere" (NBC, 1982), worked with renowned cinematographer Robert Richardson on the second unit work of the thirty-minute film "To The Moon, Alice" (Showtime, 1990) and was primary director of photography for the Japan tour sequences of the documentary "Benny Carter: Symphony in Riffs" (A&E, 1992). Meanwhile, Wexler was the subject of the documentary, "Tell Them Who You Are" (2005), directed by his son, Mark. Wexler maintained a steady working pace for the rest of his career, including the political documentary "Four Days in Chicago" (2013), covering a 2012 protest at a NATO summit by the Occupy movement. Haskell Wexler died of undisclosed natural causes on December 27, 2015 at his home in Santa Monica, California. He was 93.