share:
Recent DVDs
Central... Jim Blaine dares death every day as an aviation pioneer. But when it comes to... more info $14.95was $17.99 Buy Now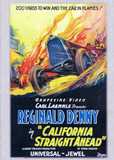 California... There is a dash a swing to the title of this Reginald Denny film which spells... more info $9.85was $16.95 Buy Now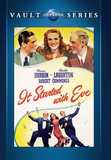 It Started... It Started with Eve brings together the exceptional talents of Deanna Durbin and... more info $14.95was $14.98 Buy Now
MEDIA:
WATCH MOVIE CLIPS
|
VIEW TRAILER
|
VIEW PHOTOS
|
WATCH A TCM PROMO
| | | | |
| --- | --- | --- | --- |
| Also Known As: | | Died: | |
| Born: | | Cause of Death: | |
| Birth Place: | | Profession: | Cast ... |
RATE AND COMMENT
BIOGRAPHY
Lucille Ward was an actress who had a successful Hollywood career. Ward began her acting career appearing in various films, such as "Environment" (1917), "The Frame-Up" (1917) and "Oh, Doctor!" (1924). She also appeared in "Sporting Youth" (1924) and "The Girl in the Limousine" (1924). Her passion for acting continued to her roles in projects like "California Straight Ahead" (1925), the adaptation "Rebecca of Sunnybrook Farm" (1932) with Marian Nixon and "The Purchase Price" (1932). She also appeared in "Lilly Turner" (1933). Toward the end of her career, she continued to act in the Loretta Young romance "Zoo in Budapest" (1933), "Navy Born" (1936) and the Fay Bainter dramatic adaptation "Mother Carey's Chickens" (1938). She also appeared in "First Love" (1939). Ward more recently acted in the Dick Powell comedy "Christmas in July" (1940). Ward was married to Chance Ward. Ward passed away in August 1952 at the age of 72.
Contributions
DPK ( 2011-03-09 )
Source: not available
A stage player before the days of movies, a pioneer in the industry that has made Hollywood famous, Miss Lucille Ward, a native of Dayton, Ohio Her stage career began in New York in 1907 and like many other players she was called upon in her younger years to play older parts. Thus, through her twenties, her first role was that of La Corante, a 70 year old character in "Monte Cristo." The next year she was colored mammy in "Under Southern Skies" and in 1909 we find her doing a mother part in "The Man of the Hour" company, a Brady production. In 1910 she toured with the "Stronger Set" company, a Henry W. Savage production, Here too she had a mother part. She was, in fact, playing mother parts on stage to men and women twice her age. Miss ward next accepted the lead role in "The New Clerk," a musical comedy with Harry Fischer, the star. These plays were all on tour during the winter season. The summer found miss Ward with first-class stock companies or with vaudeville acts. During 1910 she came back to Dayton and held an engagement with the stock company at Fairview Park. That was in the day when Tommy Meighan, who later made a name for himself in the movies; John Sainpolis and Lucille Spinney were members of the troupe. Later Miss Ward came back to fill and engagement with the Rod Players at the Victoria Theater. This she calls one of her most joyous seasons. She also played a summer engagement with the Colonial stock company in Columbus. It was after this engagement that she returned to New York and joined the James P. Leonard act for a full season's engagement, after this going on tour with Homer Lind company. Both these acts were headliners in the major circuit of vaudeville in those days. It was during her engagement in the "Miss 318" act, which had a run in the Fifth Avenue Theater, in New York, that producer Rupert Hughes, became so pleased with her work that he wrote a special part for her in another act that was to be produced that fall. However, before that materialized, the office of Lew Fields asked Miss Ward if she would play the lead in an act to be sent over to the Orpheum circuit. It was to be the boat scene from the play "Tillie's Nightmare," in which Marie Dressler appeared a lead feminine player for a run of two years in New York. Though the part was a rather small one, Miss Ward accepted it. As she related it, "There were 21 people in a 23 minute sketch; I had only 11 speeches, but I managed to get 13 laughs out of my part." at any rate, Feilds was so please with her work that he asked Miss War to play the star part in a revival of miss Dressler's play. Miss Ward accepted and it was in this role that she achieved the distinction of being the only woman to follow Miss Dressler in one of the latter's star parts. The road tour of "Tillie's Nightmare" began September 2, 1912, at the Colonial theater in Indianapolis and was a grand success, being booked for many return engagements before it wound up its season in New York. It was at this point that Miss Ward made her entry into the movies. In New York the old Imp company offered her a character lead in a short comedy to be made at the Universal Studios in New York city, she accepted. Later she received an offer to go to California and in the early winter of 1913 she traveled to the west coast. After six months with the Universal company, she sign a contract with the Mack Sennett company, playing comedy leads. Miss Ward made the first comedy ever played for more than one week, called "Cohen's Outings." Its success resulted in a series of Jewish stories. Later, Mack Sennett offered her a five year contract, assuring her that he would make her the most advertised woman in the world. Work in the movies was pretty rough in those days. Comedies were mostly slapstick and there was no such thing as a stand-in. She refused the Sennett offer but continued in pictures and in those early days and was associated with such players as Ford Sterling, Chester Conklin, Wallace Reid, Francis X. Bushman, Charlie Chaplin and "Fatty" Arbuckle. She appeared in Arbuckles last picture "The Traveling Salesman." She worked with him many times on sets and locations and says that as far as she knows he always conducted himself as a gentleman. While she was working with Mack Sennett in Hollywood, she received and accepted an offer from American Film company and remained with it for three years. She would not renew her contract because the company had given her society parts to play and she preferred comedy roles. She was granted a release with the agreement that she would return from time to time whenever the company had such parts as she liked. This experience caused her to become a free lance player, choosing such roles offered her as she cared to accept. She kept busy most of the time, she has played with nearly all the big screen stars and says by being a free lance player she is far ahead when to comes to money. Among the many stars whom she has supported or with whom she has played she names Lionel Barrymore, Gene Raymond, William Powell, Herbert Marshall, Reginald Denny, the late Will Rogers, Robert Young, Douglas Fairbanks Jr., Grace Moore, Barbara Stanwick, Shirley Temple, Clark Gable, and the late Jean Harlow. She worked with Francis Lederer in both "One Rainy Afternoon" and "It's All Yours." She played feature parts opposite Reginald Denny in "California Straight Ahead, "Oh Doctor," Sporting Youth," and "Skinner Steps out." Submitted by David Kemper Great Great nephew of Lucille Ward