share:
Recent DVDs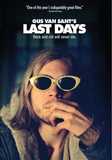 Gus Van Sant's... An official selection in the 2005 Cannes Film festival, Gus Van Sant's LAST DAYS... more info $16.95was $19.98 Buy Now
Jay and Silent... Jay and Silent Bob find out that Miramax, thanks to their old bud Banky Edwards,... more info $9.95was $14.99 Buy Now
The Canyons ... Director Paul Schrader (writer of Raging Bull and Taxi Driver) and screenwriter... more info $17.95was $24.98 Buy Now
MEDIA:
WATCH MOVIE CLIPS
|
VIEW TRAILER
|
VIEW PHOTOS
|
WATCH A TCM PROMO
| | | | |
| --- | --- | --- | --- |
| Also Known As: | | Died: | |
| Born: | July 24, 1952 | Cause of Death: | |
| Birth Place: | Louisville, Kentucky, USA | Profession: | Director ... |
RATE AND COMMENT
NOTES
"He has used 'Hollywood' actors, but he keeps them shabby, quiet, and unglamorous--and he helps them be better than any system has alloed: Matt Dillon in 'Drugstore Cowboy' and River Phoenix in '[My Own Private] Idaho'. Van Sant is gay, gritty, and arty all at the same time. There is no trace of camp or swishiness: he is determined on heartfelt feelings and commonplace tragedy. He has a great eye, and an even better sense of adjacency--not quite cutting, but a feeling for cut-up simultaneity." --David Thomson, "A Biographical Dictionary of Film"
Van Sant won second place as Best Director and "My Own Private Idaho" came in second as Best Picture in the 1991 New York Film Critics Circle Awards. River Phoenix also came in second as Best Actor for "My Private Idaho".
"I've tried to be as intimate with film as the written word is. There are all these little metaphors about how the clouds look like mushrooms. Or a writer can talk about the color of the sky for a paragraph. But how to do that in film was my big problem--how to take that imagery into a theater and have it be accessible, or, at least, watchable." --Gus Van Sant (THE NEW YORK TIMES MAGAZINE, September 15, 1991)
"'He's got a real voyeuristic side to him; he's tricky that way,' says Matt Dillon. 'He's always got this look on his face like there's some private little joke in the back of his mind.' His films share that sensibility: they're filled with off-balance images and quirky jokes--not standard gag lines, but wry turns that take a moment to sink in. . . . The jokes hang in the air before the payoff kicks in--and so do the movies themselves. Like the film maker, they don't give much away on the surface; they hold their secrets closely." --Thomas J Meyer (THE NEW YORK TIMES MAGAZINE, September 15, 1991)
"When he was a child, dreaming of making movies, Van Sant suspected that his reserved nature might preclude his chosen career. 'I thought that film makers were really gregarious partiers who were able to convince everybody to be in their movies because they were just social butterflies. . . . So I thought it really wasn't a good job for me.' As it turns out, his films have done the talking for him." --Thomas J Meyer (THE NEW YORK TIMES MAGAZINE, September 15, 1991)
"Since he came to film making by way of painting, Van Sant is obsessed with controlling the cinematic frame; his films rely as much on the ability of pictures themselves to tell stories as on narrative structure.
The films are punctuated with close-up images shot at odd angles: the grille of a car with clouds rushing over head; the edge of a pack of gum; the printing on the top of a light bulb . . . The close shots yield moments that are at once anchoring and unsettling, giving the audience an intimate link to the setting, but showing it from an eccentric point of view.
"The director also encourages surprises in the filming process by being so prepared that there's room for accidents. He puts great time and effort into rehearsing scenes and having actors assume their roles off camera, so that when the time comes to shoot, they're able to go with the impulse of the moment." --Thomas J Meyer (THE NEW YORK TIMES MAGAZINE, September 15, 1991)