share:
Recent DVDs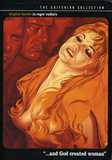 And God... Brigitte Bardot, Jean-Louis Trintignant. Nobody can halt the insatiable... more info $19.47was $29.95 Buy Now
MEDIA:
WATCH MOVIE CLIPS
|
VIEW TRAILER
|
VIEW PHOTOS
|
WATCH A TCM PROMO
| | | | |
| --- | --- | --- | --- |
| Also Known As: | Roger Vadim Plemiannikov | Died: | February 11, 2000 |
| Born: | January 26, 1928 | Cause of Death: | cancer |
| Birth Place: | Paris, FR | Profession: | Director ... director actor screenwriter assistant director journalist |
RATE AND COMMENT
BIOGRAPHY
One of the more controversial filmmakers to emerge from the vibrant French cinema of the 1960s, Roger Vadim directed such sensual features as ". And God Created Woman" (1958), "Blood and Roses" (1960) and "Barbarella, Queen of the Galaxy" (1968). His movies were earmarked by their lush photography and taboo-skirting plotlines, but even more so by the yardage of flesh displayed by his stars, including Brigitte Bardot, Catherine Denueve and Jane Fonda, all of whom were also his offscreen romantic partners. Vadim was eclipsed in the 1970s by the rise of more explicit fare, which hobbled his brand of glossy erotica. By the time of his death in 2000, he was regarded as a museum piece by cineastes with fond memories of his sunny, sexy dramas.
Born Vladimir Igorevich Plemiannikov on Jan. 26, 1928 in Paris, France, he was the son of Russian-Ukrainian diplomat Igor Plemiannikov and his wife, actress Marie-Antoinette Ardilouse. Under French law, his parents were required to give their son a French name, which resulted in his being dubbed Roger; he would drop the cumbersome surname in his teenage years and use an abbreviated version of his proper first name in its place. His father's job took the family to exotic locations like Turkey and Egypt, where they lived in the lap of luxury. That lifestyle came to a sudden and tragic end when Vadim's father died in front of his son, then only nine years old. Vadim and his mother relocated to France during World War II, where she operated a hostel in the French Alps. The location also served as a safe house for Jews and other fugitives from the Nazi regime.
Vadim moved to Paris while in his teens; while there, he studied writing and journalism at the University of Paris, but dropped out in 1947 to pursue a career in acting. He attended the Theatre Sandra Bernhardt, where he became acquainted with and apprentice to director Marc Allegret. Through the filmmaker, he met many of the literary and cinematic lights of the period, including Jean Cocteau and Jean Genet, as well as novelist Andre Gide, who encouraged Vadim to work in film after reading and dismissing his first full-length work of fiction. While babysitting at the home of actors Daniele Delorme and Daniel Gelin, he came across a photo of 15-year-old model Brigitte Bardot. Entranced, he gave the picture to Allegret, who was preparing to film "Maria Chapdelaine" (1950) from Vadim's script. Bardot did not get the job with Allegret, but she became deeply involved with the 20-year-old Vadim, much to the chagrin of her upper-class parents. The couple eventually married in 1952.
Vadim toiled for several years as Allegret's screenwriter on films like "Cette sacree gamine" (1956) and "Plucking the Daisy" (1956), both of which starred Bardot. In 1958, he raised the funds to make his debut as a director with ".And God Created Woman," a sexually charged drama with Bardot as a sexually free spirit who wreaks havoc with the siblings and relatives of her older husband (Curd Jurgens). The film flaunted controversy with scenes of Bardot in the nude and her seduction of Jurgens' brother (Jean-Louis Trintignant) and son (Christian Marquand) - all of which earned a condemnation from the Catholic League of Decency. It also made Bardot an international sex symbol and Vadim a very rich man.
Bardot and Vadim would make two more films together, including 1958's "The Night Heaven Fell," which followed the same formula of presenting Bardot as the epitome of sexual ripeness and freedom, but off-camera, their relationship was in turmoil. By 1957, they had divorced, and Vadim had already taken up with 21-year-old Danish actress Annette Stroyberg, who had appeared in "The Night Heaven Fell." She became his leading lady for "Les liaisons dangereuses" (1959), based on the scandalous 18th century novel by Pierre Choderlos de Laclos. Vadim's version starred Jeanne Moreau and Gerard Philippe (who died eight weeks after the film's release) as modern-day socialites who manipulate the affections of an innocent, played by Stroyberg, who was billed as Annette Vadim after their marriage in 1958. The film once again landed Vadim in trouble with censors, as well as the French Society of Authors, who sued him for liberties taken with the source material. Future French President Francois Mitterrand, who acted as Vadim's attorney in the case, saved his client by reading letters from de Laclos that warned future readers that any adaptation would fall prey to conservative minds. However, the attention generated by the suit had the exact opposite effect on the film as the uproar around ".And God Created Woman." "Liaisons" was a financial failure, and contributed to the end of Vadim's marriage to Stroyberg. The couple was divorced in 1960 after the birth of their daughter, Nathalie, who would herself become an actress in later years.
Before their split, Stroyberg completed one more film with Vadim, an adaptation of Irish author J. Sheridan LeFanu's vampire novel, "Carmilla," which he filmed as "Blood and Roses" (1960). Stroyberg played Carmilla, possessed by the spirit of a vampire, who preys on the female members of a wealthy family. The film's erotic overtones, which referenced lesbianism and blood-driven sex games, were too much for most audiences. Critics similarly rejected the film, and censors in Britain and America trimmed most of the offending scenes prior to release in 1961. The back-to-back failures forced Vadim to reunite with Bardot for a pair of sex comedies, "Please Not Now" (1961) and "Love on a Pillow" (1962), neither of which generated much attention outside of the arthouse circuit. However, his status among cineastes remained in high standing, as evidenced by his inclusion in the portmanteau film "Seven Capital Sins" (1962), where he tackled one of the Seven Deadly Sins - specifically, Pride - alongside such leading French directors as Jean-Luc Godard, Claude Chabrol, Jacques Demy and playwright Eugene Ionesco.
Much like Joseph Von Sternberg before him and John Derek after him, Vadim would continue to turn his paramours into cinematic muses for the next decade. A torrid affair with Catherine Deneuve resulted in her first significant film role in "Vice and Virtue" (1963), which raised an uproar among World War II veterans for its depiction of a Parisian brothel during the Nazi Occupation. The couple produced a child, actor Christian Vadim, shortly before their split. In 1964, he met and fell in love with Jane Fonda, who was emerging from her brief tenure as a Hollywood ingénue. Vadim cast her in his adaptation of the play "La Ronde" (1964) shortly before attempting to remake her, a la Bardot, into a sexual icon with "The Game is Over" (1966), a broad adaptation of Zola's novel La Curee. The film, nominated for a Golden Lion at the 1966 Venice Film Festival, even followed a similar story arc to ".And God Created Woman," with Fonda attempting to escape her loveless marriage by joining a convent, only to find fulfillment with her husband's son. He then cast her as a depraved medieval countess who falls for her neighbor (real-life brother Peter Fonda), who then dies and is reincarnated as a black stallion, in "Spirits of the Dead" (1968), another portmanteau film that this time featured adaptations of Edgar Allan Poe stories by Vadim, Louis Malle and Federico Fellini.
Vadim's next project was "Barbarella, Queen of the Galaxy" (1968), a live-action feature version of the popular naughty French sci-fi comic. Fonda was once again his star in the campy, mildly sexy action-adventure, which saw her in various states of undress and pitted against such '60s icons as Anita Pallenberg and Marcel Marceau. Despite its Pop Art-inspired design and Fonda's zero gravity strip tease, the film was not a success during its release, and would not find its audience until decades later, when it was a frequent reference point for other fantasy and science fiction film, as well as numerous music videos. Vadim and Fonda relocated to Los Angeles in the early 1970s; there, he directed his sole effort for a Hollywood studio, the dark comedy thriller "Pretty Maids All in Row" (1971), which attempted to meld sniggering sex comedy tropes with a story about a serial killer preying on female high school students. Though its attractive cast, which included Rock Hudson, Angie Dickinson, and a host of budding starlets, attracted attention, the film was largely forgotten upon release thanks to the rise of more graphic adult fare. Vadim's marriage to Fonda also ended shortly afterwards. In interviews after the divorce, she dismissed her work with him as exploitative.
Vadim returned to work in Europe soon after. Among his feature efforts were "Helle" (1972), a sobering drama about a French veteran of Vietnam, though most were along the lines of "Don Juan (Or If Don Juan Were a Woman) (1973)," a plotless sex farce which teamed him with not only Bardot but provocative actress-singer Jane Birkin. He also turned up briefly in "Ciao! Manhattan" (1972) as a quack doctor overseeing the sanitarium visited by doomed Andy Warhol acolyte Edie Sedgwick. He returned briefly to America for "Night Games" (1980), a tedious psychosexual drama about a traumatized young woman (Cindy Pickett) who attempts to alleviate her frustrations through absurd fantasies. Audiences stayed away in droves, which sent Vadim back underground until 1984, when he directed an elegant version of "Beauty and the Beast," with Susan Sarandon and Klaus Kinski in the title roles, for the Showtime series "Faerie Tale Theatre" (1982-87). An episode of the thriller anthology "The Hitchhiker" (HBO, 1983-87; USA Network, 1989-1991) followed, indicating that Vadim was priming himself for a return to features.
Unfortunately, that comeback was a remake of ".And God Created Woman" (1988), with Rebecca De Mornay in the Bardot role, now transformed into a convict that tears apart a wealthy family led by Frank Langella. The film was crucified by critics upon its release, and nixed any possible chance of a career revival for Vadim. He spent the next decade directing features for European television, several of which starred his fourth wife, Oscar-nominated actress Marie-Christine Barrault, while penning several books, including 1986's Bardot Deneuve Fonda: My Life with the Three Most Beautiful Women in the World. The latter was notable for its claim that Vadim coined the word "discotheque." In 2000, the 72-year-old Vadim succumbed to lymphoma and was buried in St. Tropez, France.