share:
Recent DVDs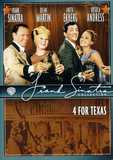 4 for Texas ... Frank Sinatra, Dean Martin, Charles Bronson, Anita Ekberg, Ursula Andress. Two... more info $9.71was $14.98 Buy Now
MEDIA:
WATCH MOVIE CLIPS
|
VIEW TRAILER
|
VIEW PHOTOS
|
WATCH A TCM PROMO
| | | | |
| --- | --- | --- | --- |
| Also Known As: | Robert Burgess Aldrich | Died: | December 5, 1983 |
| Born: | August 9, 1918 | Cause of Death: | kidney failure |
| Birth Place: | Cranston, Rhode Island, USA | Profession: | Director ... director producer production manager script clerk screenwriter production assistant |
RATE AND COMMENT
BIOGRAPHY
Famed for his macho mise-en-scene and resonant reworkings of classic action genres, Robert Aldrich became a model for many younger directors in the 1960s and 70s. Along with such figures as Roger Corman and Sam Arkoff, he was also a symbol of the free-spirit of independent filmmaking (although Aldrich had more interest in quality, and became renowned for substantive content and the interior meanings of his works.) He is best recalled for such horror classics as "Whatever Happened to Baby Jane?" (1962), and "Hush, Hush, Sweet Charlotte" (1964), both starring Bette Davis. But, the director also tried his hand at more literary works, such as "The Killing of Sister George" (1968), and even commercial comedies like "The Longest Yard" (1974), starring Burt Reynolds.
Dropping out of college and the career in banking or politics expected by his prominent Republican family (John D Rockefeller Jr was an uncle by marriage), Aldrich entered film as a clerk at RKO in 1941. He rose through the ranks as a second assistant director, first assistant (working with Chaplin and Renoir, among others), production manager, studio manager and screenwriter under contract to Enterprise Studios (1946-48).
In the early 1950s, Aldrich directed episodes of several TV series, including the syndicated "China Smith" and NBC's "The Doctor," before finally making his feature film debut in 1953 with "The Big Leaguer." This low-budget film starred Edward G Robinson in one of his first roles after being cleared of the "red" taint by the House Committee on un-American Activities. The actor was sorely miscast as the manager of a training camp for baseball players, not to mention, Aldrich would later recall, low on self-confidence after being away from the screen for nearly two years. The result was not stellar in Robinson's canon, but it did establish that Aldrich could direct a film under budget and ahead of schedule. The director soon formed his own company, Associates and Aldrich, to assume more control of his career; he then produced most of the films he directed and also contributed to their screenplays. Aldrich's work aggressively confronted controversial social and political issues. Taking uncompromising positions in familiar genres and revising genre conventions, he challenged both the studio system and audience expectations.
Aldrich's dominant theme was man's efforts to prevail against both impossible odds and institutional oppression. In "Apache" (1954), the only tribal leader left unconquered after the defeat of Geronimo refuses to be subjugated by the white man but is also, ultimately, alienated from his own people. Aldrich returned to the same subject 18 years later in "Ulzana's Raid" (1972), in which an Apache leader breaks the reservation's institutional constraints, vowing to recapture lost land. In depicting the brutal savagery of the white soldiers, who are oblivious to the hostility they cause, Aldrich refuses to allow his characters the traditional redemption offered by the Western genre.
In "The Big Knife" (1955), the Hollywood studio system was shown as nurturing dictatorial leaders who push individuals to compromise and suicide. (The film, which won the Silver Award at the Venice Film Festival, contains blatant allusions to real-life moguls Harry Cohn and Jack Warner). "Whatever Happened to Baby Jane?" (1962) and "The Legend of Lylah Clare" (1968) continued to present a Hollywood breeding jealousy and empty myths rooted in egomania.
In "Attack!" (1956), the combination of cowardice and political compromise displayed by military officers destroys the common soldiers under their command. "Attack!" was criticized for Aldrich's violent, often frantic mise-en-scene: for example, a soldier's arm is slowly crushed under a tank in a shot that can be taken as a metaphor for the results of institutional military incompetence. "The Dirty Dozen" (1967) reiterated Aldrich's contemptuous view for a military machine which dehumanized its subjects in order to make them capable of killing. The violent "heroics" of Robert Jefferson (Jim Brown)--dropping grenades that engulf trapped German officers in flames--illustrated how vicious men become under adversity.
Cynicism and pessimism permeated Aldrich's work. In the fatalistic "Kiss Me Deadly" (1955), private detective Mike Hammer attempts to track down the "great whatsit," a suitcase-sized atomic device which has been stolen by a spy; but the spy's greedy mistress opens the case, unleashing the device's deadly power in an apocalyptic finale. The film is arguably the director's most aesthetically striking and original, a hyper-kinetic reworking of the film noir genre that has become something of a cult favorite.
The abuse of institutional power motivates a terrorist in the political thriller "Twilight's Last Gleaming" (1977). A rogue general captures a nuclear missile silo and demands that the President read on national TV a Joint Chiefs of Staff memo admitting that over 50,000 Americans and 100,000 Southeast Asians died in a war the government knew America could never win. He insists that the President restore public confidence by calling the Vietnam war a "theatrical holocaust perpetrated by the criminally negligent." In Aldrich's cynical world-view, the Joint Chiefs sacrifice the President in order to maintain the credibility of the military complex.
On a smaller scale, "Hustle" (1975) reflects Aldrich's bleak vision of institutional betrayal. Gus, a police detective, can't win justice for the parents of a girl who accidentally drowned after an orgy with a protected leader of organized crime. Gus breaks the law to effect vengeance for the girl's father, then is himself killed by a petty criminal holding up a convenience store.
"All The Marbles" (1981), Aldrich's last film, was largely neglected by critics and audiences. It depicted two women wrestlers who confront the greed, sexism and humiliation of the wrestling world. Aldrich explicitly equated the physical abuse suffered by the women in the ring with the social abuse they suffered struggling for success and respect in a male-dominated field.