share:
Recent DVDs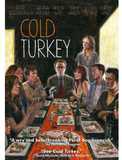 Cold Turkey ... Directed by Will Slocombe. Starring Ashton Holmes, Cheryl Hines, Amy Ferguson. more info $6.95was $9.99 Buy Now
MEDIA:
WATCH MOVIE CLIPS
|
VIEW TRAILER
|
VIEW PHOTOS
|
WATCH A TCM PROMO
| | | | |
| --- | --- | --- | --- |
| Also Known As: | | Died: | |
| Born: | July 30, 1939 | Cause of Death: | |
| Birth Place: | Kingston, New York, USA | Profession: | Cast ... |
RATE AND COMMENT
MILESTONES
1956:
Performed with American Shakespeare Festival in Stratford, Connecticut
1958:
Acted with New York Shakespeare Festival
1958:
Began writing film criticism for publications including <i>The New York Times</i>, <i>Esquire</i> and <i>Film Culture</i>
:
Worked as a film programmer for the New Yorker Theater in Manhattan
1959:
Directed and co-produced the Off-Broadway staging of "The Big Knife"
1961:
Wrote monographs for the Museum of Modern Art Film Library on Orson Welles, Alfred Hitchcock and Howard Hawks
1964:
Moved to California
1966:
Hired as second unit director by Roger Corman for "Wild Angels"; claims to have done rewrites (uncredited), location scouting and editing; was hired after Corman read some of his film criticism
1966:
First feature film credit (as additional sequence director and narrator), "Voyage to the Planet of Prehistoric Women" (credited as Derek Thomas)
1968:
Feature directing and producing debut, "Targets," starring Boris Karloff and executive produced by Corman (also wrote and acted)
1971:
Release of first documentary, "Directed by John Ford" (commissioned by the American Film Institute)
1971:
Won acclaim for directing "The Last Picture Show"; received Oscar nominations for Best Director and Best Screenplay (shared with Larry McMurtry)
1972:
Produced and directed "What's Up, Doc?" co-starring Ryan O'Neal and Barbra Streisand
:
Formed the Directors Company with Francis Ford Coppola and William Friedkin
1973:
Again collaborated with O'Neal for "Paper Moon" (produced and directed); also co-starred a 10-year-old Tatum O'Neal who picked up a Supporting Actress Oscar; was the Directors Company's first offering
1974:
Provided companion Cybil Shepard with a starring vehicle, "Daisy Miller"; film received lackluster critical reception
1976:
Wrote and directed the heartfelt valentine to early days of moviemaking, "Nickelodeon"; third film with Ryan O'Neal; second with Tatum O'Neal
1979:
Made a movie version of Paul Theroux's novel "Saint Jack"
1981:
Released "They All Laughed"after Dorothy Stratten's murder; wrote screenplay and contributed music, in addition to directing; distributed film himself after failing to find a distributor due to the negative publicity surrounding the Stratten murder
1984:
Published the memoir, <i>The Killing of the Unicorn: Dorothy Stratten</i>
1985:
Directed the well received drama "Mask" co-starring Cher and Eric Stoltz
1986:
Founded Crescent Moon Productions, Inc.
:
Weekly film commentator for the CBS News program, "CBS This Morning"
1990:
Returned to "Last Picture Show" territory with the sequel "Texasville" (produced, directed and scripted); was a critical and box office failure
1992:
Translated the door-slamming British sex farce from the stage to the screen as director of "Noises Off"
1993:
Directed "The Thing Called Love," about a country singer-songwriter who wants to make it big in Nashville; one of River Phoenix's last roles
1995:
Helmed segments of the Showtime anthology series' "Picture Windows" and "Fallen Angels"
1996:
Directed a television sequel to 1967 feature film "To Sir With Love" (CBS) with Sidney Poitier reprising his role
1997:
Helmed another CBS movie, "The Price of Heaven"
1998:
Appeared as the leader of therapy group in "Mr. Jealousy"; co-starred and produced by Eric Stoltz
1998:
Had a cameo appearance in the feature "54"
2000:
Returned to acting, playing the recurring role of Dr. Melfi's (Lorraine Bracco) psychotherapist in the HBO series "The Sopranos"; also directed a fifth season episode of the series
2001:
Returned to directing features with "The Cat's Meow" (released theatrically in 2002)
2003:
Had a supporting role as a fictional version of himself in the Showtime comedy series "Out of Order"
2006:
Cast in the Truman Capote biopic "Infamous"
2007:
Appeared in Zoe Cassavetes' directorial debut, "Broken English"