share:
Recent DVDs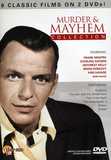 Murder &... Included are 6 film noir classics on 2 DVDs. Suddenly stars Frank Sinatra and... more info $5.95was $6.98 Buy Now
MEDIA:
WATCH MOVIE CLIPS
|
VIEW TRAILER
|
VIEW PHOTOS
|
WATCH A TCM PROMO
| | | | |
| --- | --- | --- | --- |
| Also Known As: | | Died: | May 14, 1998 |
| Born: | December 12, 1915 | Cause of Death: | heart attack |
| Birth Place: | Hoboken, New Jersey, USA | Profession: | Music ... |
RATE AND COMMENT
MILESTONES
1915:
Weighed close to 15 pounds at birth; appeared stillborn until his grandmother held him under a cold water faucet
:
Godfather Frank Garrick, circulation manager of the <i>Jersey Observer</i>, arranged for his namesake to work on the paper's delivery truck
1935:
Attatched himself to the 'Three Flashes' trio; on September 8th, they appeared as the 'Hoboken Four' on radio's "Major Bowes' Amateur Hour", winning that night with 40,000 people calling in--the then-largest vote in the show's history; toured with the quartet for six months
:
First gained acclaim as vocalist with the Harry James Orchestra; first hit, "All or Nothing at All"
1940:
Hired away by Tommy Dorsey for $100 a week; recorded more than 80 songs with Dorsey's orchestra, including "Stardust", "This Love of Mine" and "I'll Never Smile Again"
1941:
Screen debut in "Las Vegas Nights" (as singer with Tommy Dorsey Band)
1943:
First solo hit, a recording of the Cole Porter standard, "Night and Day"
1943:
Feature acting debut, "Higher and Higher"
1945:
Won a Special Academy Award for "The House I Live In", a progressive short about racial tolerance
1945:
First of three films with Gene Kelly, "Anchors Aweigh"
1949:
Acted opposite Kelly in what is considered Sinatra's best film of the decade, "On the Town", co-directed by Kelly and Stanley Donen
:
First foray into TV, "The Frank Sinatra Show" (CBS); telecast live from NYC (later from Hollywood), it failed primarily because of the competition (opposite Sid Caesar's "Your Show of Shows" for 1st season and Number 1 rated "The Texaco Star Theater" with Milton Berle for the 2nd)
:
Film career slumped after the relative boxoffice failure of "Double Dynamite" (1951) and "Meet Danny Wilson" (1952)
:
Dropped by Columbia Records in the early 1950s after his vocal chords hemorrhaged
1953:
Begged executives at Columbia Pictures to play the key supporting role of Maggio in an all-star production of "From Here to Eternity"; agreed to play the part for only $8000; won Best Supporting Actor Oscar
1953:
Signed to recording contract by Capitol Records (date approximate)
1955:
Co-starred with Marlon Brando and Vivian Blaine in film version of "Guys and Dolls"
1955:
Played the Stage Manager in TV adaptation of "Our Town" (NBC), intorduced the song "Love and Marriage"
1955:
Earned Best Actor Oscar nomination for Otto Preminger's "The Man With the Golden Arm"
1956:
First producing credit, "Johnny Concho" (also starred in title role)
1956:
Co-starred with Grace Kelly and Bing Crosby in "High Society", a musicalized version of "The Philadelphia Story" with songs by Cole Porter
1957:
Portrayed nightclub performer Joe E Lewis in the biopic "The Joker Is Wild"
:
Starred in the ABC variety series "The Frank Sinatra Show"
1959:
Released "Come Dance with Me" (Capital); remained on charts for 140 weeks
1960:
Co-starred in what is considered the epitome of 'The Rat Pack' films "Oceans Eleven"
1961:
Left Capitol to form own record label, Reprise
1962:
Starred in John Frankenheimer's political thriller "The Manchurian Candidate"
1963:
Sold two-thirds of Reprise to Warner Bros. for more than $3 million capital gain
1965:
Only directing credit, "None but the Brave" (also starred in and produced)
1966:
Starred in the TV special, "Frank Sinatra: A Man and His Music", which received a Peabody Award; show also featured daughter Nancy
1967:
Last Number 1 hit single, "Something Stupid", a duet with his daughter Nancy Sinatra (his first gold single)
1970:
Last feature acting role for a decade, "Dirty Dingus Magee"
1971:
Announced his retirement from show business; was back working again within two years
1974:
Was one of the hosts/narrators of the compilation film "That's Entertainment"
1977:
TV dramatic acting debut in the NBC movie "COntract on Cherry Street"
1980:
Returned to films as star of "The First Deadly Sin"
1983:
Honored with a tribute at Kennedy Center
:
Toured the world with Sammy Davis Jr and Liza Minnelli
1990:
Performed on the TV special, "Sinatra 75: The Best Is Yet to Come" (CBS)
1990:
Last screen appearance in the documentary "Listen Up", a biographical portrait of composer-producer Quincy Jones
1992:
Was the subject of the five-hour TV miniseries, "Sinatra" (CBS), produced by daughter Tina
:
Recorded two multiplatinum "Duets" albums, singing with pop stars like Barbara Streisand, Jimmy Buffet and Bono
1995:
Empire State Building glowed blue in honor of Ole Blue Eyes' 80th birthday
1995:
ABC aired the tribute special "Sinatra: 80 Years My Way"
1997:
Suffered "an uncomplicated heart attack" (January 9)