share:
Recent DVDs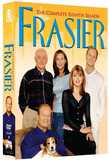 Frasier:... Eminent Boston Psychiatrist, Frasier Crane, last seen gracing the bars of Cheers... more info $10.95was $14.98 Buy Now
MEDIA:
WATCH MOVIE CLIPS
|
VIEW TRAILER
|
VIEW PHOTOS
|
WATCH A TCM PROMO
| | | | |
| --- | --- | --- | --- |
| Also Known As: | Marvin Neil Simon | Died: | |
| Born: | July 4, 1927 | Cause of Death: | |
| Birth Place: | Bronx, New York, USA | Profession: | Writer ... playwright screenwriter producer author |
RATE AND COMMENT
BIOGRAPHY
A staff writer on the signature comedy series of televisionâ¿¿s infancy, "Your Show of Shows" (NBC, 1950-54), Neil Simon went on to establish himself as one of Broadway's most prolific and consistent hit makers. Over the course of four decades, a Simon play or musical opened most seasons on Broadway and were often turned into major motion pictures within a couple of years, including "Barefoot in the Park" (1967), "The Out-of-Towners" (1969), "The Sunshine Boys" (1975) and "California Suite" (1978). Simon also wrote his share of original screenplays, such as the mystery spoof "Murder By Death" (1976) and the charming romantic comedy "Seems Like Old Times" (1980), though it was largely his stage work that earned him his reputation. Perhaps his most enduring creation was "The Odd Couple," which was a play in 1965, a film in 1968 and a television show that ran five seasons starting in 1970, while over the decades popping up in other incarnations. In the 1980s, Simon began a series of semi-autobiographical coming-of-age plays focused on his alleged alter-ego, Eugene Jerome. Dubbed the Eugene Trilogy, the plays consisted of "Brighton Beach Memoirs" (1983), "Biloxi Blues" (1985) and "Broadway Bound" (1986), with the former two being turned into mildly successful feature films. After years as an unbridled hit maker, Simon earned the overwhelming respect of critics with "Lost in Yonkers" (1991), which earned him a Tony Award and Pulitzer Prize for drama. Though his success tapered off in his later years, Simon remained the most important playwright of the latter-half of the 20th century.
Born on July 4, 1927 in The Bronx, NY, Simon was raised in Depression-era Washington Heights in northern Manhattan by his father, Irving, a garment salesman, and his mother, Mamie. Because his parents were engaged in a rocky relationship that often threatened to break apart, Simon and his older brother, Danny, were sent to live with one group of relatives or another. His father often left the family for long periods of time, leaving their mother to fend for herself until his return. After graduating from DeWitt Clinton High School when he was 16, Simon attended New York University, where he enlisted in the U.S. Army Air Force Reserve during the waning days of World War II, which led to an assignment at Lowry Air Force Base in Denver, CO, where, as a corporal, he began writing for the USAF sports paper, the Rev-Meter. Following a short stint at the University of Denver, Simon moved back to New York, where he spent two years working in the mailroom of the East Coast Warner Bros. offices before quitting to write radio and television scripts with his brother, Danny.
Simon and his brother managed to wrangle an interview with radio comic, Goodman Ace, who hired the sketch writing duo for $200 a week after reading just one of their jokes. Simon partnered with his brother for the next nine years, with the two writing for such radio programs as "The Robert Q. Lewis Show." They soon moved on to television to write for the day⿿s biggest shows, including "The Red Buttons Show" (CBS/NBC, 1952-55), "The Phil Rivers Show" (CBS, 1955-59), and "Your Show of Shows" (NBC, 1950-54), which starred Sid Caesar and featured perhaps the best group of comics ever assembled: Mel Brooks, Woody Allen, Carl Reiner and Larry Gelbart. Following his entrée into the theater world with the Broadway revue, "Catch a Star" (1955), which he collaborated on with Danny, he became a staff writer on the sitcom, "Stanley" (NBC, 1956-57), which starred Buddy Hackett as the slovenly proprietor of a hotel lobby newsstand. Eventually, Simon struck out on his own when he wrote his first play, "Come Blow Your Horn" (1961), which told the story of a young man who yearns to leave his parents⿿ home to live at his brother⿿s swinging bachelor pad.
"Come Blow Your Horn" opened on Broadway at the Brooks Atkinson Theatre, where it ran for two years and became a big hit. Simon followed with "Little Me" (1962), which, while not as well-received as his first play, still earned the playwright his first Tony Award nomination. After "Come Blow Your Horn" was adapted in 1963 into a feature film starring Frank Sinatra, Simon had one of the biggest stage hits of his career with "Barefoot in the Park" (1963), a lighthearted comedy focusing on the marriage between a buttoned-down lawyer husband and his free-spirited wife that played on Broadway for over 1,500 performances, making it one of the longest-running non-musicals in the history of the Great White Way. The play was turned into a successful 1967 film starring Robert Redford and Jane Fonda. Meanwhile, his brother had gone through a divorce and was living with another divorced man, which sparked the idea for what eventually became "The Odd Couple" (1965). After several attempts to write the idea, Danny threw the idea over to Simon, who turned the comedy about a freakishly neat newspaper writer thrown out by his wife and forced to move in with a slovenly sportswriter into a Broadway smash that ran for over 900 performances and earned several Tony Awards, including Best Play.
As with many of Simonâ¿¿s plays, "The Odd Couple" was adapted for the big screen in 1968, and starred Jack Lemmon as the fastidious Felix Unger and Walter Matthau, reprising his original Broadway role, as the slob Oscar Madison. Possibly one of the best feature adaptations of his stage work, the highly successful movie earned several award nominations, including Simonâ¿¿s first for an Academy Award. During this time, he churned out stage plays like "The Star-Spangled Girl" (1966), "Plaza Suite" (1968) and "The Last of the Red Hot Lovers" (1969), which continued his string of critical and financial hits. The following year, "The Odd Couple" was spun off to the small screen, where it spent five seasons on ABC with Tony Randall as Felix and Jack Klugman as Oscar. Meanwhile, he wrote the play to perhaps his second-best remembered stage production, "The Sunshine Boys" (1972), which focused on two aging vaudevillians forced back together after growing to hate each other for a television reunion. Following another Tony Award win for Best Play, the production was adapted into a critically acclaimed 1975 film starring Walter Matthau and George Burns; the latter of whom won an Academy Award for Best Supporting Actor.
With his career at an all-time high, there seemed to be nothing that could bring Simon down. But in 1973, his wife of 20 years, Joan Baim, died after a prolonged battle with cancer. The agonizing 15 months of watching his wife slowly slip away left the playwright empty and devastated. Four months later, however, Simon shocked friends and colleagues when he married actress Marsha Mason following a brief courtship. He continued writing successful plays like "The Good Doctor" (1973), "California Suite" (1976) and "Chapter Two" (1977) while scripting original screenplays like "Murder By Death" (1976), a spoof on whodunit mysteries that featured Truman Capote as a wealthy recluse named Lionel Twain, who lures top private detectives (an all-star cast of Peter Sellers, Peter Falk, David Niven, Maggie Smith and James Coco) to his secluded mansion to solve a murder thatâ¿¿s about to be committed. He next wrote the original screenplay for "The Goodbye Girl" (1977), an adult romantic comedy about a divorced mother and ex-Broadway dancer (Marsha Mason) engaged in a romance with an arrogant actor (Richard Dreyfuss) whose career is nearly ruined by a myopic director (Paul Benedict). Dreyfuss went on to win the Best Actor Oscar for his winning, wacky performance.
Returning to adaptations of his own work, Simon wrote the scripts for the screen treatments of "California Suite" (1978) and "Chapter Two" (1979), while writing the script for the comedy spoof "The Cheap Detective" (1978), starring Peter Falk, the book for the musical "Theyâ¿¿re Playing Our Song" (1979), and the stage play for "I Ought to Be in Pictures" (1980), which he turned into a feature starring Walter Matthau and Ann-Margaret in 1982. Simon next wrote the original screenplay for the feature comedy, "Seems Like Old Times" (1980), which starred Chevy Chase as a down-on-his-luck writer who seeks refuge from a pair of bank robbers at the home of his ex-wife (Goldie Hawn), only to run afoul of her new stuffed-shirt husband (Charles Grodin). Following his lighthearted romantic comedy, "Fools" (1981), which was directed for Broadway by longtime collaborator Mike Nichols, Simon adapted his play "The Gingerbread Lady" (1970) into the film "Only When I Laugh" (1981), which again starred wife Marsha Mason. Simon next wrote the play to "Brighton Beach Memoires" (1983), a semi-autobiographical coming-of-age comedy about a young Jewish teenager who experiences puberty and has a sexual awakening while trying to deal with his struggling family. The play was turned into a mildly popular film in 1986 starring Jonathan Silverman as Simonâ¿¿s alter-ego, Eugene Jerome.
Simon returned to the stage with the more popular "Biloxi Blues" (1985), the second installment to what became known as the Eugene Trilogy. This time, the young Jewish kid from Brooklyn enlists in the Army and is sent to Biloxi, MS for basic training, where he falls in love, loses his virginity and runs afoul of an offbeat drill sergeant. In 1988, the play was adapted into a well-received film starring Matthew Broderick as Eugene and Christopher Walken as Sgt. Toomey. In 1983, Simon suffered another personal setback â¿¿ albeit one not as tragic as losing Joan â¿¿ when he divorced actress Marsha Mason following 10 years of marriage. Despite the split, the two remained friends and continued working together. Meanwhile, he reimagined "The Odd Couple" as "The Female Odd Couple" (1985), which was staged on Broadway with Sally Struthers and Rita Moreno in the leads. Simon rounded out his Eugene Trilogy with "Broadway Bound" (1986), which followed Eugene and his brother Stanley â¿¿ obvious doubles for Simon and his own brother Danny â¿¿ as they try to make it as comedy writers on radio and television. Unlike the previous two installments, however, "Broadway Bound" was not immediately adapted into a feature film or even television movie â¿¿ the rare Simon play not to make such a transformation.
During this time, Simon remarried once again, this time to Diane Lander, a former employee at the Beverly Hills department store, Neiman Marcus. Their relationship proved to be a rocky one, ending in divorce in 1988 following 18 months of marriage, only to reunite in early 1990. Though they again filed for divorce two years later, the couple reconciled until finally splitting for good in 1998. Though asked on several occasions, Simon had been remiss to talk about his relationship with her; even going so far as to not draw from their experiences in his work â¿¿ a shock given his mining of all other areas of his life. Meanwhile, he wrote the farce "Rumors" (1988) for the stage before achieving massive popular and critical success with "Lost in Yonkers" (1991), a coming-of-age drama about two brothers left in the care of their intimidating grandmother who also houses the mentally deficient, but good-hearted Aunt Bella (Mercedes Ruehl). Simonâ¿¿s difficult tale of family dysfunction won several awards, including a Tony for Best Play and the Pulitzer Prize for Drama. After returning to the world of "Your Show of Shows" for a Broadway production of "Laughter on the 23rd Floor" (1993), he cited the high cost of producing plays on the Great White Way, controversially insisting that "London Suite" (1994) be produced off-Broadway.
After penning a television version of his 1992 play "Jakeâ¿¿s Women" (CBS, 1996), Simon wrote his 30th stage production, "Proposals" (1997), which opened on Broadway, but quickly closed, proving to be one of his least successful stage efforts. On the flip side, a revival of "The Sunshine Boys" enjoyed a much longer run thanks to the popularity of stars Tony Randall and Jack Klugman. Meanwhile, Simon's feature output fell off following the box-office failure of "The Marrying Man" (1991) and "Neil Simon's 'Lost in Yonkers'" (1993), causing the writer to turn to the small screen with "Neil Simon's 'London Suite'" (NBC, 1996), with a cast that included Kelsey Grammer, Julia Louis-Dreyfuss and Richard Mulligan, and a misguided "The Sunshine Boys" (CBS, 1997), which was filmed in 1995 with Peter Falk and Woody Allen. His return to the big screen with the sequel "The Odd Couple II" (1998) sank at the box office despite the presence of the original actors, Walter Matthau and Jack Lemmon. Later that year, a remake of "The-Out-of-Towners" (1998), starred Steve Martin and Goldie Hawn in the roles originated in 1970 by Lemmon and Sandy Dennis.
Turning to the publishing world, Simon wrote his memoirs in two parts, starting with Neil Simon Writes: A Memoir (1996); he followed with part two a few years later, Neil Simon The Play Goes On: A Memoir (1999). In his later years, Simonâ¿¿s stage work also began taking a hit with critics, though he found mild success with "The Dinner Party" (2000), starring John Ritter and Henry Winkler. After "45 Seconds from Broadway" (2001), which lasted just a few months, he revamped his two most famous characters for "Oscar and Felix: A New Look at the Odd Couple" (2002), which starred John Larroquette as Oscar and Joe Regalbuto as Felix, followed by his staging of "Roseâ¿¿s Dilemma" (2003) off-Broadway at the Manhattan Theatre Club. Also later in his career, his plays found new life on television with "Laughter on the 23rd Floor" (Showtime, 2001) and "The Goodbye Girl" (TNT, 2004) being adapted for the small screen.