share:
Recent DVDs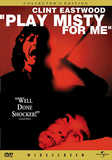 Play Misty for... Clint Eastwood, Jessica Walter. A DJ of a popular late-night radio program gets... more info $11.21was $14.98 Buy Now
MEDIA:
WATCH MOVIE CLIPS
|
VIEW TRAILER
|
VIEW PHOTOS
|
WATCH A TCM PROMO
| | | | |
| --- | --- | --- | --- |
| Also Known As: | Alan Smithee,Donald Siegel,Donald Siegel | Died: | April 20, 1991 |
| Born: | October 26, 1912 | Cause of Death: | cancer |
| Birth Place: | Chicago, Illinois, USA | Profession: | Director ... director producer studio montage department head assistant film librarian actor assistant editor |
RATE AND COMMENT
BIOGRAPHY
nal collaboration with its star, Clint Eastwood. At the time, Eastwood was riding the wave of popularity from his Italian westerns with Sergio Leone, and had returned to the United States in search of quality projects. A fan of Siegelâ¿¿s earlier work, he tapped the older man to direct "Bluff," a crime drama with Western overtones about an Arizona sheriff (Eastwood) who pursued a psychotic criminal (Don Stroud) through New York.
The new actor/director team soon followed their first hit with "Two Mules for Sister Sara" (1970), a Western with Shirley MacLaine as a prostitute posing as a nun and Eastwood as the drifter who aids her against Mexican soldiers, and "The Beguiled" (1971), a Gothic period piece about a wounded Union soldier (Eastwood) who, after being rescued by the teacher and students at an female boarding school, received a brutal come-uppance after attempting to seduce them. The picture was marked by negative reactions to Eastwoodâ¿¿s weak character and a perceived notion of misogyny, an idea bolstered in part by Siegelâ¿¿s comment about the filmâ¿¿s depiction of womenâ¿¿s "basic desire to castrate men." However, the controversy it generated was nothing when compared to the firestorm of criticism that followed their next collaboration, "Dirty Harry" (1971).
A violent crime thriller about a trigger-happy San Francisco detective (Eastwood) whose investigative methods were not dissimilar to the sadistic sniper (Andrew Robinson) he pursued, "Harry" became an iconic role for Eastwood, and one of Siegelâ¿¿s biggest career hits, but the film was dogged as a right-wing fantasy that celebrated police brutality and fascist responses to violence. Siegel distanced himself from the debate, which actually incurred protests at screenings, though several critics saw the film as an implication of viewersâ¿¿ own violent urges and knee-jerk responses to acts of brutality. Harry Callahan would return for several more movie adventures, though Siegel would not direct any of them. He would, however, serve as a strong influence on the directorial career of Eastwood, whose own terse cinematic style and focus on the moral ambiguity of his characters reflected Siegelâ¿¿s worldview.
Siegelâ¿¿s output slowed in the years following "Harry." He had been in the movie business for over four decades, and had enjoyed a career that most directors would find envious. He would direct and producer a handful of films in the 1970s, most of which turned a profit and enjoyed respectable box office returns. The cult favorite "Charley Varrick" (1973) starred Walter Matthau as a cagey bank robber who runs afoul of mobsters, and featured one of the most unique chase scenes in film history, with Matthau in a plane pursued by relentless killer Joe Don Baker in a car. "The Shootist" (1976) was an unsentimental Western about an aging gunfighter (John Wayne, in his final screen role) whose attempt to retire was challenged by a vicious criminal (Richard Boone). And "Escape from Alcatraz" (1979) was a tense prison film about the real-life escape from the maximum-security prison by inmate Frank Morris (Eastwood). Though a hit, the picture ended the long relationship between Eastwood and Siegel when the latter took over the production of the film from his star.
In addition to his directing career, Siegel acted in minor roles in several films. He made cameos in many of his own projects, including an elevator passenger in "Cooganâ¿¿s Bluff" and a pedestrian in "Dirty Harry." Eastwood cast him in a minor part as a bartender in "Play Misty for Me" (1971), while Philip Kaufman brought him aboard the remake of "Invasion of the Body Snatchers" (1978) as the driver of the cab who struck Kevin McCarthy, the star of Siegelâ¿¿s version. Siegel would direct two more films, "Rough Cut" (1980) and "Jinxed!" (1982) before retiring in the 1980s. The former was a minor hit for Burt Reynolds as a jewel thief, while the latter was a disastrous comedy for Bette Midler as a Vegas lounge singer who fell for an unlucky card dealer (Ken Wahl). Both stars opened loathed each other during filming, and Midler also clashed with Siegel, who suffered a heart attack during production. The filmâ¿¿s sole positive note was the brief revival it afforded Sam Peckinpah, who was hired by Siegel as second unit director on the film, and as a result, received a final turn as director on "The Osterman Weekend" (1983) before his death. On April 20, 1991, Siegel died from cancer in Nipomo, CA. His body of work underwent several re-evaluations in the years that followed his passing, with his own autobiography, A Siegel Film, published posthumously in 1993, serving as the final word on many of his projects. In 1992, Eastwood dedicated his Oscar-winning Western "Unforgiven" to the two men whose work had the greatest impact on his career: Sergio Leone and Don Siegel.ll Block 11" (1954) were tough, single-minded men whose sole purpose in life was to stand by their own personal codes of honor. They avoided the standard societal codes, operating under their own rules, and frequently broke traditional movie tenets in their pursuit of their desires, whether financial, personal or otherwise. Often times, there was very little separating his heroes from his villains. Such an approach endeared Siegel to noir fans, as well as serious students of American cinema like Francois Truffaut, who was an unabashed admirer. For his part, Siegel described himself as a "whore" who simply worked for the profit, and indeed, for every great effort during the 1950s and beyond, there were minor, forgettable efforts like "Hound-Dog Man" (1959), a frivolous, fictionalized biopic of Elvis Presley with Fabian in the lead, and countless television episodes, including "The Doctor" (NBC, 1952-53) and two of the weakest stories on "The Twilight Zone" (CBS, 1959-1964).
Despite the erratic nature of Siegelâ¿¿s career, he turned out some exceptional films in the late â¿¿50s and 1960s that became favorites for crime and thriller enthusiasts and scholars alike. "Crime in the Streets" (1956) was a gritty urban drama with James Whitmore as a social worker attempting to turn street punks John Cassavetes and Sal Mineo away from a life of crime, while "The Lineup" (1958) afforded character actor Eli Wallach a rare lead as a psychopathic gangster who tracked down and killed tourists who had become unwitting drug mules. He was also adept at war pictures, like the Steve McQueen vehicle "Hell is For Heroes" (1962) and Westerns like "Flaming Star" (1960), which gave Elvis Presley one of his best screen roles as a half-Native American caught between his adopted white family and warring tribes. Siegel also made one of the greatest science fiction films of the 20th century, "Invasion of the Body Snatchers" (1956), which depicted the takeover of a small California town by extraterrestrials with the ability to duplicate humans through giant plant-like pods. The film was the center of considerable debate over its allegiance or opposition to the anti-Communist witch hunts of the period, with both sides swearing Siegelâ¿¿s fealty to their side. For his part, Siegel would later comment that the pods represented the front office at Hollywood studios. In 1959, he made his debut as producer-director on "Edge of Eternity" (1959), and would oversee nine more films during his lengthy career.
Save for "The Killers" (1964), a savage gangster picture with Lee Marvin as an amoral killer and Ronald Reagan in his final screen role as a cruel mob boss, Siegel worked in television for most of the mid-1960s before returning to features with "Madigan" (1968), a downbeat police drama about a New York detective (Richard Widmark) on the trail of a killer who eluded him during a routine bust. The film was particularly trying for the director, who clashed frequently with producer Frank Rosenberg. However, his next film, "Cooganâ¿¿s Bluff" (1968), marked the beginning of a career revival, as well as a long personal and professio