share:
Recent DVDs
In Search of... The nation's authentic music is once again making it's mark in a more... more info $14.95was $19.99 Buy Now
Music for... George Delerue highlights the career of a quintessential Frenchman whose music... more info $17.95was $24.99 Buy Now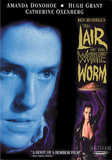 The Lair of... The Lair of the White Worm. Direction: Ken Russell Actors: Amanda Donahoe,... more info $11.95was $14.98 Buy Now
MEDIA:
WATCH MOVIE CLIPS
|
VIEW TRAILER
|
VIEW PHOTOS
|
WATCH A TCM PROMO
| | | | |
| --- | --- | --- | --- |
| Also Known As: | | Died: | November 27, 2011 |
| Born: | July 3, 1927 | Cause of Death: | Stroke |
| Birth Place: | Southampton, England, GB | Profession: | Director ... |
RATE AND COMMENT
MILESTONES
1945:
Entered Merchant Navy; released due to nervous breakdown
1946:
Served with Royal Air Force
:
Worked with British Dance Theatre, London Theatre Ballet, NY Norsk Ballet, and in provincial repertory theater
:
Worked as freelance still photographer
1956:
Made first amateur short film, "Peepshow"
1959:
Began working as director for the BBC arts series "Monitor"
1962:
Secured permission to use actors in "Elgar" on condition that they appeared only in long shot and spoke no dialogue
1964:
First feature film as director, "French Dressing"
1965:
Worked with actor Oliver Reed in "The Debussy Film"; went around BBC restrictions on using actors to represent historical figures by building the picture around a group of actors making a film about Debussy
1967:
Cast Reed as Dante Gabriel Rosetti in "Dante's Inferno"
1970:
Gained international attention with film "Women in Love"; Reed portrayed rich young mine owner Gerald Crich; first of five features with actress Glenda Jackson, who won an Oscar for her performance; film garnered controversy over its nude male wrestling scene
1971:
First feature as producer, "The Music Lovers"; also directed; second film with Jackson
1971:
First screenplay credit, "The Devils", adapted from the John Whiting play based on Aldous Huxley's "The Devils of Loudon"; also directed and produced; Reed starred as Father Urbain Grandier
1972:
Filmed "Savage Messiah", adapted from the H. S. Ede biography of the sculptor Henri Gaudier-Brzeska from which he had drawn great strength at a low point in his life
1975:
Commercial hit as the writer and director of The Who's "Tommy"; last feature with Reed
1980:
Returned to the winner's column with "Altered States" although screenwriter Paddy Chayefsky disowned the final film, which was based on a Chayefsky novel
:
Began to direct stage operas in 1980s; directed in England, Australia, Italy and Greece
1986:
Directed highbrow horror film "Gothic," filled with trademark hallucinatory visuals
1988:
Made feature acting debut in "Salome's Last Dance"; also directed
1989:
Second Lawrence adaptation, "The Rainbow"; fifth and last (to date) feature with Jackson
1990:
Directed first U.S. TV production, "Dusk Before Fireworks" segment of "Women and Men: Stories of Seduction" (HBO)
1991:
Directed the pseudo-documentary "Whore"; also wrote screenplay
1991:
Second assignment for HBO, directing "Prisoner of Honor," a movie about a turn of the century anti-Semitic French army officer who challenged the massive government cover up in the imprisonment of Alfred Dreyfus
1993:
Returned to the work of Lawrence, directing four-part miniseries "Lady Chatterly" (BBC), adapted from "Lady Chatterly's Lover"
1994:
Contributed 27-minute "The Insatiable Mrs Kirsch" to executive producer Regina Ziegler's six-part "Erotic Tales"
1998:
Directed The Movie Channel's "Dogboys"
2000:
Wrote and directed short film "Lion's Mouth"; screened on the Internet
2002:
Wrote, directed, and appeared in "The Fall of the Louse of Usher: A Gothic Tale for the 21st Century"
2006:
Final directorial project, the segment titled "The Girl With Golden Breasts" in the horror anthology "Trapped Ashes"
2007:
Joined the cast of the U.K. reality series "Celebrity Big Brother" (Channel 4)
2010:
Acted alongside Rhys Ifans, Chloë Sevigny and David Thewlis in "Mr. Nice"