share:
Recent DVDs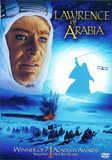 Lawrence of... David Lean's splendid biography of the enigmatic T. E. Lawrence paints a complex... more info $11.21was $14.99 Buy Now
MEDIA:
WATCH MOVIE CLIPS
|
VIEW TRAILER
|
VIEW PHOTOS
|
WATCH A TCM PROMO
| | | | |
| --- | --- | --- | --- |
| Also Known As: | Nicolas Jack Roeg,N. Roeg,Nick Roeg | Died: | |
| Born: | August 15, 1928 | Cause of Death: | |
| Birth Place: | London, England, GB | Profession: | Cinematography ... director screenwriter director of photography producer dubber clapper boy |
RATE AND COMMENT
BIOGRAPHY
Nicolas Roeg started working in the film industry at the age of 19 at the Marylebone Studio, where he was a tea-boy and assisted in the dubbing of French films. Roeg then went to work for MGM's London studios, where he slowly moved his way up the ladder to become a camera operator. He did second-unit photography for "Lawrence of Arabia" (1962) and finally became a director of photography on such films as "The Caretaker" (1963), "Fahrenheit 451" (1966), "Far From the Madding Crowd" (1967) and "Petulia" (1968).
In 1968, Roeg co-directed "Performance" with screenwriter Donald Cammell, but Warner Bros. was so dismayed with the film that they initially refused to release it. (The plot involved two characters--James Fox as a gangster on the run and Mick Jagger as a reclusive rock singer--whose identities merge.) When "Performance" was finally released in 1970, reactions were hardly tepid; critic Richard Schickel called it "the most disgusting, the most completely worthless film I have seen since I began reviewing." The film postulates the frightening concept that individualized, integrated personality is a fiction; it remains one of the most boldly experimental features made within the commercial confines of the English film industry.
With "Walkabout" (1971), Roeg transformed a didactic children's novel about a teenaged girl and her young brother lost in the Australian outback into a film about missed opportunities and different ways of seeing the world. "Don't Look Now" (1973), perhaps his most carefully structured work, is also about perception and perspective and can even be analyzed as a self-reflexive work about how we watch films. Roeg's visionary philosophy and his disavowal of traditional narrative conventions reached their most extreme form in "The Man Who Fell to Earth" (1976), in which he attempted, in his words, "to push the structure of film grammar into a different area . . . by taking away the crutch of time which the audience holds onto." Unlike his previous films, where ambiguities can be best understood through multiple viewings and careful analysis of correspondences, "The Man Who Fell to Earth" can't be fully grasped because Roeg refuses to give his viewers all the necessary information; it is his most open-ended work.
"Bad Timing" (1980) and the rarely screened "Eureka" (produced 1983, released 1985) both reflect the director's concerns with convoluted narrative, the merging of disparate identities and the "interconnectedness" of all things, in a style characterized by frenzied editing and shifting camera angles. Like many of Roeg's subsequent films, they starred his wife, actress Theresa Russell.
After "Eureka," Roeg seemed to be moving away from some of these themes and techniques, perhaps finding it increasingly difficult to balance his unique personal vision with the overriding commercial considerations of the 1980s. "Insignificance" (1985), "Castaway" (1986), "Track 29" (1987) and "The Witches" (1990) pale in comparison to his early, ground-breaking films.