share:
Recent DVDs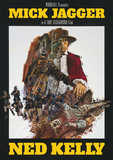 Ned Kelly ... Ned Kelly, director Tony Richardson's (Tom Jones, Joseph Andrews, Blue Sky)... more info $17.95was $24.95 Buy Now
MEDIA:
WATCH MOVIE CLIPS
|
VIEW TRAILER
|
VIEW PHOTOS
|
WATCH A TCM PROMO
| | | | |
| --- | --- | --- | --- |
| Also Known As: | Cecil Antonio Richardson | Died: | November 14, 1991 |
| Born: | June 5, 1928 | Cause of Death: | neurological infection resulting from AIDS |
| Birth Place: | Yorkshire, England, GB | Profession: | Director ... director producer film journalist |
RATE AND COMMENT
BIOGRAPHY
British theater and film director primarily associated with the "Angry Young Man" movement of the late 1950s and early 60s. Richardson worked as a producer with the BBC from 1952 to 1955 and co-directed a short documentary about working-class youths, "Momma Don't Allow" (1955), with Karel Reisz. The film was well received when shown at the first "Free Cinema" program in 1956--the same year that "Look Back in Anger," a play written by John Osborne and directed by Richardson, shook up the English theatrical establishment with its bitter indictment of postwar culture.
Richardson continued to work with Osborne in the theater and, in 1958, the two formed Woodfall Film Productions to bring the new theatrical sensibility to the screen. The company's first two features were adaptations of Richardson's and Osborne's stage collaborations, "Look Back in Anger" (1959) and "The Entertainer" (1960). Both featured fine performances, Richard Burton in the former and Laurence Olivier in the latter, but failed to attract much interest at the box office. Woodfall's first commercial success came with 1960's "Saturday Night and Sunday Morning," directed by Reisz.
Richardson scored his first major hit with the beautifully rendered "A Taste of Honey" (1961), a realistic yet lyrical, poignant tale of working-class life in Manchester based on Shelagh Delaney's novel. Both critics and public alike responded to a fine central performance from Rita Tushingham, sterling support from Dora Bryan and Murray Melvin, and striking the industrial landscapes poetically photographed by Walter Lassally.
The influence of the French New Wave was particularly noticeable in Richardson's next two films, Alan Sillitoe's "The Loneliness of the Long Distance Runner" (1962)--which used a flashback narrative structure to weave a "400 Blows"-style story of adolescent rebellion--and "Tom Jones" (1963), considered by many to be the director's masterpiece.
"Tom Jones" was a hilarious, bawdy romp through 18th-century England, adapted by Osborne from the Joseph Fielding novel and superbly acted by Albert Finney, Susannah York, David Warner and Hugh Griffiths. The film was particularly noted for Lassally's imaginative location camerawork. The film earned nearly $40 million and won three Oscars for Best Film, Best Director and Best Screenplay.
Little of Richardson's subsequent work has equaled his earlier achievements, but critical reassessment suggests that the contemporary reactions to his work were a bit harsh on a filmmaker who was always, at the very least, an interesting talent to watch. "Mademoiselle" (1965) and "The Sailor from Gibraltar" (1967) were both castigated at the time of their release, but are visually sumptuous and intriguing, if flawed, studies of tormented passion. "The Charge of the Light Brigade" (1968), meanwhile, earned measured praise for its unromanticized portrait of Victorian military life; "Hamlet" (1969), starring Nicol Williamson, and "A Delicate Balance" (1973), with Katharine Hepburn and Paul Scofield, were effective examples of stage productions transposed to the screen; and "Joseph Andrews" (1977) was an unsuccessful attempt to repeat the "Tom Jones" formula.
Richardson's later features were produced in the US. "The Border" (1982) was noted more for Jack Nicholson's performance than for the direction; "Hotel New Hampshire" (1984), a faithful adaptation of John Irving's novel featuring a star-studded cast (Jodie Foster, Beau Bridges, Nastassja Kinski, et al.), met with only limited critical and commercial success.
In the late 1970s Richardson turned to American TV, where he directed "A Death in Canaan" (1978), "Penalty Phase" (1986), "Beryl Markham: A Shadow on the Sun" (1988) and the elaborate "Phantom of the Opera" (1990) starring Burt Lancaster and Charles Dance. Filmed in 1991 and unreleased until after his death, Richardson's final feature "Blue Skies" (1994) was hailed as a return to form. This sensitively handled domestic drama featured an Oscar-winning lead performance by Jessica Lange.
From 1962-67, Richardson was married to actress Vanessa Redgrave. Their two daughters, Natasha and Joely Richardson were both actresses.