share:
Recent DVDs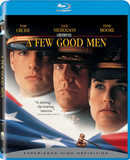 A Few Good... Jack Nicholson, Tom Cruise, Demi Moore. Daring to challenge the Marine Corps'... more info $15.96was $19.99 Buy Now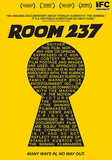 Room 237 ... In 1980 Stanley Kubrick released his masterpiece of modern horror, the Shining.... more info $19.95was $27.98 Buy Now
MEDIA:
WATCH MOVIE CLIPS
|
VIEW TRAILER
|
VIEW PHOTOS
|
WATCH A TCM PROMO
| | | | |
| --- | --- | --- | --- |
| Also Known As: | Bob Richardson,Robert Bridge Richardson | Died: | |
| Born: | August 27, 1955 | Cause of Death: | |
| Birth Place: | Hyannis, Massachusetts, USA | Profession: | Cinematography ... director of photography camera operator |
RATE AND COMMENT
BIOGRAPHY
Prior to becoming a regular collaborator with such prominent directors as Oliver Stone and Quentin Tarantino, cinematographer Robert Richardson served his apprenticeship shooting second unit on "Repo Man" (1984) while filming television documentaries for PBS and the BBC. His television work led Stone to hire him to shoot "Salvador" (1986) and "Platoon" (1986), both of which required a cinéma vérité style that only a documentary cinematographer could offer. From there, he worked almost exclusively for Stone, filming "Wall Street" (1987), "Born on the Fourth of July" (1989) and "The Doors" (1991), while occasionally branching out to shoot films like John Sayles' "Eight Men Out" (1988) and "City of Hope" (1991). But it was his stunning work using a multitude of stock and cameras to create a documentary feel for "JFK" (1991), which earned the cinematographer his first Academy Award. While he sharpened the hyperkinetic style of "JFK" in "Natural Born Killers" (1994), "Nixon" (1995) and "U-Turn" (1997), Richardson was in-demand by other top Hollywood directors like Tarantino and Martin Scorsese, both of whom tapped the director of photography for films like "Bringing Out the Dead" (1999), "Kill Bill, Vol. 1" (2003) and "Kill Bill, Vol. 2" (2004). Richardson earned Oscars two and three for his work with Scorsese on "The Aviator" (2004) and "Hugo" (2011). As he continued to earn acclaim for projects like Tarantino's "Django Unchained" (2012), there was no doubt that Richardson was one of the finest cinematographers working in Hollywood.
Born on Aug. 27, 1955 in Hyannis, MA, Richardson first attended the University of Vermont to study film before transferring to the Rhode Island School of Design, where he earned his bachelor's in film, animation and video. He made his way westward to earn his master's degree in film from the American Film Institute before making professional strides shooting second unit photography for the Emilio Estevez comedy "Repo Man" (1984) and the teen comedy "Making the Grade" (1984), starring Judd Nelson. Meanwhile, he served as the cinematographer on television documentaries and docudramas like "America, America" (The Disney Channel), "God's Peace" (BBC) and "The Front Line: El Salvador" (PBS). It was the strength of his documentary work that led director Oliver Stone to hire Richardson to shoot "El Salvador" (1986), which commenced a long and fruitful collaboration between the two. In fact, Richardson's cinéma vérité style brought a sense of truth-telling to Stone's socio-political dramatization of an American photojournalist (James Woods) covering the war between the government and leftist guerillas in El Salvador. Richardson earned an Independent Spirit Award for Best Cinematography.
Richardson next shot Oliver Stone's heart-wrenching war drama, "Platoon" (1986), which again benefited from the cinematographer's documentary style of shooting, including a heavy reliance on hand-held cameras to capture the relentless motion and heightened tension of war. For his efforts, Richardson earned his first Academy Award nomination for Best Cinematography. After shooting Stone's morality tale "Wall Street" (1987), he gave John Sayles' "Eight Men Out" (1988) a muted, but also glossy look full of sepia tones to suggest a simpler, more rugged time. He reunited with Stone for his next two films, "Talk Radio" (1998) and "Born on the Fourth of July" (1989); the latter of which told the hard-fought tale of paralyzed Vietnam War veteran-turned-anti-war activist Ron Kovic (Tom Cruise) and earned Richardson his second Academy Award nomination for Best Cinematography. He was given a wide palette of color to work with for "The Doors" (1991), Stone's sometimes compelling portrait of doomed rock star Jim Morrison (Val Kilmer), while he gave Sayles' urban crime drama, "City of Hope" (1991), an appropriately dark and gritty look.
For "JFK" (1991), Oliver Stone's epic examination of the conspiracies surrounding the assassination of President John F. Kennedy, Richardson employed both 35mm and 16mm cameras - not to mention numerous film stocks - to recreate everything from grainy black-and-white home movies and archival newsreels to faded color videotape to current digitized images. The mishmash of images was like nothing ever before seen on film, leading to a much deserved Academy Award. Following his work on "A Few Good Men" (1992) and "Heaven and Earth" (1993), he employed an amalgam of techniques from "JFK" to create the visceral and violent "Natural Born Killers" (1994), a satirical thriller about two young lovers (Woody Harrelson and Juliette Lewis) on the run from the law following a killing spree. He again used "JFK" as a template for "Nixon" (1995), which helped underscore the paranoia and isolation of the disgraced former president (Anthony Hopkins) forced to resign amidst the Watergate scandal. Meanwhile, Richardson embarked on his first collaboration with Martin Scorsese on "Casino" (1995), in which the cinematographer's virtuoso camerawork brought out the lushness and desperation inherent in Las Vegas.
Though he had experimented with reversal stocks for both "JFK" and "Natural Born Killers," Richardson wound up shooting 75 percent of "U-Turn" (1997) on Kodak's 5239 reversal stock to approximate the high-contrast, black-and-white film noir feel required by Stone; particularly when switching from a smoother stock to a grainy texture to accentuate the sense of paranoia and disorientation of Bobby (Sean Penn), a drifter trapped in an isolated desert town. Following work on "Wag the Dog" (1997) and "The Horse Whisperer" (1998), he collaborated a second time with Scorsese on "Bringing Out the Dead" (1999), for which he eschewed New York City's lighted, congested avenues for the back alleys and dingy apartment buildings where people's futures were as unpromising as their environment. He left behind the gritty confines of the Big Apple to venture out to the Pacific Northwest for Scott Hicks' "Snow Falling on Cedars" (1999), for which he captured cold, breathtakingly beautiful snowscapes often shot through blue filters, which desaturated the color to the point where the image was almost black-and-white. Using his widescreen canvas to vividly evoke place as an integral part of the narrative earned Richardson his Academy Award nomination.
Richardson teamed with Quentin Tarantino for the director's two-part opus "Kill Bill, Vol. 1" (2003) and "Kill Bill, Vol. 2" (2004), films with radical storytelling shifts that allowed him to change visual styles on an almost scene by scene basis. He then re-convened with Scorsese for the director's biopic on Howard Hughes (Leonardo DiCaprio), "The Aviator" (2004), using a variety of innovative cinematic tricks to help evoke the lavish, bygone era of Hollywood's Golden Age and Hughes' passion for dynamic aviation while still evocatively narrowing the human focus on Hughes' troubling obsessive-compulsive disorder. Richardson used the breakthrough digital intermediate process to fulfill Scorsese's vision for the film's look, the emulation of two-color and three-strips Technicolor. His work ultimately earned him the Oscar for Best Achievement in Cinematography; the second such honor of his career. Following acclaimed work on "The Good Shepherd" (2005) and "Shine a Light" (2008), Scorsese's documentary on the Rolling Stones, Richardson found himself in Oscar contention once again for his exemplary work on Tarantino's return to form, "Inglorious Basterds" (2009).
Back with Scorsese, Richardson cast an appropriately dark, foreboding gloom over the proceedings of "Shutter Island" (2010), a period thriller starring Leonardo DiCaprio as a U.S. marshal investigating the bizarre goings-on at a remote psychiatric facility during a devastating hurricane. That same year, Richardson handled filming for the Julia Roberts vehicle "Eat Pray Love" (2010), a romantic drama based on the best-selling memoir by Elizabeth Gilbert. It was, however, with Scorsese once more that the respected cinematographer achieved his next triumph, when he won yet another Academy Award for his work on the visually mesmerizing ode to the early days of filmmaking, "Hugo" (2011). From an enchanting tale of a boy's journey of discovery to a bloody revenge Western, Richardson saddled up again with Tarantino for "Django Unchained" (2012). The writer-director's violent love letter to the Spaghetti Western, the film earned Richardson one more ticket to the Academy Awards ceremony when he was nominated in the category of Best Cinematography.