share:
Recent DVDs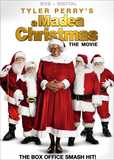 Tyler Perry's... Madea serves up her own brand of Christmas spirit when she gets coaxed into... more info $11.95was $14.98 Buy Now
Jingle All the... Two desperate dads compete in a no-holds-barred battle to be the best father and... more info $12.95was $19.99 Buy Now
MEDIA:
WATCH MOVIE CLIPS
|
VIEW TRAILER
|
VIEW PHOTOS
|
WATCH A TCM PROMO
| | | | |
| --- | --- | --- | --- |
| Also Known As: | Daniel Lawrence Whitney,Larry The Cable Guy | Died: | |
| Born: | February 17, 1963 | Cause of Death: | |
| Birth Place: | Pawnee City, Nebraska, USA | Profession: | Cast ... comedian actor |
RATE AND COMMENT
BIOGRAPHY
Arguably among the most popular and controversial stand-up comedians of the new millennium, Larry the Cable Guy - the alter ego of Daniel Lawrence Whitney - generated a legion of fans thanks to his crude, opinionated and proudly rural Southern humor. After starting as a call-in guest on various Florida-based radio shows in the early 1990s, Larry quickly gained an audience on the comedy circuit before launching into stardom in 2000 as part of the popular Blue Collar Comedy Tour, which featured Jeff Foxworthy, Bill Engvall and Ron White. The tour spawned a live CD, three best-selling DVDs, and a short-lived series called "Blue Collar TV" (The WB, 2004-06). Meanwhile, Larry was on top of the charts with comedy albums like A Very Larry Christmas (2004) and The Right to Bare Arms (2005), while also landing on the bestseller lists with his book, Git-R-Done (2005), the title of which came from his famed catchphrase. From there, it was only a short jump to movies with starring turns in "Larry the Cable Guy: Health Inspector" (2006) and "Witless Protection" (2008), both of which were savaged by critics, while voicing Mater in "Cars" (2006) and "Cars 2" (2011). Whether people loved him or hated him, there was no doubt that Larry the Cable Guy was determined to remain a giant force on the comedy scene.
Born Daniel Lawrence Whtney in Pawnee City, NE on Feb. 17, 1963, Larry moved with his family to West Palm Beach, FL when he was a teenager. His father had once played guitar for the Everly Brothers before becoming the principal of Berean Christian Elementary School. It was in West Palm Beach that Larry began performing stand-up while in his early twenties and enjoyed enough success to move into guest shots on radio programs throughout the state. His stock in trade was the call-in gag, for which he assumed a persona and joked with DJs over the phone on shows like "The Ron and Ron Show" and KEZO's "The Todd and Tyler Show." Among his repertoire of characters was a cable installer named Larry, who spoke in a thick, exaggerated Southern accent - a combination of the Pawnee City accent and several Florida strains that he culled from several friends. He used the persona to voice decidedly un-politically correct opinions on a host of issues, ranging from race, sexuality and politics, as well as making frequent references to his own so-called bizarre family, which gave him further license to make fun of the handicapped, elderly and people with obesity.
It was during this time that Larry spawned a number of catchphrases, including his most popular, "Git-R-Done," which later became something of a trademark for the comedian, as well as the title of his 2005 book. Meanwhile, he began branching out into other major markets throughout the southeastern states and gain further exposure by joining the Blue Collar Comedy Tour in 2000. A showcase for white comics with Southern backgrounds like Jeff Foxworthy, Bill Engvall and Ron White, the tour yielded a live CD in 2001, three top-selling concert DVDs in 2003, 2004 and 2006, as well as a short-lived sketch comedy series titled "Blue Collar TV" (The WB, 2004-06), starring all three comics. Larry's particular contributions to the show included "Politically Correct Fairy Tales," in which he railed against the P.C. recasting of fables by telling them "the real story." The trio also earned laughs with "Big Kids," where they dressed as unruly children, and "Martin Bros.," where they were a trio of miscreant brothers. In 2006, the Blue Collar franchise spread to radio with its own Sirius Satellite Radio station, which frequently showcased Larry's material.
In addition to his contributions to the Blue Collar Comedy juggernaut, Larry released a solo stand-up DVD, "Larry the Cable Guy: GIT-R-DONE" (2003), as well as four solo comedy CDs, including A Very Larry Christmas (2004), which reached No. 8 on the Billboard country charts, and The Right to Bare Arms (2005), which hit the top spot on the country charts for 2005 and 2006, while nabbing the No. 7 spot on the Billboard Top 200 albums. After releasing his best-selling book GIT-R-DONE in 2005, he appeared as both Larry and a bar patron in drag in the music video for country singer Gretchen Wilson's "All Jacked Up." In 2006, Larry was tapped to give voice to "Mater," a chatterbox tow truck who hewed very closely to his own persona for the Pixar-animated film "Cars." He also made his starring debut that year in a live action comedy, "Larry the Cable Guy: Health Inspector" (2006), which despite being almost universally reviled by critics, made a fairly decent showing at the box office.
Of course, "Health Inspector" was not the first time Larry found himself in the critical crosshairs. Commentators had long decried his persona as racist, homophobic, and xenophobic, as well as targeted Whitney's own political and religious leanings - he was an ardent conservative Christian - and his promotion of negative Southern stereotypes. Actor-comedian David Cross even singled out Larry's act on several occasions, and the pair traded barbs in print following a Rolling Stone interview with Larry. But there was also a faction of his fanbase that did complain about his dampening the explicit content of his stand-up act for the Blue Collar tours. Despite these complaints, Larry the Cable Guy only grew in stature. He went on to star with Engvall in the Iraq War spoof, "Delta Force" (2007), which was overwhelmingly blasted by critics for its heavy reliance on bathroom humor and homophobic overtones. From there, he starred in "Witless Protection" (2008), where he played a hapless small-town sheriff who rescues a presumably kidnapped woman (Jenny McCarthy), only to discover she's an FBI witness in a major case. After reprising Mater for "Cars 2" (2011), Larry took over for Dwayne Johnson in the direct-to-DVD sequel, "Tooth Fairy 2" (2012), and went on to become the public face for the heartburn medication Prilosec OTC.