share:
Recent DVDs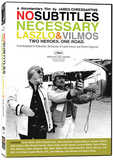 No Subtitles... No Subtitles Necessary is about Laszlo Kovacs and Vilmos Zsigmond. With film... more info $9.95was $19.95 Buy Now
MEDIA:
WATCH MOVIE CLIPS
|
VIEW TRAILER
|
VIEW PHOTOS
|
WATCH A TCM PROMO
| | | | |
| --- | --- | --- | --- |
| Also Known As: | Robert Rafelson | Died: | |
| Born: | February 21, 1933 | Cause of Death: | |
| Birth Place: | New York City, New York, USA | Profession: | Director ... director producer screenwriter actor tramp seaman disc jockey cowboy musician |
RATE AND COMMENT
BIOGRAPHY
Though most often identified as being a chief collaborator with actor Jack Nicholson, producer-director Bob Rafelson made his name and fortune as one of the creators of "The Monkees" (NBC, 1966-68), a popular sitcom that exploded into a cultural phenomenon. Prior to that success, Rafelson worked as a lower-level producer on a few anthology series before partnering with producer Bert Schneider to form Raybert Productions, which later became BBS Productions. After he directed the Monkees' cult hit "Head" (1968), the pair entered the age of New Hollywood by executive producing the counterculture classic, "Easy Rider" (1969), while Rafelson turned Nicholson into a viable leading man with "Five Easy Pieces" (1970), easily the director's best film. He went on to turn TV star Sally Field into a major film actress with "Stay Hungry" (1975) and helped pull Jessica Lange out of the doldrums with "The Postman Always Rings Twice" (1981). After waiting six years to direct "Black Widow" (1987), he made his most personal film, "Mountains of the Moon" (1990), before stumbling badly with the commercial failure of "Man Trouble" (1992). He bounced back with the crime thriller 3"Blood & Wine" (1997), only to remain relatively quiet after directing "No Good Deed" (2003). Regardless of his inactivity in the new millennium, Rafelson remained an influential filmmaker whose best work with Nicholson helped usher in a new era of Hollywood moviemaking. Born on Feb. 21, 1933 in New York City, Rafelson was the son of a hat manufacturer and the nephew of Samuel Raphaelson, a screenwriter and playwright who wrote nine films for director Ernst Lubitsch, including the classics "Trouble in Paradise" (1932), "The Shop Around the Corner" (1939) and "Heaven Can Wait" (1943). He was also one of the writers on Alfred Hitchcock's "Suspicion" (1941). Rafelson attended the Horace Mann School, but ran away from home at 14 years old to live a more adventurous lifestyle as a rode rider in Arizona, only to seriously injure his back in a fall. He moved on to play in a jazz band in Acapulco, Mexico before studying philosophy at both Dartmouth and the University of Benares. He was later drafted into the U.S. Army and was stationed in Japan, where he worked as a disc jockey for the Far East Network, translated Japanese films, and served as an advisor for the Shochiku Film Company. Rafelson managed to get court-martialed twice: once for striking an officer, the other time for on-air subversion by calling his station the "Near East Fart Works." After marrying high school sweetheart Toby Carr in the mid-1950s, Rafelson worked as a story editor for producer David Susskind on the anthology series, "Play of the Week" (syndicated, 1959-1961), which broadcast videotaped stage productions of popular contemporary and classical plays. After serving as a writer, associate producer and script supervisor on "DuPont Show of the Month" (CBS, 1957-1961), he relocated to Southern California to work as an associate producer for places like Universal Pictures and Desilu Productions, only to once be fired by head honcho Lew Wasserman for being unable to work on the series "Channing" (ABC, 1963-64) in a collaborative fashion. Eventually, he found his way to Screen Gems - then the television arm of Columbia Pictures - where he met future producing partner, Bert Schneider, while working on the short-lived comedy series, "The Wackiest Ship in the Army" (NBC, 1965-66). The two became fast friends and formed the company, Raybert Productions, which sold its first series, "The Monkees" (NBC, 1966-68), to Screen Gems and in effect kicked off a cultural phenomenon that remained popular decades later. Inspired by Beatlemania, Rafelson and Schneider created a show centered around a popular rock-n-roll group. They initially wanted to cast a real band like the Dave Clark Five or the Lovin' Spoonful, but resorted instead to running ads in the trades for musicians. He managed to bring together actors Davy Jones and Micky Dolenz with musicians Michael Nesmith and Peter Tork to manufacture The Monkees out of whole cloth. Though initially the band was put together for purposes of the show, recording albums with more experienced studio musicians, The Monkees battled Rafelson and Schneider for their creative independence. In effect, The Monkees became a real band that recorded albums and performed live, becoming an instant sensation that sold millions of records and sold out numerous venues. After the show ended in 1968, Rafelson directed the plotless stream-of-consciousness movie, "Head" (1968), a psychedelic adventure starring The Monkees that satirized in madcap, surreal fashion the creation and marketing of pop icons. Co-written by then-unknown actor, Jack Nicholson, "Head" managed to alienate fans at the time of its release, but was later considered something of a cult masterpiece. Though he never received an official credit, Rafelson executive produced the landmark counterculture classic "Easy Rider" (1969) with Schneider, a wild road movie about two bikers (Peter Fonda and Dennis Hopper) whose quest for the American Dream turns into a tragic nightmare. From there, he directed Jack Nicholson in "Five Easy Pieces" (1970), an absorbing study of alienation that was considered by many to be his finest work. Nicholson starred as a disaffected oil rig worker who reluctantly returns to his wealthy family's home, only to find his blue collar life and upscale upbringing in conflict with one another. Rafelson earned two Academy Award nominations - one for Best Picture and the other for Best Screenplay - but went home empty-handed. After directing the critically mixed character drama, "The King of Marvin Gardens" (1972), starring Nicholson and Ellen Burstyn, Raybert Productions - which by this point had taken on a new partner, Stephen Blauner, and was renamed BBS Productions - produced Peter Bogdanovich's exemplary drama "The Last Picture Show" (1971), Henry Jaglom's little known drama "A Safe Place" (1971), and Nicholson's critically maligned directorial debut, "Drive, He Said" (1972). Throughout the years Rafelson acquired a reputation for taking risks in his casting choices and in effect launching careers like he did with Nicholson. With Rafelson's third directing effort, "Stay Hungry" (1975), he gambled on both Sally Field - who was stigmatized by Hollywood as a TV actress for her "Gidget" and "Flying Nun" roles - and a relative newcomer, Austrian bodybuilder Arnold Schwarzenegger. The offbeat comedy starred Jeff Bridges as a rich kid who becomes involved in a crooked real estate deal that forces him to own a gym, where he becomes distracted by the feisty receptionist (Field), and a world class bodybuilder (Schwarzenegger) who works out in superhero outfits and plays the fiddle. Rafelson next helped save Jessica Lange from the "King Kong" (1976) fiasco by casting her for his remake of "The Postman Always Rings Twice" (1981), starring Nicholson as Depression-era grifter, Frank Chambers. Though not one of his better efforts, "Postman" did open eyes to Lange's acting chops and sex appeal, giving her some scorching sex scenes with Nicholson. Because "The Monkees" made Rafelson a wealthy man, he was able to afford the luxury of making films at his leisure, hence why it took another six year for his next directing effort, the unexceptional thriller "Black Widow" (1987), which starred Debra Winger as a federal agent determined to capture a woman (Theresa Russell) who has married several times, only to see each husband die a mysterious death. He went on to direct his most personal film, "Mountains of the Moon" (1990), which chronicled the search for the head waters of the Nile River undertaken by his personal hero and Renaissance man, explorer Sir Richard Burton (Patrick Bergin). A labor of love nine years in the making, "Mountains of the Moon" was the first movie Rafelson filmed outside the U.S., and featured his own simulation of Burton and John Hanning Speke's trek across Africa that lasted two-and-a-half months. With his next film, "Man Trouble" (1992), Rafelson grossly miscalculated despite the presence of Nicholson in the lead role as an unhappily married security expert and a script by "Five Easy Pieces" screenwriter Carole Eastman. The rather unengaging romantic comedy co-starred Ellen Barkin and registered as Rafelson's biggest critical and commercial failure. After directing the opening vignette in the German-financed sex comedy, "Tales of Erotica" (1994), Rafelson rebounded - critically, at least - with "Blood and Wine" (1997), a tightly focused crime thriller about a South Florida wine dealer (Nicholson) who enlists the help of an emphysema-laden safe cracker (Michael Caine) to rob a million-dollar diamond necklace from a wealthy client. Of course, the scheme goes awry and leads to a tangle of lust, greed and betrayal. Following the made-for-cable neo-noir "Poodle Springs" (HBO, 1998), starring James Caan and David Keith, Rafelson returned to feature films with the crime thriller "No Good Deed" (2002), which featured Samuel L. Jackson as an auto theft detective who goes on the hunt for a teenage runaway, only to stumble upon a safe house for bank robbers, where he gets trapped while falling for one of the criminals (Milla Jovovich). By Shawn Dwyer

Read more about Bob Rafelson's life and career:

Roger Ebert's 4-star review of Mountains of the Moon (1990), airing on TCM on October 17, 2014

Roger Ebert, "Great Movies" entry on Five Easy Pieces (1970)

Peter Tonguette, "Bob Rafelson and His Odd American Places"