share:
Recent DVDs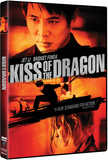 Kiss of the... Martial arts master Jet LI explodes onto the screen with pulse-pounding action... more info $7.95was $9.98 Buy Now
MEDIA:
WATCH MOVIE CLIPS
|
VIEW TRAILER
|
VIEW PHOTOS
|
WATCH A TCM PROMO
| | | | |
| --- | --- | --- | --- |
| Also Known As: | | Died: | |
| Born: | March 18, 1959 | Cause of Death: | |
| Birth Place: | Paris, FR | Profession: | Producer ... director screenwriter producer songwriter cinematographer |
RATE AND COMMENT
BIOGRAPHY
Admired in the U.S. as an ersatz French Steven Spielberg and reviled by his home country's critical elite as the man who ruined Franco cinema, writer-director-producer Luc Besson was inarguably one of the most commercially successful and prolific filmmakers ever to emerge from Europe. After establishing the slick, visual aesthetic known as "Cinéma du look" with early efforts like "Subway" (1985), "The Big Blue" (1988) and "La Femme Nikita" (1990), Besson officially crossed over to Hollywood with the films "The Professional" (1994) and "The Fifth Element" (1997). Following the disappointment of his historical epic "The Messenger: The Story of Joan of Arc" (1999), he returned - usually as a writer-producer - to stories featuring hard luck heroes and spectacular chase sequences in genre movies like "Kiss of the Dragon" (2001), "The Transporter" (2002) and "Unleashed" (2005). Amongst the numerous writing and producing projects, Besson occasionally directed more personal films, among them the low-budget fantasy-romance "Angel-A" (2005) and the family adventure "Arthur and the Invisibles" (2006), based on a series of books authored by Besson himself. Even as he neared the 30-year mark in his career, Besson continued to rack up impressive writer-producer credits on such international smash hits as "Taken" (2008). A self professed purveyor of populist entertainment, Besson's strongest response to his detractors was his lengthy career - one that allowed him the freedom to produce precisely the films he wanted to make.
Luc Besson was born in Paris, France on March 18, 1959, although he would spend little time in the cosmopolitan city during his youth. The son of scuba diving instructors who worked for Club Med, Besson's early years were spent along the shores of such far-flung locales as Italy, Greece and Yugoslavia. His childhood was, by and large, a solitary one. This, combined with his deep connection and love for the sea, would greatly inform his burgeoning imagination and future career choice. After his parents divorced and remarried, 10-year-old Besson returned to Paris, where he wrote dozens of stories during his spare time. Still insecure about his abilities, he showed the tales to no one. Spurred on by a visit to a Paris film set months earlier, Besson, then 17 and not yet graduated from high school, took a personal inventory of his skills and interests - all of which pointed to filmmaking. Over the following year, the teenager studied film after film at the local theaters and insinuated himself on to any Parisian film set he could gain entrance to. An acceptance interview with the revered French National Film School, La Fémis, ended abruptly after the teenager cited popular American directors like Steven Spielberg and Martin Scorsese as his cinematic influences. Undeterred, Besson spent the next few years writing scripts, forming his own short-film production company called Les Films de Loup, and working as a production assistant in Paris. An eye-opening experience came in 1979, when he was able to travel to Los Angeles and witness first hand the American style of filmmaking. By the turn of the decade, Besson felt he was ready to begin his career in earnest.
Through his various jobs as a casting director and work on several promotional films, Besson met and began what would be lengthy collaborative relationships with actor Jean Reno and guitarist-composer Eric Serra. With Serra providing the musical score and Reno, along with musician Pierre Jolivet in the lead roles, Besson produced his innovative, black and white, eight-minute film, "L'avant Dernier" (1981). A post-apocalyptic drama, it served as a test run for the feature-length "Le Dernier Combat" (1983), the 24-year-old Besson's impressive directorial debut, noted for its cinematic flare and distinct lack of dialogue. Buoyed by the formative experience of his first film, he went on to write, produce and direct his ambitious sophomore effort, "Subway" (1985). A visually stunning crime-fantasy starring Isabelle Adjani and Christopher Lambert, "Subway" was one of the most commercially successful films in France that year. He followed with a cinematic love letter to the ocean with "The Big Blue" (1988), an adventure about the rivalry between two free divers (Jean-Marc Barr and Reno). Though critically-dismissed for its lack of narrative depth, the nautical epic became the most successful French film of the 1980s, resulting in a seismic shift in the French film industry. It also became the epitome of what critics later dubbed the "Cinéma du look" movement, a style of filmmaking that valued visual flair over substance. For Besson, it was a label that he neither embraced nor refuted. As far as he was concerned, he had found his recipe for success.
Introduced to American audiences via "The Big Blue," Besson's next project, the aggressively violent thriller "La Femme Nikita" (1990), starred the writer-director's then-wife, Anne Parillaud, as a deadly assassin and Reno as the man sent in to clean up the mess when things go wrong. "Nikita" proved to be the film that at last fully registered with American audiences, eventually spawning a Hollywood remake and a cable television series. Although begun prior to "Nikita," he returned to theaters with the stunning "Atlantis" (1991), a documentary tone-poem focusing on the beauty of marine life, with Eric Serra's haunting score providing the text. His first major Hollywood film, "The Professional" (1994), followed the blossoming relationship between a taciturn hit man (Reno) and a young girl (Natalie Portman, in her screen debut), orphaned after her family is murdered by the mob. Well received by most critics and the public, it marked Besson's first collaboration with actor Gary Oldman. He reteamed with Oldman and action star Bruce Willis for the sci-fi blockbuster "The Fifth Element" (1997), a comic book-inspired visual extravaganza, starring future wife Milla Jovovich as a gorgeous young woman who holds the key to the survival of humanity. Gleefully over-the-top and boasting eye-popping special effects, the film remained Besson's most commercially successful movie in the U.S. for decades to come. That same year, Besson co-produced the gritty U.K. drama "Nil by Mouth" (1997), produced, written and directed by his friend, Gary Oldman.
After writing and producing the hugely successful French action-comedy "Taxi" (1998) - yet another project that resulted in a watered-down Hollywood remake - Besson made his first foray into historical drama with the epic "The Messenger: The Story of Joan of Arc" (1999). While praised for its lush imagery and breathtaking battle scenes, Jovovich's histrionic portrayal of the iconic French heroine and martyr was the focus of a great deal of scorn. An arduous production by all accounts, even before the film had finished shooting, Jovovich and Besson's marriage had been strained to the breaking point and by the time the movie premiered, they were divorced. Having reached an impasse with French production company Gaumont, Besson formed his own production company, EuropaCorp, through which he acted as producer on Fred Garson's "The Dancer" (2000), a dance-themed drama based on a story by Besson. Although taking time away from the director's chair, the hugely influential filmmaker enjoyed an incredibly prolific five-year period, during which time he wrote and produced such projects as the Jett Li martial arts actioner "Kiss of the Dragon" (2001), the Euro-Japanese culture-clash action-comedy "Wasabi" (2001), and first installment of the successful Jason Statham vehicle, "The Transporter" (2002). Besson performed similar duties on the parkour-infused action-adventure "District B13" (2004), "Transporter 2" (2005) and the Jett Li crime drama "Unleashed" (2005).
That same year, Besson returned to directing with the modestly budgeted fantasy-romance "Angel-A" (2005), a redemption fable which he, not surprisingly, also wrote and produced. Never one to shy away from a challenge, he later wrote, produced and directed the live action/animated fantasy-adventure "Arthur and the Invisibles" (2006), based on the first in a series of novels, which he himself also wrote. While not particularly well-received in the U.S., the film proved popular enough to warrant a pair of sequels. Also that year, Besson co-wrote "Bandidas" (2006), a comedy Western that boasted the first onscreen pairing of Salma Hayek and Penélope Cruz, just one of several other films he produced that year. Acting as a writer-producer, he continued to experience varying degrees of success on films like the hugely popular Liam Neeson action-thriller "Taken" (2008) and the more coolly received spy adventure "From Paris with Love" (2010), starring John Travolta. Always keen to further explore heroic female characters, Besson wrote and directed the period fantasy-adventure "The Extraordinary Adventures of Adèle Blanc-Sec" (2010), scripted and produced the Zoe Saldana revenge tale "Columbiana" (2011), and directed Asian superstar Michelle Yeoh in "The Lady" (2011), a biopic about Burmese activist Aung San Suu Kyi. Switching to a male protagonist, he co-wrote and produced the sci-fi action-adventure "Lock Out" (2012), starring Guy Pearce as a wrongly-convicted felon sent to free the president's daughter, who is being held hostage on a high-tech orbiting prison taken over by the inmates.
By Bryce Coleman