share:
Recent DVDs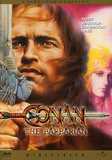 Conan the... Classic epic actioner starring Arnold Schwarzenegger, Mako and James Earl Jones.... more info $9.96was $12.98 Buy Now
MEDIA:
WATCH MOVIE CLIPS
|
VIEW TRAILER
|
VIEW PHOTOS
|
WATCH A TCM PROMO
| | | | |
| --- | --- | --- | --- |
| Also Known As: | | Died: | |
| Born: | August 21, 1945 | Cause of Death: | cancer |
| Birth Place: | Kansas City, Missouri, USA | Profession: | Music ... composer music conductor music director editor music producer |
RATE AND COMMENT
BIOGRAPHY
With his sweeping, powerful scores, composer Basil Poledouris brought a sense of epic passion and melancholy grandeur to "Conan: the Barbarian" (1982), "Robocop" (1987) and the beloved miniseries, "Lonesome Dove" (CBS, 1989). Poledouris also set the tone for many subsequent military thrillers, with his haunting Russian-influenced score for "The Hunt for Red October" (1990). Though Poledouris never gained widespread public attention like John Williams or Danny Elfman, nor received a single Academy Award nomination, his rich melodies nonetheless remained popular and influential within the filmmaking community.
Poledouris was born on Aug. 21, 1945 and grew up in Kansas City, MO. Developing an interest and an ear for music early in life, he began taking piano lessons at the age of 7, determined to become a concert pianist. But after enrolling at Long Beach State University on scholarship, he became disinterested in contemporary composition and instead was drawn to classical works. Poledouris soon switched over to the cinema department, thanks in part to his admiration of film composer Miklos Rozsa. In the late 1960s, Poledouris transferred to the film school at the University of Southern California. His timing was excellent - fellow classmates included directors George Lucas, John Milius and Randal Kleiser - each of whom shared a similar view of merging classical music with innovative film styles to mirror the social upheaval of those turbulent times.
After graduation, Poledouris scored a number of educational and documentary films, as well as television shows, often working with smaller choral and musical arrangements. But working within that smaller scope changed after he landed his first feature film job. Poledouris, who had became close with Milius during his time at USC, was hired to score "Big Wednesday" (1978), the director's elegiac ode to southern California surfing. Set in the 1960s, the film eschewed a rock-n-roll soundtrack in favor of a more epic score, lending a heroic, almost otherworldly quality to the world of surfers struggling against nature and each other. Milius was particularly moved by a sequence called "Jack Surfs Alone," later saying that Poledouris proved that he was far ahead of his contemporaries and capable of producing magnificent musical pieces.
His first follow-up was the small 1979 film, "Dolphin," before his next big feature, "The Blue Lagoon" came along, which again made use of his sweeping romantic arrangements for another classmate, director Randal Kleiser. Following two more television projects - "A Whale for the Killing" (ABC, 1981) and "Fire on the Mountain" (NBC, 1981) - Poledouris reunited with Milius for the sword and sorcery epic, "Conan the Barbarian," achieving what was arguably his most accomplished and popular score. Again, Milius singled out his composer for a notable sequence called "Anvil of Crom," which drew notices for its majestic and lyrical qualities. The score also caught Hollywood's ear, which put Poledouris in demand for the rest of his career. He went on to write the scores for "Summer Lovers," (1982), then collaborated with Milius yet again on "Conan: The Destroyer" (1984) and his seminal cold war actioner, "Red Dawn" (1984).
Poledouris also accepted assignments on smaller films, such as "Flyers" (1983), "Behold Hawaii" (1983), "Making the Grade" (1984), and "Protocol" (1984). He also provided scores for television's two anthology remakes, "Alfred Hitchcock Presents" (NBC, 1985-89) and "The Twilight Zone" (CBS, 1985-89); for the ABC miniseries "Amerika" (1987); and for the John Belushi biopic "Wired" (1989), a sharp contrast from his traditional epic work. Also in 1989, Poledouris won an Emmy for his gentle, rolling score for the western, "Lonesome Dove." Striking up a relationship with director Paul Verhoeven, beginning with "Flesh+Blood" (1985), Poledouris would go on to provide scores for "Robocop" and its sequels, and years later, "Starship Troopers" (1997). He was also tapped to provide music for the 1990 thriller, "The Hunt for Red October." His Russian-tinged theme proved to be a great influence on countless military thriller soundtracks for years to come. In 1996, he was even commissioned to write music for the summer Olympics in Atlanta.
In the 1990s, Poledouris scored "Free Willy" (1993) and its first sequel, in 1995. He veered into new territory to work with independent director John Waters for the offbeat 1995 comedy "Serial Mom," a relationship that continued with "Cecil B. Demented" (2000). He broke from his traditional orchestral form with the 1996 film, "It's My Party," on which he composed for solo piano. After appearing onscreen in the documentary "Basil Poledouris: His Life and Music" (1997), he scored the Kurt Russell thriller, "Breakdown," before writing the music for "Mickey Blue Eyes" (1999) and Sam Raimi's baseball film, "For the Love of the Game" (1999). He scored "Crocodile Dundee in Los Angeles" (2001) and "The Touch" (2002), then scored what proved to be the last project of his career - "The Legend of Butch and Sundance" (NBC, 2004). Poledouris died of cancer in Los Angeles, CA on Nov. 8, 2006 at the age of 61, leaving behind his wife Bobbie and two children, Zoe and Alexis.