share:
Recent DVDs
Best Seller ... Owing his publisher a yet-to-be written and long overdue novel, author (and... more info $14.96was $19.95 Buy Now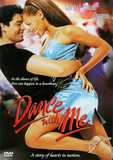 Dance with Me ... A handsome young Cuban travels to Houston, Texas, where his passion for life... more info $7.95was $9.99 Buy Now
MEDIA:
WATCH MOVIE CLIPS
|
VIEW TRAILER
|
VIEW PHOTOS
|
WATCH A TCM PROMO
| | | | |
| --- | --- | --- | --- |
| Also Known As: | | Died: | |
| Born: | | Cause of Death: | |
| Birth Place: | New York City, New York, USA | Profession: | Cinematography ... director of photography |
RATE AND COMMENT
BIOGRAPHY
Native New Yorker Fred Murphy's first credits as a director of photography came on low-budget films helmed by females: Martha Coolidge's "Not a Pretty Picture" (1975), Claudia Weill's "Girlfriends" (1978) and Lee Grant's "Tell Me a Riddle" (1980). In each case, he provided clean camerawork that did not detract from the inherent drama. He acquired his first real cachet in the industry, however, working with cinematographer-turned-director Richard Pearce on "Heartland" (1980), an unromanticized portrait of frontier life in 1910 Wyoming. Murphy's neat etching of the changing rural seasons was as much a character in the story, reflective of the shifts in the relationship between the film's protagonists. He has proven adept at capturing moments of reverie or nostalgia as in photographing Geraldine Page's bus ride to her hometown in "The Trip to Bountiful" (1985) or the passionate remembrance of a long dead love by an Irish wife in John Huston's elegiac "The Dead" (1987). Through camera placement and shifts in light, he is able to have the past and present on screen simultaneously.
Like all directors of photography, Murphy paid his dues working his way up through the ranks alternating between film and television projects in the late 1970s and early 80s. He served as co-cinematographer with the legendary Henri Alekan on Wim Wenders' homage to low-budget filmmaking, "The State of Things" (1982), before excelling as one of the finest directors of photography specializing in rural settings. Returning to the heartland for David Anspaugh's directorial debut "Hoosiers" (1986), he captured the basketball fever of post-war rural Indiana, once again revealing a keen eye for country landscapes. The stylish muting of his reteaming with Anspaugh, "Fresh Horses" (1988), though, could not overcome the one-note acting of male lead Andrew McCarthy.
Murphy helped recreate the look of late 40s NYC for Paul Mazursky's "Enemies, A Love Story" (1989) bathing the romantic leads in crisp lighting that accentuated the complex romantic relationships playing out on screen. His stellar use of light to indicate the growing paranoia of the troubled president earned him an Emmy nomination for his cinematography on Pearce's television adaptation of "The Final Days" (ABC, 1990). Though his subsequent work with Mazursky (the bright, almost garish "Scenes from a Mall" 1991 and "Faithful" 1996) may have fallen short of their initial collaboration (arguably Mazursky's finest film), his second film pairing with Pearce, "A Family Thing" (also 1996) exemplified his ability to wring the charm from non-urban settings. His camerawork served as an adjunct to the director's startlingly clear view of the way people behave. For Joe Johnston's "October Sky" (1999), Murphy's widescreen color lensing powerfully emphasized the claustrophobic conditions of the underground tunnels (a facility he had previously demonstrated in the jail scenes of 1995's "Murder in the First"), making plain the hero's desire to escape the darkness of his coal mining town by reaching for the stars.