share:
Recent DVDs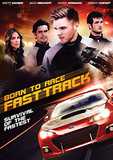 Born to Race:... Directed by Alex Ranarivelo. Starring Brett Davern, Bill Sage, Beau Mirchoff. more info $11.95was $14.98 Buy Now
Born to Race:... Directed by Alex Ranarivelo. Starring Brett Davern, Bill Sage, Beau Mirchoff. more info $15.95was $19.99 Buy Now
Ai Artificial... Director Steven Spielberg's A.I. propels you into a future of astounding... more info $11.95was $14.99 Buy Now
MEDIA:
WATCH MOVIE CLIPS
|
VIEW TRAILER
|
VIEW PHOTOS
|
WATCH A TCM PROMO
| | | | |
| --- | --- | --- | --- |
| Also Known As: | | Died: | |
| Born: | November 1, 1946 | Cause of Death: | |
| Birth Place: | Glendale, California, USA | Profession: | Visual Effects ... |
RATE AND COMMENT
MILESTONES
1953:
First became interested in visual effects at age six (date approximate)
1957:
Began making his own films at age ten with a $10 Keystone 8mm movie camera
:
As a teen, obtained a better camera and began experimenting with stop motion and rear projection
:
Began work on "The Equinox", a 16mm sci-fi adventure film, during his first year at Pasadena City College; invested $8000 in the project
:
Completed "The Equinox" which was then picked up by a small distributor who added 40 minutes, had it blown up to 35mm and released in 1970; credited as producer and for special effects; recouped initial investment
1968:
Freelance special effect expert
:
Camera operator, Cascade of California in Hollywood
1976:
Joined George Lucas' then new Industrial Light and Magic as a special effects photographer under John Dykstra
:
Left ILM briefly to work for Douglas Trumbull on special photography segments of the Mothership in Steven Spielberg's "Close Encounters of the Third Kind" (a fall 1977 release);
1977:
First notable feature credit, special effects photographer on Lucas' "Star Wars"
:
Provided special effects photography under Dykstra (who had left ILM) for the theatrical release of "Battlestar Galactica" (released 1978)
:
Returned to ILM as work began on "The Empire Strikes Back" (released 1980)
1980:
Visual effects supervisor at Industrial Light and Magic
1981:
Credited for miniature and optical effects photography for "Dragonslayer"
1982:
First credit as visual effects supervisor, Spielberg's "E.T. The Extra-Terrestrial"
1985:
First TV credit, visual effects for "The Ewok Adventure", a Lucas-produced ABC children's special
1986:
Worked on the "Captain Eo" and "Star Tours" attractions at the Disney theme parks
:
Convinced an initially skeptical Spielberg that the dinosaurs for "Jurassic Park" could be computer-generated by overseeing the creation of a walk cycle for the T-Rex
:
Green-lighted by Amblin Entertainment to create several additional shots including a dinosaur stampede and several wide-angle sequences of dino herds against a sweeping vista
:
Impressed Amblin with a computer-generated sequence of the T-Rex walking in daylight
1992:
Set up the satelite link that allowed Spielberg to edit the dailies for "Jurassic Park" while on location shooting "Schindler's List"
1993:
Credited as "full-motion dinosaur creator" on "Jurassic Park"
1996:
Was effects advisor on the box office hits "Twister" and "Mission: Impossible"
1997:
Oversaw creation of the dinosaurs in "The Lost World: Jurassic Park"
1999:
Served as special effects supervisor on "Star Wars: Episode I - The Phantom Menace"; shared an Oscar nomination for Best Visual Effects
1999:
Recieved star on the Hollywood Walk of Fame (June 3)