share:
Recent DVDs
Manon Des... Directed by Claude Berri. Starring Emmanuelle B art, Elisabeth Depardieu,... more info $13.95was $22.99 Buy Now
Jean de... Directed by Claude Berri. Starring Elisabeth Depardieu, Daniel Auteuil,... more info $13.95was $22.99 Buy Now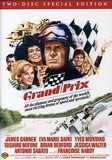 Grand Prix ... GRAND PRIX is John Frankenheimer's film about the nine-leg world championship of... more info $15.96was $20.98 Buy Now
MEDIA:
WATCH MOVIE CLIPS
|
VIEW TRAILER
|
VIEW PHOTOS
|
WATCH A TCM PROMO
| | | | |
| --- | --- | --- | --- |
| Also Known As: | | Died: | November 9, 1991 |
| Born: | October 13, 1921 | Cause of Death: | heart attack |
| Birth Place: | Italy | Profession: | Cast ... |
RATE AND COMMENT
MILESTONES
1923:
Left Italy with family two years before the rise of Fascism as Mussolini was rising to power; settled in Marseilles
:
From age 11 worked as delivery boy, apprentice hairdresser in sister's, business, truck loader at a metal factory, and waiter at a dockside bar
1937:
Won a hair dressing competition in Marseilles
1938:
Performed for the first time on an amateur night in a local theater at age 17
1938:
Changed name to Yves Montand; made professional debut at the Alcazar Music Hall in Marseilles singing songs of Chevalier, Trenet and imitating Donald Duck music-hall singer in Marseilles, Bordeaux and Toulouse
1939:
Abandoned singing career and worked as a laborer in shipyard Chantiers de la Mediterranee
1940:
Resumed career after French capitulation; appeared in revue "Soir de folie" on tour in Lyons, Bordeaux
1943:
Went to Paris to perform; act included routine as a singing cowboy
1944:
Appeared in Paris at the ABC Music Hall; also performed at the Moulin Rouge where he was discovered by Edith Piaf, became her lover and protege; abandoned cowboy act and performed new material devised or bought by composers by Piaf to showcase him
1946:
Professional stage acting debut in operette, "Le Chevalier Bayard"
1945:
Made film debut in Rene Lucot's short, "Silence...antenne/Silence, on tourne"
1946:
Feature film debut, "Etoie Sans Lumierie/Star Without Light"; Piaf got him the role of the boyfriend she leaves behind when she becomes a star
1946:
Starred in Marcel Carne's "Les Portes de la Nuit/Gates f the Night" in which he introduced signature song, "Les Feuilles Mortes/Autumn Leaves"
1947:
Signed contract with Warner Bros.; When he translated the contract from English and realized that he would become the property of the studio, he sued for breach of contract and one franc damages; Warners countersued and the matter was settled out of court
1951:
Presented his first one-man show in Paris at the Theatre de l'Etoile
1954:
Starred on Paris stage for one year with Simone Signoret in Arthur Miller's "Sorcieres de Salem/The Crucible" (they reprised their performances in the 1956 film version)
1956:
With Simone Signoret made a highly-publicized and high-criticized tour of the Soviet Union and east bloc countries after the Soviet invasion of Hungary
1959:
Made first US concert tour in one-man show; performed show on Broadway
1959:
Signed two-picture deal with 20th Century-Fox (for whom he made "Let's Make Love" 1960 and "Sanctuary" 1961)
1960:
His concert tour of the USSR was filmed by the Russians and released as "Yves Montand Chante"
1962:
Starred on the Pairs stage in "Des clowns par milliers/A Thousand Clowns"
1967:
Announced retirement as a singer
1974:
Subject of Chris Marker's documentary, "La solitude du chanteur de fond"
1974:
Subject of Jean-Christophe Averty's TV documentary "Montand de mon temps"
1979:
Attacked by Soviet newspaper, "Izveztia" as a "turncoat" after his political views had shifted from left-wing to center
1980:
Resumed singing career; had hit album, "Montand d'hier et d'aujourd 'hui'"; performed in three-month engagement at the Olympia Theatre in Paris and later toured with show
1982:
Toured US with cabaret performance; was first popular entertainer to perform at the Metropolitan Opera House in NY
1986:
Wrote, produced and starred in "Yves Montand a la une" on French TV
1988:
Was mentioned as a possible French Presidential candidate
1991:
Died of a heart attack in a hospital in Senlis (a suburb of Paris) after suffering chest pains on the set of the Jean-Jacques Beineix film he was shooting