share:
Recent DVDs
The Million... Comedian Freddie Prinze plays an ex-con who happens to be an electronic genius.... more info $11.45was $19.95 Buy Now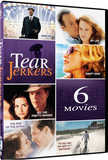 Tear Jerkers -... This 6-Movie Set of tear-jerkers includes Swept Away, Avalon, My Life, To... more info $7.95was $9.98 Buy Now
MEDIA:
WATCH MOVIE CLIPS
|
VIEW TRAILER
|
VIEW PHOTOS
|
WATCH A TCM PROMO
| | | | |
| --- | --- | --- | --- |
| Also Known As: | | Died: | January 29, 1977 |
| Born: | June 22, 1954 | Cause of Death: | Suicide |
| Birth Place: | New York City, New York, USA | Profession: | Cast ... |
RATE AND COMMENT
BIOGRAPHY
The most exciting young comedian of his time and a true pioneer for Latino entertainers, Freddie Prinze was also a man plagued by insecurities and demons which ultimately led to his tragic death at the age of 22. Inspired by his idols Lenny Bruce and Richard Pryor, Prinze dropped out of New York Cityâ¿¿s famed High School of Performing Arts in order to pursue a career in stand-up comedy. Prinzeâ¿¿s hip, observational humor, combined with his good looks and easy charm, quickly brought him to the attention of talent scouts and casting directors. His breakthrough came with a 1973 appearance on "The Tonight Show Starring Johnny Carson" (NBC, 1962-1992). One year later, a starring role opposite veteran actor Jack Albertson on the sitcom "Chico and the Man" (NBC, 1974-77) made the comic a superstar and the show an instant ratings hit. Seemingly overnight, Prinze was one of the biggest stars on television. The title of his 1975 comedy album Looking Good had become a ubiquitous catchphrase across the country and he commanded hundreds of thousands of dollars for his Las Vegas appearances. Sadly, a life-long battle with depression, fueled by heavy drug use and exacerbated by the breakup of his recent marriage, ended with the young starâ¿¿s death due to a self-inflicted gunshot to the head in 1977. Although his life and career were cut horribly short, Prinzeâ¿¿s legacy was assured, not only for his impact on American entertainment, but also with his son, actor Freddie Prinze, Jr.
He was born Frederick Karl Pruetzel, the son of a Hungarian father â¿¿ though some records have listed him as a German immigrant â¿¿ and a Puerto Rican mother on June 22, 1954 in New York City, NY. Small and heavy-set in stature as a boy, Prinze's mother enrolled him in ballet classes, but his interests lay in stardom, with a particular desire for music. Though he began his education at a private Lutheran school, Prinze took it upon himself to audition for and gain entrance into the Fiorello H. LaGuardia High School of the Performing Arts, where he explored drama through various plays and continued his dance studies. Prinze also discovered a knack for comedy while at LaGuardia; his humor was initially a defense against schoolmates' criticism, but eventually, Prinze found that he could entertain crowds with his observations. Excited by the possibility of becoming a stand-up comic, he began making the rounds of New York's comedy clubs, and landed gigs at the Improv in 1972, while also working part-time as an usher at a movie theater. The Improv's hours â¿¿ Prinze played the club between 10 p.m. and 1 a.m. to accommodate school and his other work â¿¿ eventually led him to quit school during his senior year and devote his energies solely to comedy.
Billing himself as Freddie Prinze (in various interviews, he attributed the name change to his desire to be considered the "prince of comedy"), he slowly won over crowds by poking fun at his own heritage (he described himself as "Hungarican") and upbringing and frequently took to the stage with no prepared material. Prinze's energy and quick caught the eye of talent bookers, so in 1973, he made his television debut on the Jack Paar-hosted "ABC Wide World of Entertainment" (ABC, 1973-1982), where he received considerable praise from fellow guest, Charlton Heston. Later that same year, he earned his biggest break yet with a December appearance on "The Tonight Show starring Johnny Carson" (NBC, 1962-1992), during which the host invited Prinze to chat with him after his knockout set. At that point in time, Prinze was the youngest comedian on the venerable series to garner Carson's favor in such a way, and numerous "Tonight Show" appearances soon followed, as well as stints as guest host in 1976.
The stars aligned for Prinze in a spectacular fashion following his Carson appearances; in addition to regular comedy performances, producer and writer James Komack ("Welcome Back, Kotter," ABC, 1975-79) was so impressed by Prinze's talent that he developed a sitcom for him. The result was "Chico and the Man," a likable generation gap comedy that partnered Prinze's Chico Rodriguez with veteran actor Jack Albertson as a cranky garage owner who, like audiences, was charmed by the younger man's humor and drive. Though Mexican-American viewers were disappointed by the choice of a Puerto Rican to play the Mexican-born Chico â¿¿ storylines were quickly spun to include Prinze's own heritage in Chico's background â¿¿ and the frequent use of ethnic slurs on the show, Prinze's stardom was a point of pride for the Latino community, who recognized him as a native son who had risen from difficult circumstances to achieve the height of entertainment stardom. Prinze's growing popularity helped make the series a substantial hit for NBC, and in turn, fueled further opportunities for him, including appearances on Dean Martin's celebrity roast specials; a significant achievement, as these productions were bastions of old-guard Hollywood and music figures. Prinze also released the comedy album Loooking Good â¿¿ his catch phrase from "Chico" â¿¿ in 1975, and began making appearances in Las Vegas, NV.
Prinze's fame allowed him to squire several attractive female performers, including Pam Grier. He was also linked to Kitty Bruce, whose father, comic Lenny Bruce, was one of Prinze's idols, but their relationship was never substantiated. But his heart was won over by Katherine Cochran, a travel agent he met in Wyoming during a vacation, and the couple married in Las Vegas in 1975. A son, Frederick James Prinze (his middle name was a tribute to Komack) was born in 1976. For all intents and purposes, Prinze's life was nothing short of perfect.
But behind the scenes, Prinze himself was struggling to maintain the breakneck pace of his career. A 1976 TV movie, "The Million Dollar Rip-Off," only added to the workload, and that same year, he lost a court case brought against him by a former manager. Prinze began taking doctor-prescribed Quaaludes to ease the pressure, and cocaine was soon added to his daily intake. The combination of stress and substance abuse took a visible toll on him. He appeared visibly drawn and haggard in episodes of "Chico," and storylines were quickly drafted to draw attention away from his appearance. Prinze's growing dependence on pills eventually led to the dissolution of his marriage. A 1976 DUI arrest preceded Cochran filing for divorce on the grounds that Prinze's addiction was a threat to her and their son. The separation was particularly traumatic for Prinze and he soon descended into a mental fugue which manifested itself in thoughts of suicide and obsessions over guns, the JFK assassination, and the movie "Taxi Driver" (1976). His condition soon began to concern close friends like comic David Brenner and entertainer Tony Orlando.
For Prinze, the end came sooner than many expected, and in a particularly shocking manner. On the morning of Jan. 28, 1977, Prinze â¿¿ who had performed at the Inaugural Ball for President Jimmy Carter the night before â¿¿ made a series of despondent phone calls to family and friends in which he intimated that he was planning to take his own life. One of the recipients of these calls was his manager, Marvin "Dusty" Snyder, who rushed to Prinze's hotel room at the Beverly Comstock Hotel and attempted to console the comedian. Prinze made one final call to Cochran, telling her that he was unable to go on. He then raised a pistol to his head and pulled the trigger. After being rushed to UCLA Medical Center, emergency surgery failed to revive him. He was removed from life support and died at 1 p.m. on Jan. 29, 1977, at the tender age of 22.
Prinze's death shocked and bewildered fans and friends, many of whom were unaware of his internal turmoil. To outsiders, Prinze's life was charmed; "Chico" was a ratings hit, and he had just signed a five-year, $6 million contract with NBC. But the lights that shone so brightly around Prinze had helped to obscure the depression that he had fallen into over the collapse of his marriage. He was buried at Forest Lawn Cemetery on Feb. 1, 1977. His "Chico" co-star Jack Albertson delivered the eulogy before a crowd of mourners that counted some of the biggest names in television entertainment, including Lucille Ball; Groucho Marx; Sammy Davis, Jr.; and Muhammad Ali, whom Prinze had roasted so memorably years before on a Dean Martin special. His mother published a biography of her son, titled The Freddie Prinze Story, in 1979; the same year a TV biopic, "Can You Hear the Laughter? The Story of Freddie Prinze" aired on CBS. Prinze's legacy was carried on by his son, Freddie, Jr., who became a teen idol of some note in the late 1990s, with appearances in "She's All That" (1999) and "Scooby-Doo" (2002). In 2004, he gave an emotional speech after accepting his father's star on the Hollywood Walk of Fame. And Prinze's influence upon the generation of Latino comedians who followed in his footsteps was cited by talents like George Lopez, Paul Rodriguez, and the Latin Kings of Comedy.