share:
Recent DVDs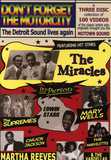 Don't Forget... This triple-DVD set will indeed have you dancing in the street-it features 100... more info $20.95was $27.95 Buy Now
MEDIA:
WATCH MOVIE CLIPS
|
VIEW TRAILER
|
VIEW PHOTOS
|
WATCH A TCM PROMO
| | | | |
| --- | --- | --- | --- |
| Also Known As: | | Died: | June 6, 2006 |
| Born: | September 2, 1946 | Cause of Death: | chronic kidney failure |
| Birth Place: | Houston, Texas, USA | Profession: | Music ... |
RATE AND COMMENT
BIOGRAPHY
One of the funkiest organ players of the 1960s and 1970s, Billy Preston's gospel-tinged keyboards and vocals graced a handful of hit singles, including "Outa-Space" and "Will It Go Round in Circles," but his contributions to other artists' recordings, including the Beatles' "Get Back" and songs by the Rolling Stones, Eric Clapton, Ray Charles and others were the foundation on which his legendary status was built. A child musical prodigy, he began performing at the age of 10 and recorded his first album when he was just 16. Stints with Little Richard and Ray Charles led to his participation in the recording sessions for the Beatles' Let It Be (1969) album, for which he contributed the soaring organ part on the title track. His association with the Beatles and George Harrison in particular led to a solo career that peaked in the mid-1970s with the aforementioned hits and guest appearances on countless major records. His career and health took a downward turn due to drug and legal problems in the 1980s and 1990s, but he mounted an impressive comeback at the end of the decade before medical issues claimed his life in 2006. Preston left behind an incredible body of work, spread over a half-century of popular music, with some of the century's greatest artists, as well as his own stellar solo efforts.
William Everett Preston was born Sept. 9, 1946 in Houston, TX. Following his parents' divorce, he relocated with his mother, Robbie, and sister to Los Angeles in 1949. There, he began to display inclinations of his prodigious talent with piano and organ as early as the age of three. Preston soon developed an affinity for gospel music through his mother's work as a secretary at a funeral home, and by the age of 10, his talents were so developed that he was backing such gospel greats as Mahalia Jackson and James Cleveland in concert. He also made his screen debut as a young W.C. Handy in the biopic "St. Louis Blues" (1959), which featured Fats Domino as the pioneering songwriter and pianist. While still a teenager, Preston began touring the world with Little Richard, with whom he met an up-and-coming British rock band called The Beatles while both acts were performing in Hamburg, Germany.
Following his tenure with Little Richard, Preston was recruited to play organ on Sam Cooke's stellar live album, Night Beat (1963), before releasing his own record debut that same year, Sixteen Year Old Soul, on Derby Records, a sister label to Cooke's own record imprint, SAR Records. Following the release of 1965's The Most Exciting Organ Ever, Preston joined Ray Charles' band in 1967. A 1969 performance with Charles in London was seen by George Harrison shortly after he had walked out of the tension-fraught recording sessions for the Beatles' Let It Be album. Harrison brought Preston to the sessions, where he not only contributed simmering organ lines to "Get Back" and appeared with the group in their famous final rooftop concert, but also served as a buffer between the combative band members. The Beatles would subsequently pay tribute to Preston's contributions by attributing "Get Back" to the Beatles with Billy Preston, one of only two occasions where the band shared credit with another artist.
Preston was soon signed to the Beatles' Apple label, through which he released the album That's the Way God Planned It (1969). Produced by Harrison, it featured an all-star lineup of guest musicians, including Harrison, Eric Clapton, drummer Ginger Baker and Keith Richards, who would subsequently recruit Preston to appear with his own group, the Rolling Stones. Preston's next album, Encouraging Words (1970), which would mark the final release through Apple, featured the first version of "My Sweet Lord," which Harrison gave to Preston shortly before recruiting him to record his own, more famous version for his solo debut album, All Things Must Pass (1970). After performing with Harrison, Clapton and Bob Dylan at the Concert for Bangladesh in 1972, Preston then left Apple for A&M, where he scored a No. 2 hit on the Billboard singles chart with the Grammy-winning "Outa-Space" (1972), a staggeringly funky track that helped to popularize the clavinet in R&B and soul music circles. A pair of back-to-back No. 1 singles in "Will It Go Round in Circles and "Nothing From Nothing" soon followed, as did high-profile guest appearances on the Rolling Stones' Sticky Fingers (1971) and Exile on Main Street (1972), among many others, as well as Sly and the Family Stone's There's a Riot Goin' On (1971) and records by Barbra Streisand, Ringo Starr and many others.
Along with Janis Ian, Preston was the first musical guest on "Saturday Night Live" (NBC, 1975- ), the same year he co-wrote Joe Cocker's signature song "You Are So Beautiful" with Beach Boys drummer Dennis Wilson. Preston's career took a downward turn in the late 1970s, prompting his departure from A&M for Motown. He scored a Top 5 hit in 1980 with "With You I'm Born Again," a duet with singer Syreeta Wright, but subsequent releases failed to match its success. Preston left the label in 1984 to work primarily as a session player for Luther Vandross and his former bandleader, Little Richard. However, his career was soon derailed by drug addiction and a string of legal problems, including a 1991 conviction for insurance fraud after he was arrested for setting his own house on fire. A subsequent arrest for sexually assaulting a minor that same year resulted in nine months of treatment and three months of house arrest. Preston soon recovered from these setbacks and returned to recording and touring with veteran collaborators like the Rolling Stones, Clapton and Elton John, as well as newer acts like Jaguares.
His comeback was soon hampered by a series of serious health issues, including kidney disease, which required a 2002 transplant that subsequently failed. Despite his deteriorating health, Preston was remarkably active in the final years of his life. He toured with Clapton, Steve Winwood and the Funk Brothers, Motown's ace team of session players, and contributed organ and clavinet to albums by Ray Charles, Neil Diamond, and the Red Hot Chili Peppers. His final public appearance came at the press junket for the re-issue of the "Concert for Bangladesh" (1971) concert movie, at which he performed three songs by his late friend George Harrison. In 2005, he voluntarily entered a drug rehabilitation clinic in California, where he suffered pericaditis, which eventually resulted in respiratory failure that left Preston in a coma until his death on June 6, 2006.
By Paul Gaita