share:
Recent DVDs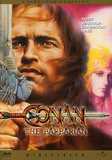 Conan the... Classic epic actioner starring Arnold Schwarzenegger, Mako and James Earl Jones.... more info $9.96was $12.98 Buy Now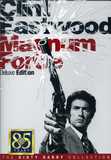 Magnum Force ... Magnum Force, which was released in 1973 as a sequel to Dirty Harry has Eastwood... more info $8.95was $12.98 Buy Now
MEDIA:
WATCH MOVIE CLIPS
|
VIEW TRAILER
|
VIEW PHOTOS
|
WATCH A TCM PROMO
| | | | |
| --- | --- | --- | --- |
| Also Known As: | | Died: | |
| Born: | April 11, 1944 | Cause of Death: | |
| Birth Place: | St Louis, Missouri, USA | Profession: | Writer ... |
RATE AND COMMENT
NOTES
Once a devoted surfer, Milius sometimes claims to have been born in Malibu, California rather than St. Louis, Missouri as stated in Quigley's "Motion Picture Almanac" and Honig & Rodek's "100001: Die Showbusiness-Enzyklopadie".
"I was known as crazy," says John Milius whose first film was "Dillinger", "and everyone was afraid I was going to do something terrible, like shoot somebody or something on the first day. I remember that I had gotten myself into a state of pneumonia and was sure I was dying. I'd heard about people who chickened out [of directing], and I didn't want to be remembered as someone who froze at the controls. So I convinced myself that I could last for three days without dying. I got out there on the first day--a big crowd scene had been arranged, and it had been rehearsed--and all I had to do was say, 'Roll' and 'Cut.' It was easy."--from "Remembering the First Time", AMERICAN FILM, April 1989.
Admittedly influenced by directors John Ford ("for his personal views, his concern with people rather than events") and Akira Kurosawa ("for the look of his films"), Milius began his career as a screenwriter.
"I'm not a director," he insists, "but a writer who became a director in self-defense."--John Milius quoted in PR for "Farewell to the King" (1989).
"'The hunter does not exist without the prey,'" Milius says, "'nor does the prey without the hunter.'" In his films hunter and pursued mirror each other. They depend on each other to create the legend that alone will give them tenuous immortality. They wish to be seen as great men. They will become legends by exceptional acts. As the great men they will transcend the essential absurdity of the one act that can ensure their fame--dying. By becoming mythic figures, long-remembered, they make their death worthwhile. What Milius shows is the process by which they build the myth." --From "The Movie Brats" by Michael Pye & Lynda Myles (Holt, Rinehart and Winston, 1979).
"At Warners he converted his office into an imitation of a command post under siege, with guns and military equipment lying casually around. For the first time he posted the name A-Team on his door. He talked of his hunting exploits, of some mystical need to experience the reality of blood and death in hunting animals rather than driving to the supermarket to pick up a cellophane-wrapped package of meat. The talk of war and blood did not, however, give him a warrior past. John Milius, samurai, never passed the medical examination for the U.S. armed forces."
From "The Movie Brats" by Michael Pye & Lynda Myles