share:
Recent DVDs
Little Cigars ... On the lam from her sadistic gangster boyfriend and his two henchmen, a gun moll... more info $11.45was $19.95 Buy Now
Johnny Doesn't... The 'Housing Shortage Comedy' might have been a short-lived sub-genre of World... more info $14.95was $17.99 Buy Now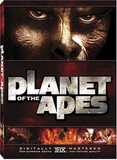 Planet of the... Charlton Heston and Roddy McDowall star in this legendary science fiction... more info $8.05was $14.98 Buy Now
MEDIA:
WATCH MOVIE CLIPS
|
VIEW TRAILER
|
VIEW PHOTOS
|
WATCH A TCM PROMO
| | | | |
| --- | --- | --- | --- |
| Also Known As: | Jerry Marenghi | Died: | |
| Born: | | Cause of Death: | |
| Birth Place: | | Profession: | Cast ... |
RATE AND COMMENT
BIOGRAPHY
One of Hollywood's most prolific little person actors, Jerry Maren made his mark in history as one of the Lollipop Guild in "The Wizard of Oz" (1939), which launched a six-decade career that encompassed everything from appearances with the Marx Brothers to midget wrestling for the USO and an appearance on "Seinfeld" (NBC, 1989-1998). Standing at 3'4," Maren found few roles of substance in his career, but tackled any project with boundless enthusiasm. He was frequently used as a costumed performer in films like "Planet of the Apes" (1968) and in commercials for McDonalds, among countless other film and TV appearances. But he was perhaps best utilized and remembered as one of the few living links to "Oz," one of the screen's most beloved fantasies, and as such, helped to preserve his own immortality for generations of viewers.
Born Gerard Marenghi in Boston, MA on Jan. 24, 1920, Jerry Maren took dance lessons as a child and eventually teamed with his instructors for an act called Three Steps and a Half. While performing in Connecticut, the 17-year-old was approached by MGM talent scouts seeking little people with singing and dancing ability. After boarding a train to Los Angeles, he was selected from over 100 actors to play a member of the Lollipop Guild, a trio of youthful Munchkins who greet Dorothy (Judy Garland) upon her arrival in Oz. Paired with famed dwarf actor Harry Earles of "Freaks" (1932) fame, Maren distinguished himself by handing the lollipop to Dorothy and then raising his hands in a winner's salute, a gesture he reportedly improvised. For his efforts on "Oz," Maren was paid $50 a day - less money than the canine that played Toto, according to show business legend - and endured grueling makeup sessions. However, the film launched his career in Hollywood, which remained active for the next five decades.
Maren worked steadily throughout the late '30s and 1940s, largely in uncredited roles that required him to play everything from a child to a gremlin in "Johnny Doesn't Live Here Anymore" (1944). On occasion, he would share the screen with some of the bigger stars of the day, from the Marx Brothers in "At the Circus" (1939), where he played a duplicitous circus performer, to the "Our Gang" kids in the short "Tiny Troubles" (1939), as Light Fingered Lester, a diminutive criminal disguised as an infant. More often than not, Maren was a living punch line, a livewire presence designed to cast a scene into chaos, like his appearances opposite comic orchestra leader Spike Jones in the Veronica Lake comedy "Bring on the Girls" (1945). Between movie roles, Maren performed in a wide range of entertainment acts, including a traveling midget wrestling show for the USO. According to his autobiography, Short and Sweet, Maren was also once hired to act as a baby - complete with wet diaper - at Jimmy Stewart's bachelor party.
In the 1950s, he was a regular on "Andy's Gang" (NBC, 1955-1960) as Buster Brown, the symbol for the show's regular sponsors, Buster Brown Shoes. The job required Maren to dress in full Victorian child gear, including short pants and a curled wig. Young audiences also saw him as one of the malevolent Mole-Men, who emerged from below the surface of the Earth to combat the Man of Steel (George Reeves) in "Superman and the Mole Men" (1951). In 1957, he joined fellow actor Billy Barty and other little person performers to form Little People of America, a non-profit organization that provided support and resources to individuals with dwarfism and their families. Maren's screen career continued well into the 1960s and 1970s, frequently under layers of makeup. He was an ape child in "Planet of the Apes" (1968), a baby Sasquatch in the low-budget horror film "Bigfoot" (1970) and a talking football helmet in the bizarre children's series "Lidsville" (ABC, 1971-73) from producers Sid and Marty Krofft.
In 1973, he earned what was most likely his most substantive role in "Little Cigars," an offbeat crime comedy about a group of little people, including Maren's "Wizard of Oz" co-star, Billy Curtis, and Felix Silla of "Addams Family" (ABC, 1964-66) who teamed with a gangster's mistress (Angel Tompkins) to carry out heists. The picture was the exception to the rule, as most of Maren's appearances were uncredited, like a string of costume performances as Mayor McCheese and the Hamburglar in commercials for McDonalds. He frequently toured the country as Little Oscar, the spokesperson for Oscar Meyer hot dogs, in the company's signature frankfurter-shaped vehicle, the Weinermobile, and was also a regular at conventions for and special screenings of "The Wizard of Oz," where he would perform the Lollipop Guild's song with the same enthusiasm he displayed four decades prior.
In the 1980s, Maren appeared in the flop comedy "Under the Rainbow" (1981), which perpetrated the rumor, often dispelled by Maren himself that the little person cast of "The Wizard of Oz" ran amuck after hours. Now in his sixth decade, he continued a vigorous work schedule that included cameo and bit roles in "TRON" (1981), "Something Wicked This Way Comes" (1982) and "Spaceballs" (1987) until the early 1990s, when he essentially retired from show business. He remained active on the convention and screening circuit, often accompanied by the few surviving Munchkins and his wife, actress and stunt person Elizabeth Maren. In 1997, the Marens appeared in the infamous "Yada Yada" episode of "Seinfeld" as the little person parents of a very tall woman pursued by Kramer (Michael Richards). He remained sporadically active in bit parts and live appearances into his ninth decade.