share:
Recent DVDs
Lubitsch in... Box set includes the films Anna Boleyn, the Oyster Princess, I Don't Want to Be... more info $54.95was $79.95 Buy Now
Lubitsch in... In the early 1920s, Ernst Lubitsch was among Germany's leading directors and one... more info $21.95was $29.95 Buy Now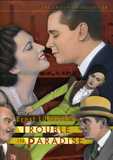 Trouble in... Miriam Hopkins, Kay Francis, Herbert Marshall. Directed by Ernst Lubitsch. This... more info $25.97was $39.95 Buy Now
MEDIA:
WATCH MOVIE CLIPS
|
VIEW TRAILER
|
VIEW PHOTOS
|
WATCH A TCM PROMO
| | | | |
| --- | --- | --- | --- |
| Also Known As: | | Died: | November 30, 1947 |
| Born: | January 28, 1892 | Cause of Death: | heart attack |
| Birth Place: | Berlin, DE | Profession: | Director ... |
RATE AND COMMENT
MILESTONES
1911:
Associated with director Max Reinhardt, appearing in his stage productions
1913:
Began acting in movies in Germany
1914:
Made directorial debut with the short film "Fraulein Seifenschaum"/"Miss Soapsuds"
1922:
Moved to USA; put under contract to Mary Pickford
1923:
First American film "Rosita", starring Pickford
:
Gained critical acclaim and popular success in the US with such satirical romantic comedies as "Lady Windemere's Fan" and "So This Is Paris"
1926:
Signed contract with Paramount
1927:
Helmed the silent "The Student Prince in Old Heidelberg", starring Ramon Navarro and Norma Shearer
1928:
Received first Best Director Oscar nomination for "The Patriot"
1929:
First sound film, "The Love Parade", his first pairing of Maurice Chevalier and Jeannette MacDonald; garnered second Best Director Academy Award nomination
1932:
Made the atypical pacifict drama "The Man I Killed"
1933:
Became an American citizen
:
Served as production chief at Paramount
1937:
Returned to directing; directed first film in three years, "Angel"
:
Was briefly with MGM, for whom he made "Ninotckha" and "The Shop Around the Corner"
1942:
Directed the delightful wartime comedy "To Be or Not To Be", teaming Jack Benny and Carole Lombard
1943:
Signed contract with Fox
1943:
Earned third Best Director Oscar nomination for "Heaven Can Wait"
1946:
Completed last film, "Cluny Brown"
1947:
Died while working on "That Lady in Ermine" (1948); film completed by Otto Preminger; Lubitsch given screen credit