share:
Recent DVDs
Lubitsch in... Box set includes the films Anna Boleyn, the Oyster Princess, I Don't Want to Be... more info $54.95was $79.95 Buy Now
Lubitsch in... In the early 1920s, Ernst Lubitsch was among Germany's leading directors and one... more info $21.95was $29.95 Buy Now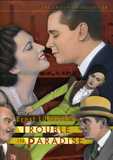 Trouble in... Miriam Hopkins, Kay Francis, Herbert Marshall. Directed by Ernst Lubitsch. This... more info $25.97was $39.95 Buy Now
MEDIA:
WATCH MOVIE CLIPS
|
VIEW TRAILER
|
VIEW PHOTOS
|
WATCH A TCM PROMO
| | | | |
| --- | --- | --- | --- |
| Also Known As: | | Died: | November 30, 1947 |
| Born: | January 28, 1892 | Cause of Death: | heart attack |
| Birth Place: | Berlin, DE | Profession: | Director ... director actor producer comedian bookkeeper |
RATE AND COMMENT
BIOGRAPHY
"To Be or Not to Be" was a highly entertaining picture that crossed a number of genre boundaries â¿¿ thriller, political propaganda, comedy â¿¿ and remained one of Lubitschâ¿¿s finest creative efforts. But the film suffered at the box office when weeks before its release, the film's star Lombard died on Jan. 16, 1942 in a fiery airplane crash outside of Las Vegas, NV after raising money for war bonds in her home state of Indiana. A bereaved Lubitsch was forced to cut Lombardâ¿¿s line "What can happen on a plane?" from the movie and saw his greatest film do lackluster business, as a grieving public was in no mood to watch a beloved yet now deceased comedienne make them laugh. He went on to sign a new contract with 20th Century Fox and directed his first Technicolor movie, "Heaven Can Wait" (1943), a sophisticated, romantic and rather charming comedy about a lifelong cad (Don Ameche) who dies in his seventies and seeks entrance into Hell by trying to convince a doubtful Satan (Laird Cregar) that he has earned his way in by recounting his lifeâ¿¿s many sins. The film earned him his last Oscar nomination for Best Director and was seen as his last effort displaying the Lubitsch touch.
In fact, Lubitsch would go on to direct one final completed film in his career. He began making the romantic comedy "A Royal Scandal" (1945), which depicted a fictional event in the life of Catherine the Great (Tallulah Bankhead), but he fell ill during production. He was replaced by Austrian director, Otto Preminger, who did his best to maintain the Lubitsch touch, but ultimately fell short of the mark. Lubitsch returned to health and directed what became his last feature, "Cluny Brown" (1946), which starred Jennifer Jones as the titular character, the niece of a plumber who takes over for her uncle at an upscale home after he becomes indisposed and falls in love with a Czech author (Charles Boyer). Though not on the level as "Shop Around the Corner" or "To Be or Not to Be," "Cluny Brown" was still charming entertainment that pleased critics and audiences. Lubitsch returned to musical comedy for the first time since 1934 with "The Lady in Ermine" (1948), starring Betty Grable and Douglas Fairbanks, Jr. But just eight days into production, on Nov. 30, 1947, he died of a heart attack. He was 55 years old. Preminger again returned to fill the void, though Lubitsch received sole credit as director.
By Shawn Dwyers" ("Shoe Salon Pinkus") (1916).
The first Lubitsch picture to be shown in America was "Die Augen der Mummie Ma" ("The Eyes of the Mummy") (1918), his first teaming of Pola Negri and Emil Jannings, and the first film to mark him as a serious director. It was his second film with Negri, "Madame Du Barry" ("Passion") (1919) that proved to be his first masterwork, as well as helping to put the German film industry on the international map. With "Madame Du Barry," Lubitsch became known for an unerring ability to humanize sumptuous screen spectacles and costume dramas by giving them the warmth that would endear them to the public. He easily oscillated between drama and comedy, as he did with the historical "Anna Boleyn" (1920) and the Pola Negri comedy "Die Bergkatze" ("The Wild Cat") (1921). Lubitsch made a few more films in his native Germany, including "Das Weib des Pharao" ("The Wife of the Pharaoh") (1922) and "Die Flamme" ("The Flame") (1923), before striking out to America in search of greater success.
Lubitsch entered a new phase of his career when star Mary Pickford invited him to Hollywood to direct his first American film, "Rosita" (1923), a renamed adaptation of Jules Massenet⿿s comic opera, "Don César de Bazan." The film proved to be both a commercial and critical hit, though Lubitsch and Pickford allegedly battled behind the scenes and never worked together again. Because of the success of "Rosita," Lubitsch signed a three-year, six-movie deal with Warner Bros., which granted him near-absolute creative freedom, including final cut and his choice of technicians. With sophisticated comedies like "The Marriage Circle" (1924), inspired by Chaplin's "A Woman of Paris;" "Forbidden Paradise" (1924), which reunited him with Pola Negri; and "Kiss Me Again" (1925), starring party girl Clara Bow, he began to hone his craft into his famed "Lubitsch Touch." Though he made occasional forays into drama, as he did with "Three Women" (1924), Lubitsch came to specialize in the artfully risqué sex farce, where raised eyebrows and closed doors meant everything. After directing "Kiss Me Again" (1925) and "Lady Windermere⿿s Fan" (1925), his contract with Warner Bros. was dissolved due to his film⿿s marginal profitability.
Lubitsch made his first picture for Metro-Goldwyn-Mayer, "The Student Prince in Old Heidelberg" (1927), which earned critical praise but was a financial failure. However, once he made the transition to sound, his career began to take off, thanks to his embrace of the newly popular genre of musical comedies. Following "The Patriot" (1928), he earned his first Academy Award nomination for Best Director for "The Love Parade" (1929), and proceeded to churn out such early classics as "Monte Carlo" (1930), "The Smiling Lieutenant" (1931), and "One Hour with You" (1932), all made for Paramount Pictures. After making what amounted to his last drama, "Broken Lullaby/The Man I Killed" (1932), starring Lionel Barrymore, Lubitsch hit his stride with "Trouble in Paradise" (1932), a romantic comedy about two jewel thieves (Herbert Marshall and Miriam Hopkins), who break into a rich womanâ¿¿s home, only to have one fall in love with her. Filled with sophisticated comedy and fun innuendo â¿¿ which actually led to the film being pulled from circulation post-Hays Code â¿¿ "Trouble in Paradise" was the first masterpiece from the director and one of his personal favorites.
Lubitsch continued to delight audiences with "Design For Living" (1933), starring Frederic March and Gary Cooper, both of whom fall for Miriam Hopkins, and "The Merry Widow" (1934), based on the 1905 operetta by Franz Lehar. In 1935, Lubitsch was named head of production at Paramount, but since his real talent was in producing and directing motion pictures â¿¿ not studio administration â¿¿ he was relieved of his duties a year later. Following the disappointing "Angel" (1937) with Marlene Dietrich, and "Bluebeardâ¿¿s Eighth Wife" (1938), starring Cooper and Claudette Colbert, Lubitsch returned to form with "Ninotchka" (1939), which starred Greta Garbo in a rare comedy role. In fact, it was so unusual for the Swede to appear in comedies that the movie poster immortally declared "Garbo Laughs!" â¿¿ a cheeky reference to the famed "Garbo Talks" splashed across her 1930 talkie debut in "Anna Christie." In this comedy classic, Garbo played a dedicated, but humorless communist sent to Paris by Moscow to retrieve a trio of Russian delegates and a cache of diamonds, only to loosen up and enjoy herself in the decadent city, thanks to Melvyn Douglas. Lubitsch next directed one of his most popular films, "The Shop Around the Corner" (1940), which starred James Stewart and Margaret Sullavan as two store co-workers who detest each other in person, but carry on an anonymous letter-writing relationship without either knowing who the other is. With wry, subtle humor, the film was one of the greatest romantic comedies of its era and beyond â¿¿ it would later be remade with Tom Hanks and Meg Ryan in the lead roles, "Youâ¿¿ve Got Mail" (1998).
After going independent to direct the comedy of manners, "That Uncertain Feeling" (1941), a remake of his own "Kiss Me Again" (1925), Lubitsch helmed the classic political satire, "To Be or Not to Be" (1942), starring Jack Benny and Carole Lombard as a husband and wife who perform anti-Nazi plays in Warsaw at the beginning of World War II. But in the ruins of war-torn Poland, they find themselves forced to impersonate Nazi officers â¿¿ and even Hitler himself â¿¿ in order to survive. Though darkly satirical,