share:
Recent DVDs
Blood and Black Lace ... Having established a template for the giallo with The Girl Who Knew Too Much,... more info $27.97was $39.95 Buy Now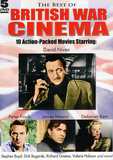 The Best of British War... This superb collection of classic British War Cinema includes 10 of the most... more info $21.56was $26.98 Buy Now
MEDIA:
WATCH MOVIE CLIPS
|
VIEW TRAILER
|
VIEW PHOTOS
|
WATCH A TCM PROMO
| | | | |
| --- | --- | --- | --- |
| Also Known As: | Eva Martha Sjoke | Died: | August 1, 1998 |
| Born: | June 18, 1926 | Cause of Death: | heart problems |
| Birth Place: | Hungary | Profession: | actor, writer |
No biography information exists for this person. Be the FIRST to contribute by CLICKING HERE >
VIEW THE FULL FILMOGRAPHY
:
Imprisoned in a concentration camp during World War II
1941:
Married at age 15 (date approximate)
1948:
Moved to London; changed name to Eva Bartok
1952:
Acted with Burt Lancaster in the adventure film "The Crimson Pirate"
1954:
Starred opposite Curt Jurgens in the West German drama "Rummelplatz der Liebe/Circus of Love"
1954:
Acted in the British drama "Front Page Story"
1955:
Starred opposite Joseph Cotten in the West German-American comedy co-production "Special Delivery"
1956:
Starred in the Dean Martin musical comedy "Ten Thousand Bedrooms"
1956:
Starred opposite Paul Douglas in the sci-fi drama "The Gamma People"
1956:
Appeared on the CBS court dramatization program "On Trial" hosted by Joseph Cotten
1957:
Played Baroness Vera Opalinski in the West German war romance "Der Letzte Walzer/The Last Waltz"
1958:
Acted opposite Curt Jurgens in the West German melodrama "Ohne Dich Wird es Nacht"
1959:
Starred with Peter Finch in the war film "Operation Amsterdam"
1964:
Starred in the French/Italian/West German stalker crime drama "Blood and Black Lace"
:
Gave up acting to study with the Pak Subuh sect in Indonesia
:
Taught philosophy in a school she opened in Honolulu
:
Ran an arts center in Los Angeles and a gallery in San Francisco
:
Returned to London in the early 1980's where she remained until her death in 1998
VIEW ALL MILESTONES
husband:
Geza Kovacs. Army officer. Hungarian; married during WWII; marriage annulled on the grounds of coersion of a minor.
husband:
Alexander Paal. Producer. American; relationship characterized as a "marriage of convenience".
husband:
William Wordsworth. Publicist. Descendant of English poet of same name; married in the 1950s; divorced.
husband:
Curt Jurgens. Actor. Fourth husband; German; married from August 1955 to November 1956.
companion:
Frank Sinatra. Actor, singer. Had relationship in 1956.
companion:
Marquess of Milford Haven. Had five-year on-again, off-again relationship.
VIEW COMPLETE COMPANION LISTING
daughter:
Deana Moore. Born October 7, 1957 survived her; Bartok and her daughter have claimed that Frank Sinatra was the child's father; lives in Australia.
"Fighting Shadows"
"Worth Living For"
Contributions
Omar ( 2007-05-25 )
Source: Omar Martinez (Eva Bartok biographer) See: http://evabartok.tripod.com
COMPANION Áron Tamási. Hungarian writer. Affair took place in Budapest sometime in 1946-1947. Prince Shiv of Palitana. Indonesian noble. Affair in 1958-1959
Omar ( 2008-03-18 )
Source: not available
Although both beautiful and talented, Eva Bartok's private life seem more interesting than her career as an actor. Born in Budapest, her roots were in legitimate theater but she had to face real tragedy from early on. Her Jewish father disappeared without a trace during the Nazi occupation and Eva herself had to marry a Nazi officer at age 15 in order to avoid being sent to a concentration camp. Having survived the horrors of Nazism and World War II she found her vocation in acting but was soon threatened and persecuted by the new Communist regime. Producer Alexander Paal helped her escape from Hungary by marrying her and taking her to England. Her filmography in the 1950s is both prolific and uneven. However, for a long time she was immensely popular as a glamorous playgirl among the noble and rich. After turning down a Hollywood contract in 1956, Miss Bartok found herself in a serious health crisis. An Indonesian mystic helped her out of this predicament with a new "knowledge" called Subud. She was healed and in 1957 gave birth to a "miraculous" baby daughter refusing to reveal the father's identity. From then on Eva seems totally committed to Subud and retired from movies in 1967. In later years she claimed that Frank Sinatra had fathered her daughter. Eva continued her Subud activities during residencies in Indonesia, Hawaii, San Francisco, Los Angeles and London where she died quietly in 1998.