share:
Recent DVDs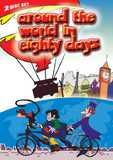 Around the... Directed by Buzz Kulik. Starring Eric Idle, Julia Nickson, John Hillerman. more info $5.95was $6.99 Buy Now
MEDIA:
WATCH MOVIE CLIPS
|
VIEW TRAILER
|
VIEW PHOTOS
|
WATCH A TCM PROMO
| | | | |
| --- | --- | --- | --- |
| Also Known As: | | Died: | |
| Born: | | Cause of Death: | |
| Birth Place: | | Profession: | Art Director ... |
RATE AND COMMENT
BIOGRAPHY
As the supremely confident surgeon Peter Benton on the long-running medical drama "ER" (NBC, 1994-2009), actor Eriq La Salle raised the performance bar on a series that featured a number of quality turns from other top actors. For eight seasons, he portrayed Dr. Benton and allowed the character to grow in various directions, all the while turning the actor into a bona fide star. Prior to "ER," La Salle appeared frequently on stage before landing a role as reporter Mike Rivers on "One Life to Live" (ABC, 1968-2012). From there, he shifted over to "Another World" (NBC, 1964-1999) and was memorable as the Jheri-curled heir to a hair product dynasty in the Eddie Murphy vehicle "Coming to America" (1988). Following turns in "Jacob's Ladder" (1990), "Color of Night" (1993), and "Drop Squad" (1994), La Salle had his big breakthrough on "ER," and upon departure, contributed supporting turns to several features, including "One Hour Photo" (2002). Starting in 1996, he began a second career as a director, helming episodes of "ER" as well as "The Twilight Zone" (UPN, 2002-03), "Law and Order: Special Victims Unit" (NBC, 1999- ) and "Without a Trace" (CBS, 2002-09). Whether in front of the camera or behind, La Salle was always forceful presence on any project.
Born on July 23, 1962 in Hartford, CT, La Salle was raised by his foster mom, Ada Haynes, who took care of him and four siblings, and he remained a rather unfocused student until he discovered acting at a local youth theater group when he was 14. After graduating Weaver High School, he began training as an actor at The Julliard School, only to be denied a return invitation following his second year because of his difficulty in overcoming his inner-city speech patterns. Though he had been training privately with speech teachers, La Salle's teachers felt he was unable to suppress them and was not asked back for a third year. Stung but undaunted, La Salle finished his training at New York University's Tisch School of the Arts, where he earned his bachelor's in fine arts in 1984. Of course, there was no better teacher than actually being on stage and La Salle began performing in several productions for Joseph Papp's Shakespeare in the Park theater company, which soon led to him making his screen debut.
Following roles in various Broadway and off-Broadway productions, La Salle broke into the movie business with roles in low-budget features aimed at the exploitation crowd like "Rappin'" (1985) and "Cut and Run" (1985), before landing a role as reporter Mike Rivers on the long-running daytime soap "One Life to Live" (ABC, 1968-2012) in 1985. He departed the show the following year and headed west to find more substantial work in Los Angeles, including guest shots on "Spenser: For Hire" (ABC, 1985-88) and a recurring character on the soap "Another World" (NBC, 1964-1999). La Salle increased his visibility with a supporting role as the haughty Daryl Jenks, whose family grew rich from the fictional Jheri curl product SoulGlo in the classic Eddie Murphy comedy "Coming to America" (1988). More feature work soon followed, including "Jacob's Ladder" (1990), "Color of Night" (1993), and a lead in the Spike Lee-produced "Drop Squad" (1994), a message drama about a black militant group who kidnaps an executive (La Salle) who produces advertising spots that belittle African-Americans.
The following year, La Salle was tapped to join the cast of Michael Crichton's fledgling medical drama, "ER" (NBC, 1994-2009). An exceptionally talented doctor, La Salle's Peter Benson clashed with his fellow surgical residents - especially Noah Wyle's John Carter - over his take-charge attitude and occasionally arrogant behavior. But as the series progressed, Benson softened somewhat thanks in part to relationships with physician assistant Jeanie Boulet (Gloria Reuben) and a former girlfriend with whom he had a deaf son. Benson's character developed further layers as he attempted to raise Reese on his own, dated white surgeon Elizabeth Corday (Alex Kingston) and clashed with chief surgeon Robert Romano (Paul McCrane) over patient treatment. Eventually, Benton departed County General for a better job that would allow him more time with his son, who had returned to the custody of his mother and her new husband. La Salle's performance was popular with viewers and critics alike, allowing him to net a substantial share of awards, including three Image Awards and three Screen Actors Guild Awards (for Outstanding Ensemble). La Salle's further nominations for Benton included three Emmy nods and a Golden Globe nomination in 1998.
While still a regular on "ER," La Salle made his debut as director on the short film "Psalms from the Underground" (1996), in which he also co-starred with such top-notch actors as John C. McGinley, Ronny Cox and Lorraine Toussaint. The following year, he tackled his first feature with the made-for-cable drama "Rebound," about the troubled life of street basketball player Earl "The Goat" Manigault. La Salle later tackled episodes of television series like "Soul Food" (Showtime, 2000-04) and the independent feature "Crazy as Hell" (2002), in which he also starred as a mental patient who calls himself Satan. Following his departure from "ER" in 2002, La Salle appeared as a detective investigating a terror campaign waged on a family by a deranged photo technician (Robin Williams) in "One Hour Photo" (2002). He also contributed a cameo to the action film "Biker Boyz" (2003), about black motorcycle racers, co-starred as a Jamaican gangster in "Johnny Was" (2006), and appeared in several made-for-TV features. On the directorial front, he helmed episodes of "The Twilight Zone" (UPN, 2002-03), "Law and Order: Special Victims Unit" (NBC, 1999- ) and "Without a Trace" (CBS, 2002-09), as well as the television movie, "Playing Father" (Hallmark, 2012). In front of the camera, La Salle delivered episodes of "Covert Affairs" (USA Network, 2009-14) and "24" (Fox, 2001-10), while landing recurring role on "How to Make it in America" (HBO, 2009-12) and "A Gifted Man" (CBS, 2011-12).
By Shawn Dwyer