share:
Recent DVDs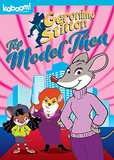 Geronimo... Welcome to the animated world of Geronimo Stilton! Based on the Geronimo Stilton... more info $10.95was $14.99 Buy Now
MEDIA:
WATCH MOVIE CLIPS
|
VIEW TRAILER
|
VIEW PHOTOS
|
WATCH A TCM PROMO
| | | | |
| --- | --- | --- | --- |
| Also Known As: | | Died: | February 19, 2001 |
| Born: | September 29, 1913 | Cause of Death: | pneumonia and complications from diabetes |
| Birth Place: | New York City, New York, USA | Profession: | Producer ... |
RATE AND COMMENT
MILESTONES
:
Moved to Hollywood after graduating from college
:
Worked for MGM as a scenery mover and as a carpenter
:
Worked briefly for MGM's research department
1934:
Worked in MGM's editing department for three years (dates approximate)
1936:
Joined a short film unit at MGM headed by Jack Chertok; worked as a production assistant
:
Was on the writing staffs at both Columbia and Republic Studios
:
Wrote for radio programs including "Big Town", a CBS program featuring Edward G. Robinson, and "The Rudy Vallee Show"
1941:
Was a production assistant on the feature, "So Ends Our Night", directed by John Cromwell
1942:
Was an associate producer of "The Moon and Sixpence", directed by Albert Lewin
:
Made training and orientation films for the Signal Corps during WWII, emerging as a first lieutenant
:
Established Screen Plays Inc with Sam Katz, Carl Foreman and George Glass as partners, acquiring the rights to the stories of Ring Lardner
1948:
Produced first film, "So This Is New York", based on Lardner's "The Big Town"
1949:
Scored first commercial success as producer with "Champion" (also based on a Lardner tale), which brought stardom to Kirk Douglas, Ruth Roman and Lola Albright and launched Mark Robson's career as an important director
1949:
Began addressing social issues with "Home of the Brave"
1951:
Production unit became the Stanley Kramer Company, committed to producing 30 films in five years for Columbia
1952:
Garnered first Academy Award nomination as producer of "High Noon"
1954:
Columbia bought out his contract before release of "The Caine Mutiny", reacting to heavy losses incurred by its predecessors; film earned Kramer an Oscar nomination
1955:
First film as director, "Not as a Stranger", a smash hit which critics decried as a trashy trifle
1958:
Helmed "The Defiant Ones", regarded by most critics as his best directorial effort; Kramer earned Academy Award nominations for Best Picture (as producer) and Best Director
1959:
Depicted the world facing nuclear destruction in "On the Beach", arranging for it to open simultaneously in 18 cities, including Moscow; the noted scientist and anti-nuclear advocate Linus Pauling speculated, "It may be that some years from now we can look back and say that 'On the Beach' is the movie that saved the world."
1960:
First of four movies with Spencer Tracey, the screen adaptation of "Inherit the Wind", about the 1925 Scopes' "monkey" trial
1961:
Returned to the courtroom with "Judgment at Nurenberg", a fictionalized account of the prosecution of German War criminals following WWII; Oscar nominated as producer (Best Picture) and Best Director
1963:
Turned to comedy for "It's a Mad Mad Mad Mad World", achieving mixed results
1964:
Last feature producing credit on a film he did not also direct, "Invitation to a Gunfighter", directed by Richard Wilson
1965:
Returned to more serious fare with film version of Katherine Anne Porter's "Ship of Fools"; film nominated for Best Picture Oscar
1967:
Last film with Tracy (and Tracy's last film), "Guess Who's Coming to Dinner", was also Kramer's last major success; earned Academy Award nominations for Best Picture and as Best Director
1967:
Appeared on the NBC documentary special, "Bogart", a portrait of Humphrey Bogart
1968:
Was an interviewee on the ABC documentary special, "Sophia", a biography of Sophia Loren
1974:
Directed the three ABC-TV documentary specials, "Judgment: The Trial of Julius and Ethel Rosenberg", "Judgment: The Court-Martial of the Tiger of Malaya, General Yamashita" and "Judgment: The Court-Martial of Lt. William Calley"; Kramer also produced and narrated
1975:
Created, produced and directed the ABC comedy pilot, "Guess Who's Coming to Dinner", based on his 1967 feature film
1979:
Last feature directing and producing credit to date, "The Runner Stumbles"
:
Moved from California to Seattle where he taught at the University of Washington and at Bellevue Community College
1982:
Was the subject of the TV documentary, "Stanley Kramer on Film"
:
Appeared on a number of Cinemax's "Crazy About the Movies" specials focusing on Grace Kelly, Montgomery Clift, Cary Grant, and Anthony Quinn
1997:
Published autobiography, "It's a Mad Mad Mad Mad World: A Life in Hollywood", written with Thomas M Coffey