share:
Recent DVDs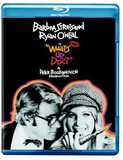 What's Up,... Ryan O'Neal, Barbra Streisand. When a reserved music professor from Iowa travels... more info $15.65was $19.98 Buy Now
Alex in... Alex (Donald Sutherland) is the hottest commodity in Hollywood, a first-time... more info $14.95was $17.99 Buy Now
MEDIA:
WATCH MOVIE CLIPS
|
VIEW TRAILER
|
VIEW PHOTOS
|
WATCH A TCM PROMO
| | | | |
| --- | --- | --- | --- |
| Also Known As: | Leslie Kovacs | Died: | |
| Born: | May 14, 1932 | Cause of Death: | |
| Birth Place: | Budapest, Hungary | Profession: | Cinematography ... director of photography film lecturer |
RATE AND COMMENT
BIOGRAPHY
The cinematographer behind such revolutionary films as "Easy Rider," (1969), "Five Easy Pieces," (1970) and "Shampoo" (1975), László Kovács was credited for bringing forth a naturalistic, almost documentary feel to his films of the late 1960s and early 1970s. Shooting film for a veritable who's who of then "New Hollywood" filmmakers, including Peter Bogdanovich, Robert Altman, Hal Ashby, Bob Rafelson and Martin Scorsese, he helped usher in a new era gritty, realistic photography. But his range was far from limited, and his work included the black and white Depression-set beauty of "Paper Moon" (1973) and the stylish 1940s tribute to musicals, "New York, New York" (1977). The prolific cameraman, who photographed some 70 films during his career, beginning with B westerns and horror films, all the way through such modern day hits as "Ghostbusters" (1984) and "Miss Congeniality" (2000), left behind a large array of varied and venerable films that firmly established Kovács as one of greatest in his profession. Kovács was born May 14, 1933, in a village near Budapest, Hungary. He grew up on a farm where his upbringing was harsh and meager, but he was lucky enough to develop a love of movies at a young age, spending countless weekends watching 16mm films projected on a sheet in a school auditorium. He soon earned himself a regular front-row seat by posting flyers on telephone poles to advertise upcoming films, most of which were German propaganda films that flooded the country prior to and during World War II. After the Nazi forces were driven out by the Russians in 1945, Kovács was introduced to a Soviet cinema that praised the virtues of the Revolution and the working class. Meanwhile, his mother had hopes that he would be a doctor, and his father wanted him to become an engineer. Kovács, however, was interested in neither field, often skipping his chemistry and math classes to go to the movies. But in 1952, he turned his passion into a worthy pursuit when he was accepted into the Academy of Drama and Film Art in Budapest. Kovács channeled his energy into becoming a devout student, learning composition and studying fine art while cramming into filled classrooms to watch rare screenings of "Citizen Kane" (1941). Even as Kovács eagerly pursued his studies, Hungary itself was experiencing political and undergoing social unrest. In 1956, the Russian army mercilessly intervened on an uprising against the Communist regime. Drawn to the human drama occurring before him, Kovács risked life and limb by joining his friend and future fellow cinematographer Vilmos Zsigmond to secretly film the bloody skirmishes. Hiding a camera in a paper bag with a hole cut out for the lens while carrying 30,000 feet of film stashed in potato sacks, they photographed Russian soldiers opening fire on protesting civilians. It became clear very quickly, however, that anyone caught photographing the uprising was in danger of arrest. Kovács and Zsigmond decided to flee the country and sell their film. They secretly made a connection with one hundred other refugees, enduring an arduous trek through the forest over the Austrian border. Safe with the Red Cross in Vienna, the intrepid photographers were surprised to learn that American news bureaus considered the filmed events old news. They eventually sold the film to a Hungarian expatriot for just enough money to buy a new camera and immigrate to the United States. Arriving in New York City, NY - and not knowing a lick of English - Kovács found work in a maple syrup factory while he processed film on the side. He stayed in touch with Zsigmond, and in 1959, both decided to try their hand in Hollywood, where Kovács landed the glamorous job of developing microfilm for an insurance company. But within a few years, he began shooting 16mm for training and industrial films. By the mid-1960s, he found work shooting commercials and eventually moved on to low-budget feature films, working with B-movie producer Paul Lewis and director Richard Rush, with whom he worked on such afternoon matinee pictures as "The Incredibly Strange Creatures Who Stopped Living and Became Mixed-up Zombies," (1964), "The Notorious Daughter of Fanny Hill" (1966) and "Hell's Angels on Wheels" (1967). The last, which utilized real Hell's Angels motorcyclists, proved to be a pivotal film for his career. In 1968, Lewis introduced Kovács to young filmmakers Peter Bogdanovich and Dennis Hopper. When Hopper offered him a chance to be the cinematographer for a new biker film, Kovács balked at first, having grown tired of the exploitative genre. But Hopper insisted his would be different, acting out Terry Southern's script over the course of three hours. Utterly convinced by Hopper's manic enthusiasm, Kovács simply asked when they could start. The film would become the revolutionary "Easy Rider," starring Hopper, Peter Fonda and Jack Nicholson as three free spirits who take to the open road, searching for the American Dream, only to become disillusioned with what they find. Kovács and Hopper assembled a crew of only 12 people and went on the road for three months, shooting from camera car rigs on sections of the original Route 66 from Los Angeles to New Orleans. Eschewing expensive set-ups and lighting in favor of a naturalistic style, Kovács brought an intense realism to the highly celebrated and groundbreaking film. Fellow cinematographer James Chressanthis, who was making a documentary about Kovács and Zsigmond, later said that Kovács' departure from the traditional studio-bound style "changed cinema forever." Kovács served as the director of photography on a string of films for Bogdanovich, including the suspense thriller "Targets" (1968), the Barbra Streisand vehicle "What's Up Doc?" (1972) and the lush, poetic "Paper Moon," a story of a con man and his daughter, played by real-life father and daughter team Ryan and Tatum O'Neal, peddling their way through the Great Depression. The films represented a new and strange experience for Kovács, who initially felt constricted by Bogdanovich's precise direction, a departure from the seat-of-the pants style of low-budget filmmaking. But Kovacs blossomed under Bogdanovich's direction. Chressanthis would go on to call "Paper Moon" an "absolute masterpiece of black and white cinematography." Kovács went on to photograph a streak of notable movies, working with the biggest directors of the day, beginning with Robert Altman's "That Cold Day in the Park" (1969), Bob Rafelson's 1970s classic, "Five Easy Pieces," starring Nicholson and "The Last Movie," directed by Hopper. Kovacs also showed he could break from his highly realistic style by shooting comedies such as Hal Ashby's "Shampoo" - the ode to sexual promiscuity which cemented Warren Beatty's lothario status - and "New York, New York," a glossy tribute to 1940s musicals, directed by Martin Scorsese in a break from his crime drama form. Aside from his highly noteworthy movies, the prolific Kovács kept close to his B-movie roots, managing to work on several smaller scale films, including "Blood of Dracula's Castle" (1969), "Freebie and the Bean" (1974), "F.I.S.T." (1978), and "Paradise Alley" (1978). He also contributed to some sequences in Steven Spielberg's "Close Encounters of the Third Kind," (1977), which was shot by old friend Vilmos Zsigmond. In the 1980s, he photographed the Hollywood period film, "Frances" (1982) and the Richard Pryor comedy "The Toy" (1982) before moving on to "Ghostbusters," where his work drew attention for establishing a dramatic, spooky visual tone, as opposed to an otherwise broadly comedic movie. Kovács reunited with Bogdanovich with the feature film, "Mask," (1985) starring Eric Stoltz and Cher, and went on to shoot "Legal Eagles" (1986) and the seminal 1980s teen angst film, "Say Anything" (1989), starring John Cusack. In the 1990s, Kovács moved into more commercial fare and sequels, including "The Next Karate Kid" (1994) and "Free Willy 2: The Adventure Home" (1995). He shot the thriller "Copycat" (1995), as well as the Michael Keaton comedies "Multiplicity" (1996) and "Jack Frost" (1998). Although both films marked his first times working extensively with special effects - on "Ghostbusters," the effects were photographed separately by a different film crew - they also proved to be critical and box-office disappointments. He moved into lighter territory with the popular romantic comedy, "My Best Friend's Wedding" (1997), the Bonnie Hunt-directed "Return to Me" (2000), and the Sandra Bullock blockbuster comedy, "Miss Congeniality." Kovács and his work were celebrated in documentaries such as "Visions of Light: The Art of Cinematography" (1992), "Easy Rider: Shaking the Cage" (1999), and "Easy Riders and Raging Bulls: How the Sex, Drugs and Rock 'N' Roll Generation Saved Hollywood;" with him appearing in each. In 2002, he earned a lifetime achievement award from the American Society of Cinematographers. That same year saw the release of the Sandra Bullock romantic comedy, "Two Weeks Notice," which turned out to be his last feature film. Kovács continued to be active, however, serving as executive producer on the documentary, "Torn from the Flag," which told the story of the Hungarian uprising, and included the footage he had filmed during the events of 1956. On July 21, 2007, Kovács died in his home in Beverly Hills, where he lived with his wife of 23 years, Audrey, with whom he had two daughters and a granddaughter. Dennis Hopper called Kovacs, ".the greatest telephoto operator that I have ever seen and I could never have made 'Easy Rider' without him." Bogdanovich said, "I worked with him more than any other photographer, which speaks for itself. He could make things look gritty as we did on 'Paper Moon' or very glamorous like we did with Streisand in 'Doc.' He could fall into any style." Rafelson considered Kovacs' work almost otherworldly, praising him for his uncanny ability to "film air like nobody I had ever seen. There's something palpable about the air that somehow or other he could make visible on film...you had a feeling of environment and atmosphere like in very few films I have ever seen before or since."