share:
Recent DVDs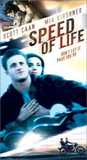 Speed of Life ... Fiercely independent, Drew is in for a wild ride when daredevil Sarah enters his... more info $11.95was $14.98 Buy Now
The Crow: City... After a brutal attack by an evil drug cartel, the murder victim is brought back... more info $11.95was $19.99 Buy Now
Exotica... Import Blu-ray/Region All pressing. Includes a Region 1 DVD pressing. Forbidden... more info $19.95was $42.99 Buy Now
MEDIA:
WATCH MOVIE CLIPS
|
VIEW TRAILER
|
VIEW PHOTOS
|
WATCH A TCM PROMO
| | | | |
| --- | --- | --- | --- |
| Also Known As: | | Died: | |
| Born: | January 25, 1975 | Cause of Death: | |
| Birth Place: | Toronto, Ontario, CA | Profession: | Cast ... actor |
RATE AND COMMENT
BIOGRAPHY
Playing women who led twisted lives and harbored dark secrets to perfection, Mia Kirshner displayed great emotional range in roles that often called on her to perform sexually charged scenes in films like "Love and Human Remains" (1993) as a young dominatrix and in "Exotica" (1994) as a teen stripper with a past. Kirshner took a bite out of television with appearances on the high-octane drama "24" (Fox, 2001-2010) as a hired killer and also played a once-vampire mother on the teen series "The Vampire Diaries" (The CW, 2009- ). But it was her role as Jenny Schecter, a sexually ambiguous and self-indulgent woman, on the groundbreaking series "The L Word" (Showtime, 2004-09) that made Kirshner a star. Drawing upon her many experiences portraying dysfunctional, oversexed characters, she effectively essayed a woman torn between two sexes who indiscriminately manipulates to get what she wants. In spite of her character⿿s risqué scenes, Kirshner managed to convey a real sadness and fragility, proving she was undoubtedly one of the best and most intense actresses of her time.
Born on Jan. 25, 1975 in Toronto, Ontario, Canada, Kirshner came from a family of Holocaust survivors; her journalist father was born in a displaced camp in Germany and her mother was a Bulgarian-Jewish refugee. Kirshner majored in Russian literature at McGill University in Montreal before pursuing an acting career in the early 1990s. One of her first regular gigs was on the television show, "Dracula: The Series" (syndicated, 1990) about two children and their vampire-hunting uncle who go up against a modern-day Dracula. At age 17, Kirshner started taking on highly sexualized, bad-girl types that she would play throughout her career. She portrayed a young clairvoyant dominatrix in the dark comedy "Love and Human Remains" before her memorable turn as a bisexual teen stripper in Atom Egoyanâ¿¿s "Exotica," a role that called on the actress to convey a maturity well beyond her years. In 1995, Kirshner had supporting roles in films such as the Southern gothic coming-of-age tale, "The Grass Harp," starring Sissy Spacek and Walter Matthau, as well as in the suspense thriller "Murder in the First" as Kevin Baconâ¿¿s younger sister. She landed a lead role opposite Vincent Perez in "The Crow: City of Angels" (1996), playing a tattoo artist who helped bring Perezâ¿¿ character back to life. Kirshner revealed a lighter side with a featured role in the gross-out parody "Not Another Teen Movie" (2001) as a mean Catholic schoolgirl who seduces her brother and an elderly woman, a role that spoofed Sarah Michelle Gellarâ¿¿s manipulative New York socialite character in the 1999 drama, "Cruel Intentions."
Kirshner made her American TV debut on the short-lived CBS series "Wolf Lake" (2001-02) before appearing in the action-filled drama, "24" (Fox, 2001-2010) starring Kiefer Sutherland. On "24," Kirshner went back to her roots, playing a conniving bisexual woman who is also a professional assassin. In 2006, she appeared in Brian De Palmaâ¿¿s noir thriller "The Black Dahlia" about two cops whose lives unravel as they investigate the real-life L.A. murder of would-be actress Elizabeth Short (Kirshner), whose tortured, dissected body was famously found in a vacant lot in 1946. The talented actress finally left obscurity behind when she was cast in the critically acclaimed series "The L Word," which centered on a small, close-knit group of lesbians living in Los Angeles. She played Jenny Schecter, a twenty-something writer from Chicago, IL who moves to Los Angeles to live with her boyfriend but finds herself drawn to a woman. Having played so many mysterious roles in the past gave Kirshner a vast array of feelings to draw; all of which helped bring out the humanity of a woman who lies and cheats incessantly, and was considered the most despicable on the show. Kirshnerâ¿¿s character also had one of the most intense and erotically charged sex scenes (with actress Karina Lombard) on the provocative show which only added fire to Kirshnerâ¿¿s growing popularity and made her a favorite pin-up for thousands of lesbians. After the "The L Word" ended, Kirshner did not stray too far from television, guest starring on "The Vampire Diaries" as Elena Gilbertâ¿¿s (Nina Dobrev) long-lost birth mother who was turned into a vampire; a role that well prepared her to play a vampire queen in the feature film blood fest, "30 Days of Night: Dark Days" (2010).