skip navigation
Daily Schedule
Fri, Sep 14, 2018
DAILY SCHEDULE
WEEKLY SCHEDULE
Friday, September 14, 2018
TCM PRIMETIME - WHAT'S ON TONIGHT:
RUNNING WILD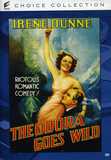 The town of Lynnfield is up in arms over the local newspaper running excerpts of a scandalous new novel by Caroline Adams, the Sinner. What they do not know is that Caroline Adams is... more
They came they played they conquered. There was no stopping them. The British invasion of the U.S. pop scene was in full force in 1965. And one of the most super of the supergroups... more
11:30 PM
B/W - 88 m

TV-PG
2:30 AM
C - 87 m

TV-14
Widescreen
Closed
Captions
There are no titles in the genre scheduled.
Recent Movie News
All That Heaven Allows: A Biography of Rock Hudson
- Author Mark Griffin probes beneath the façade to craft
the
definitive biography of the complicated, conflicted individual and widely misunderstood icon, whose illustrious career spanned 40 years and who was the first major celebrity to die of AIDS.
Handsome Johnny
- The Life and Death of Johnny Rosselli: Gentleman Gangster, Hollywood Producer, CIA Assassin
TCM Movie Database
Your destination for exclusive material from the TCM vaults
LEARN MORE >