skip navigation
Daily Schedule
Tue, Feb 20, 2018
DAILY SCHEDULE
WEEKLY SCHEDULE
Tuesday, February 20, 2018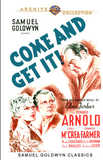 A luminous Frances Farmer stars in this superb (The Hollywood Reporter) romantic drama based on the novel by Edna Ferber. Also starring Edward Arnold, Joel McCrea and Walter Brennan... more
8:15 AM
B/W - 105 m

TV-PG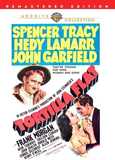 Pilon, Danny, the Pirate - paisanos all live a free-spirited life near seaside Monterey. Then Danny becomes a man of property, the heir to two modest houses and a watch from his... more
10:15 AM
B/W - 109 m

TV-14
12:15 PM
B/W - 102 m

TV-PG
Widescreen
Closed
Captions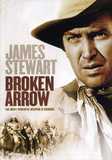 James Stewart, Jeff Chandler. An ex-soldier, who has already seen enough death and destruction, visits the notorious Apache leader Cochise to propose a truce. Not only does he... more
3:45 PM
C - 120 m

TV-PG
Widescreen
Closed
Captions
Synopsis: A patriotic wartime short showcasing the U.S. Marine Corps Band performing famous songs of the Marine Corps. Vitaphone Release 1030A.
Dir: Jean Negulesco
B/W
9 min

A lovely gesture - a bouquet of roses - from husband to wife becomes the catalyst for a clash of long-repressed emotion in the movie adaptation of the Tony - and Pulitzer Prize... more
TCM PRIMETIME - WHAT'S ON TONIGHT:
31 DAYS OF OSCAR: 31 DAYS OF OSCAR: BEST SUPPORTING ACTOR WINNER
8:00 PM
B/W - 113 m

TV-PG
10:00 PM
B/W - 118 m

TV-PG
Widescreen
Closed
Captions
Jason Robards, Barbara Harris, Martin Balsam. In this four-time Oscar nominated film (including Best Picture), a nonconformist, unemployed writer of a kids' TV show, is forced to... more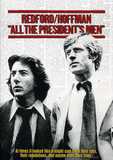 Repackaged eco amaray. Covers the period from 1972-1974; Produced and released in 1976.With ALL THE PRESIDENT'S MEN, director Alan Pakula adapts the best-selling book by Bob... more
2:45 AM
C - 196 m

TV-MA
Widescreen
Closed
Captions
Robert Mitchum, Sarah Miles, John Mills. A sentimental story of the controversial romance that develops between a married Irish woman and a young English soldier. 2 DVDs.... more
There are no titles in the genre scheduled.
Recent Movie News
Vic Damone (1928-2018)
- Vic Damone, the popular singer who came up in the big band era and saw his popularity as a crooner develop into a long career as a singer, actor and radio-TV presenter, died February 11, 2018 in Miami Beach, FL at the age of 89.
22nd Annual Kansas Silent Film Festival - Feb. 23-24
- For its 22nd annual event, the Kansas Silent Film Festival will spotlight 'Women in Silent Film', showcasing several shorts and features all of which will star, be directed by, produced by or written by a woman.
Dick Dinman Salutes YOUNG MR. LINCOLN Director John Ford!
- In honor of the just released Criterion Collection's magnificent 4K Blu-ray restoration of director John Ford's beloved classic YOUNG MR. LINCOLN producer/host Dick Dinman showcases his chat with the prolific director Andrew V. McLaglen.
TCM Movie Database
Your destination for exclusive material from the TCM vaults
LEARN MORE >